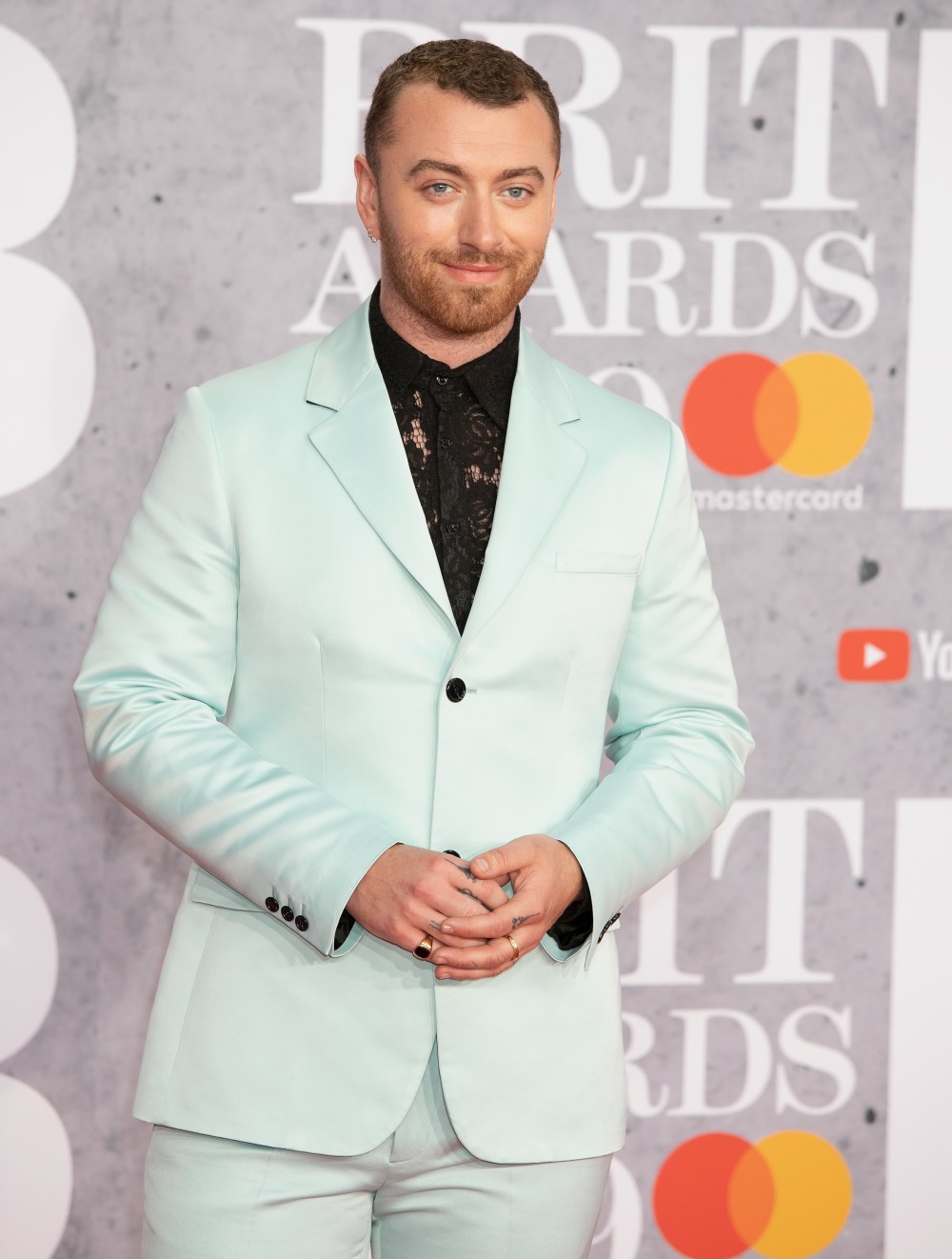 I know some/many people have issues with Sam Smith for his music and his whole "blue-eyed soul" deal, but I've always liked him and enjoyed him. He seems real to me – sort of messy, prone to misspeaking in public, a little bit silly and lovely and sensitive. He's had a few minor f–kups and he's always given thorough apologies afterwards too. One of the things he's talked about ever since he became famous is body image, his own struggles with weight gain and his own body dysmorphia issues too. Just in the years that he's been famous, his weight has fluctuated wildly, and frankly, that's super-relatable. For Sam though, it's been a lifelong struggle. He sat down for an interview on Jameela Jamil's new Instagram series I Weigh, and he spoke about his struggles and his sexuality and gender. Some highlights:
On his body image struggles: "I haven't really found many men talking about this. Especially well-known men… Even doing this chat feels kind of weird, because guys don't speak about this that much on a big scale." Smith began by talking about how his struggle with body image began "from since I can remember, like since I was a baby." As a child, Smith revealed that he was "chubby" and "carried extra estrogen" in his chest, making him self-conscious to wear a bathing suit and opening him up to bullying, including when a classmate grabbed his chest "on the playground in front of all of his friends. I had breasts. I used to get my mom to write a note to the school when I was like 8 so I wouldn't have to go to swimming lessons. So it's something that's been in me forever."

He had liposuction at the age of 12: "When I was a kid, I was chubby … and then it would get worse and worse and worse and I was holding a lot of weight in my chest. When I hit 11 years old, I went to the doctor's. I was so self-conscious that it was affecting my mood every day. I had liposuction, I was 12 years old. At the time I think I was very happy about it. It didn't really change anything. I think I put the weight back on in two weeks because I hadn't figured out my relationship with food, so it didn't really change anything. But being 12 years old and having liposuction on your chest is quite a big deal."

He's just been sad about his body all his life: "It's the basis of all my sadness. Literally everything I've ever been sad about is my weight. I struggle with it every day. I get very, very dark and very sad."

On his gender: "I am not male or female. I think I float somewhere in between. I've always been very free in terms of thinking about sexuality, so I've just tried to change that into my thoughts on gender as well…. Non-binary/genderqueer is that you do not identify in a gender. You are a mixture of all different things. You are your own special creation."

On the possibility of a sex change: While individuals identifying as non-binary can sometimes prefer the pronoun "they" in place of "he" or "she," Smith noted he will continue to use male pronouns for the time being. "I've sometimes sat and questioned, do I want a sex change? It's something I still think about: 'Do I want to?' I don't think it is. When I saw the word non-binary, genderqueer, and I read into it, and I heard these people speaking, I was like, 'F–k, that is me.'"
[From People & Vanity Fair]
I found it interesting that he talked about carrying "extra estrogen" as an explanation for his weight struggles as a kid and he doesn't bring it up when talking about gender. I think it's likely all connected, and that Sam has a different kind of hormonal balance (or imbalance) than the majority of cisgendered men. Anyway, I respect Sam so much for talking about these issues in public and doing his part to reduce the stigmas. Liposuction at 12… that's such a big deal, and his parents must have been so concerned about their son's depression and body image already. It makes me want to have a good cry with Sam, honestly.
In the premier episode of I Weigh Interviews, Jameela Jamil discusses fame, body image and the daily practice of self acceptance with musician Sam Smith.
Photos courtesy of WENN.
Source: Read Full Article