Pete Davidson is rumored to be dating yet another girl who's way out of his league.
The Internet has found fodder to fuel yet another whirlwind of a celebrity romance, this time taking shape in the 26-year-old Saturday Night Live comedian and 18-year-old model Kaia Gerber. From lunch dates to suspicious necklaces, we get to the bottom of these rumors once and for all.
Pete and Kaia's romance "cools off" while he takes time to work on himself.
According to an E! source, Davidson and Gerber's relationship is pivoting while the SNL comedian takes "a break to work on his mental health."
The source continued, "It became very clear that he had to go and do this and couldn't wait any longer."
A second source at the outlet revealed that Davidson is currently in "a program," and he and Gerber "haven't had a lot of contact." The insider additionally divulged that Gerber is uncertain about her and Pete's future.
"[She] doesn't know if she wants to continue in their relationship," the source said, adding that she "wasn't comfortable with what she saw and doesn't know if she can handle it. What she saw happen with Pete was very concerning and scary for her… She cares about Pete and wants him to get better. But their future is very much up in the air."
Kaia's parents are reportedly helping Pete.
After reports of a heated conversation between Kaia's parents outside of her apartment, a source revealed that Cindy Crawford and Rande Gerber are looking out for their daughter's boyfriend.
A source told E! News, "Cindy and Rande wanted to be there for Kaia and supportive of her. They are very involved and loving parents and they would do anything for her." The source continued, "They stepped in to try and guide her and to help Pete through a difficult time."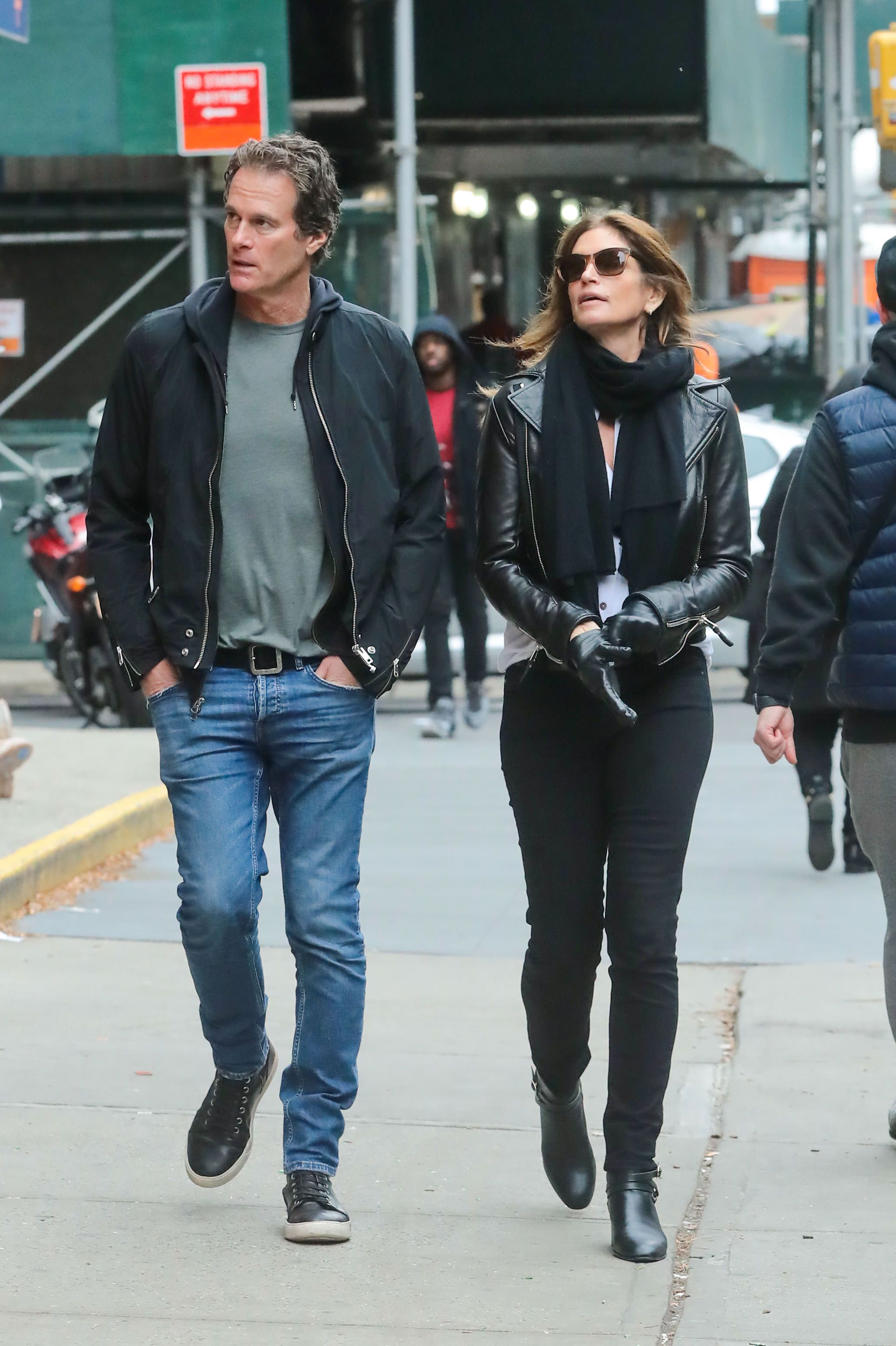 The source added, "They tried to intervene and offer what they could. It's been upsetting for Kaia and for them to see their daughter dealing with something so serious."
Previously, a source told Daily Mail that Rande Gerber was overheard talking to Cindy Crawford about a person in his daughter's apartment with "scratched eyes" who was "freaking out." It's been assumed that the individual in question was Davidson, as he was reportedly spotted in the building around the same time; although, it's unconfirmed.
According to the source, Rande Gerber was reportedly overheard saying, "He's got scratched out eyes. His face was like scared as if someone or a camera was on him."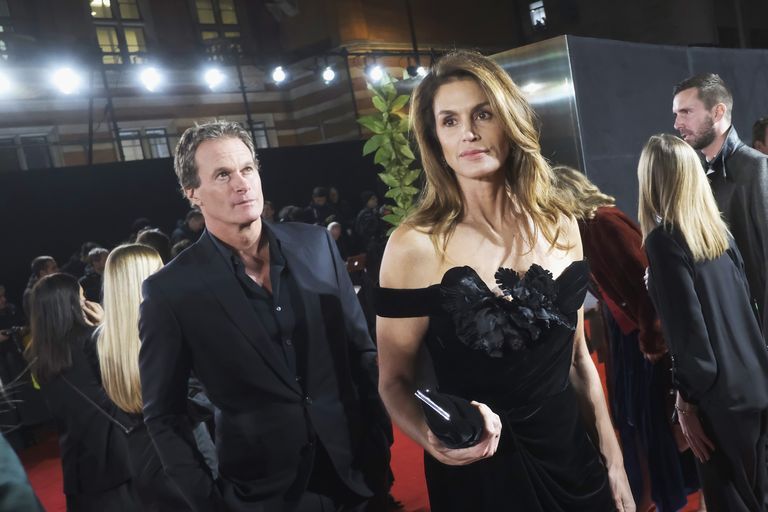 Page Six previously reported that a source had allegedly revealed, "I think they're just hoping this could all fizzle out… [Kaia's] traveling and working constantly—how serious can [she and Davidson] get?"
The comedian talks about his relationship on SNL.
Davidson hit up the "Weekend Update" segment of Saturday Night Live to address his relationship with Gerber. He even joked about the fact that the general public seems to favor Colin Jost's romance with Scarlett Johansson over his with, well, anyone.
"You get to date a famous woman and everyone's delighted, but I do it and America wants to punch me in the throat," Davidson joked. He continued, "If I'm your type of guy that your daughter, or mother, is into, then trust me, I'm the best case scenario. There are a million guys who look like me and I'm the only one with a job. It's like me or Tyga."
Kaia and Pete's Florida love-fest.
If the status of Gerber and Davidson's relationship was previously a little unclear, that all changed when the couple traveled to Miami Beach, Florida. From full-on making out by the pool, to straddling one another in the water, to holding hands as they attended a wedding party, the pair pretty much confirmed their budding relationship in a series of NSFW photos.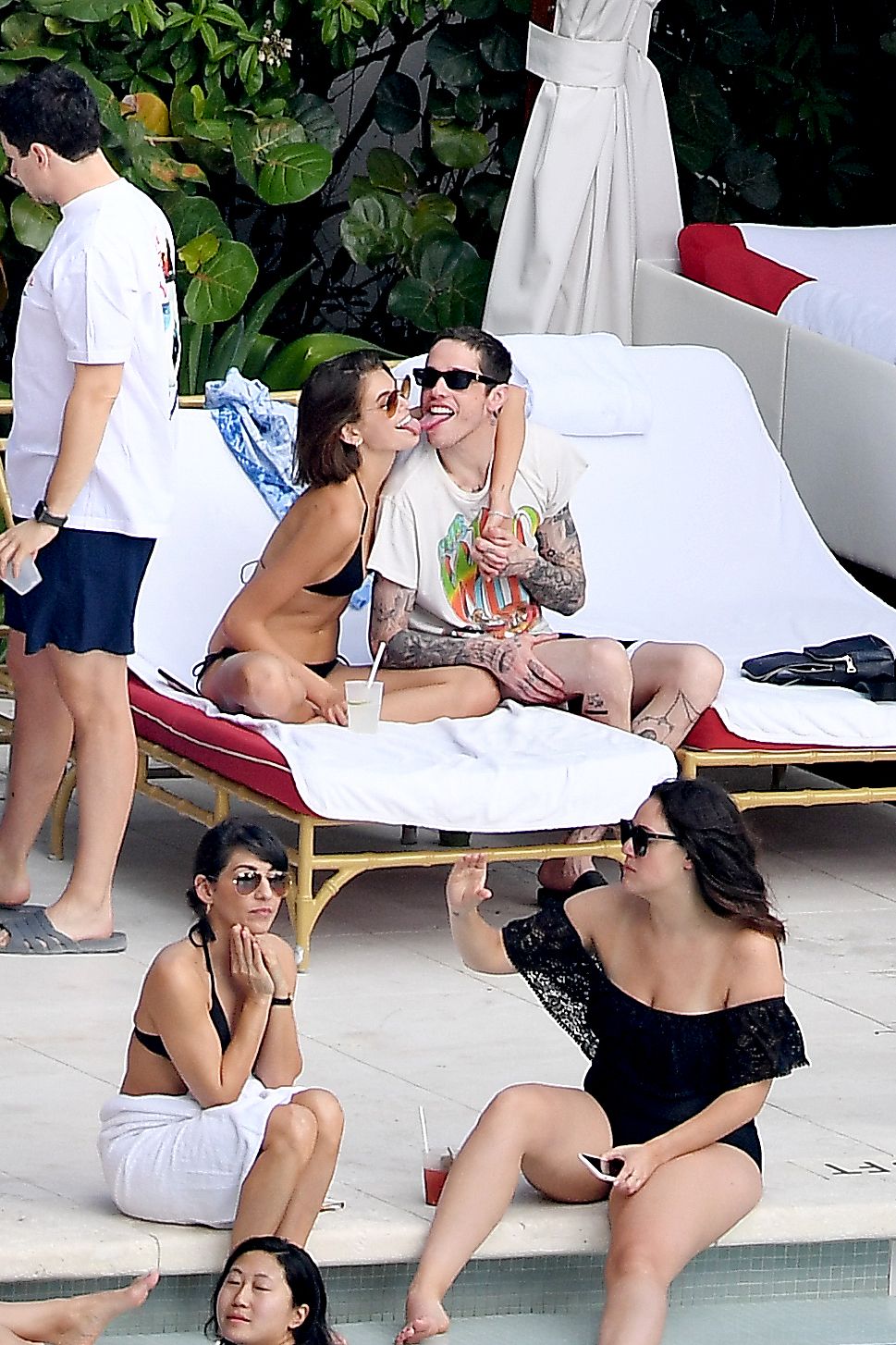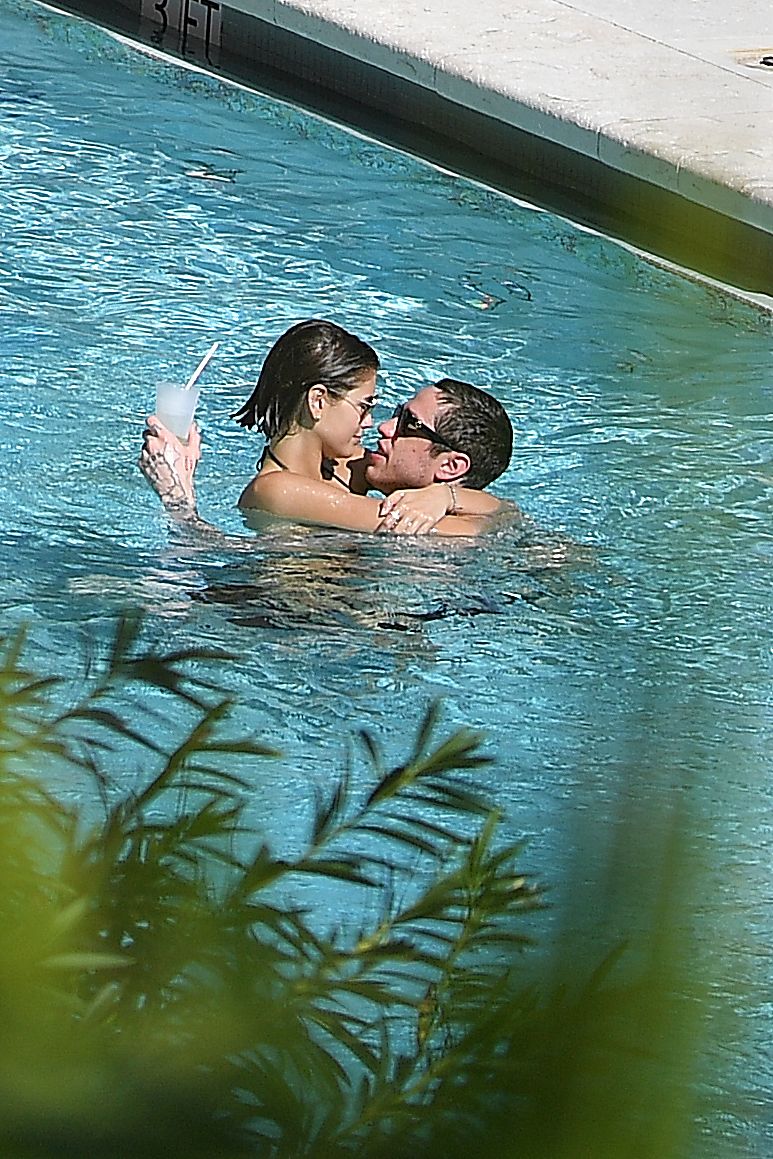 And it's impossible to deny that they looked super cute all dressed up for their wedding date.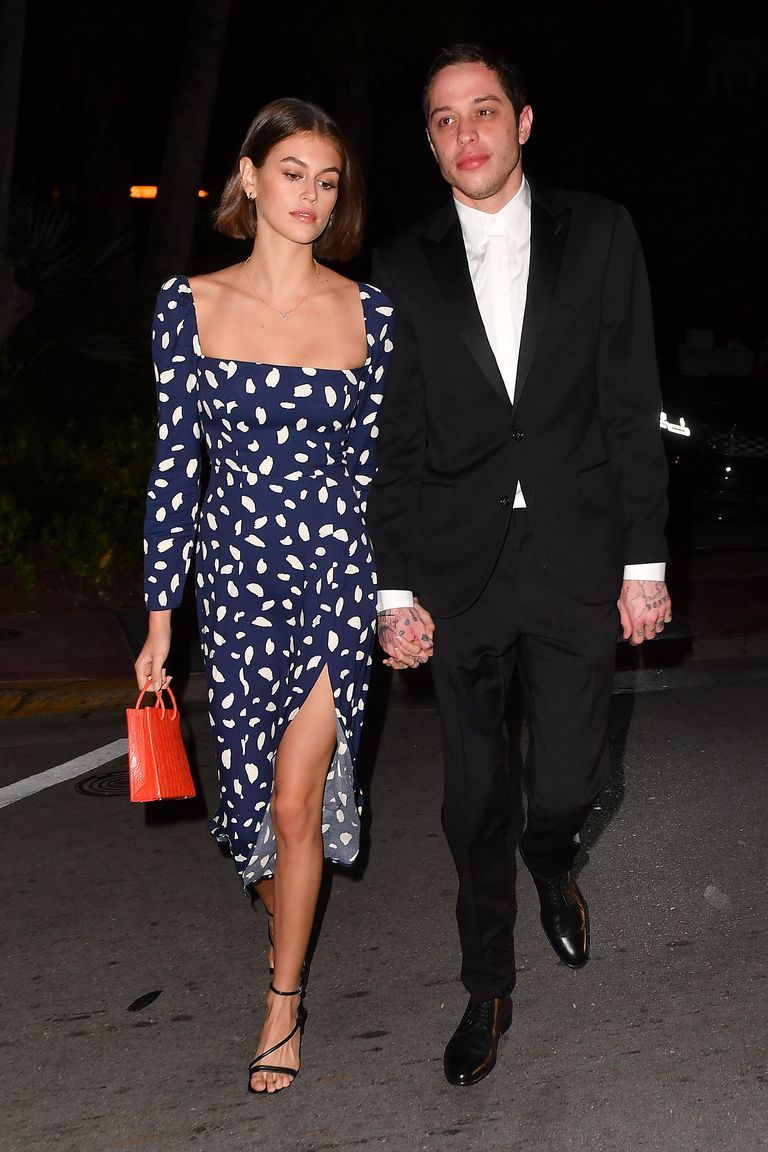 Pete invited Kaia to the SNL after-party.
Nothing says romance like an invitation to a Saturday Night Live after-party. And according to Us Weekly, "Pete and Kaia, they showed up together, but did not hold hands." The shindig at Le Chalet in New York City appeared to double as a birthday celebration for Davidson, who just turned 26.
Us Weekly also reported that Gerber was seen purchasing a confetti cake for Davidson's birthday. As for their appearance at the after-party, a source described them to Us Weekly as "very flirty throughout the night as they became more relaxed inside of the restaurant. Again, there were a lot of people nearby and were very aware that people were watching them and their every move."
Pete and Kaia were spotted on a lunch date, which kicked off dating rumors.
The comedian was recently spotted dining at New York City's Sadelle's in the company of Cindy Crawford's daughter in late October. The two appeared to be smiling together as they sat in a corner booth of the restaurant.
Despite the seeming coziness, an insider at Page Six said that Davidson and Gerber are actually "just friends." The source also added that the duo probably met this past June, since they both walked Alexander Wang's runway show in New York City.
The new Davidson–Gerber dating speculation comes in the midst of a fresh breakup for the comedian, who reportedly split from Margaret Qualley, an Emmy–nominated actress with roles in Once Upon a Time in Hollywood, Fosse/Verdon, and Death Note. Davidson and Qualley first sparked dating rumors when they were spotted together this past August.
According to Us, the romance ended earlier this month, although a source told the outlet that "they remain friends."
Other notable romances that have swept away Davidson recently include a fling with English actress and model Kate Beckinsale and an engagement to pop star Ariana Grande.
People thought Pete gave Kaia a necklace with his initial.
For anyone who grew up with the American treasure that is High School Musical, we all know that a boy gifting a girl a necklace with his first initial on it means that things are getting serious.
Naturally, when people noticed that Gerber wore a gold chain with a barely discernible letter P attached to it while attending the Women's Guild Cedars-Sinai Annual Luncheon, they went nuts.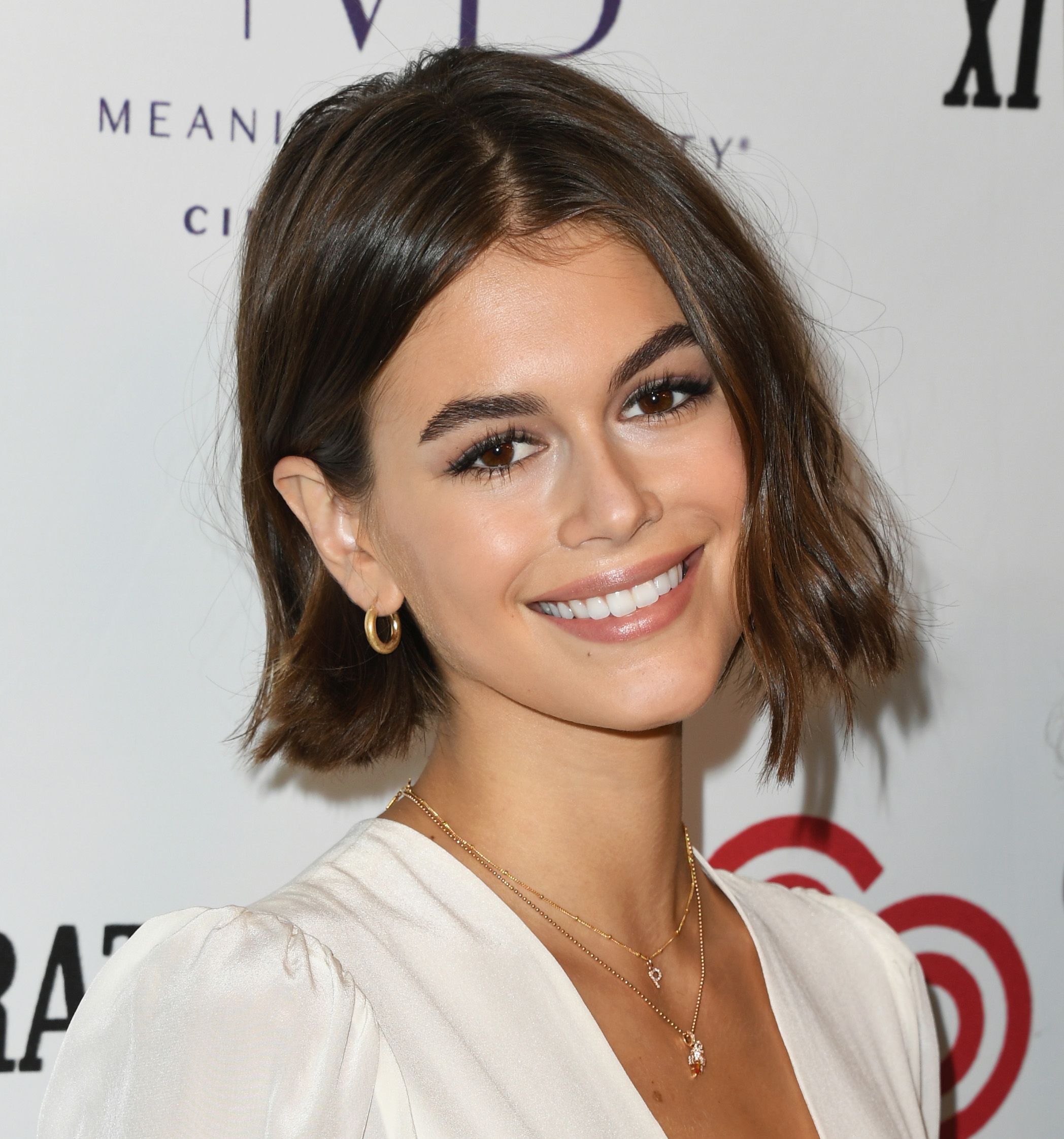 Of course, this doesn't confirm the dating rumors as much as it confirms the Internet's aggressive aptitude for observance. And, if we're being honest, P could stand for anything, from her brother older, Presley Gerber, to "Prettier than Pete" to "Pay Workers a Living Wage!" Everything is still very much open to interpretation.
They were seen holding hands in NYC.
Reader, I'm so sorry to report that Davidson and Gerber were in fact photographed holding hands outside of a supermarket in upstate New York. Does it mean that the two are indeed in a relationship or just casually seeing each other? We don't know for sure.
What we do know is that Gerber looked autumnally chic, donning a structured leather jacket, white beanie, striped yellow sweater, and jeans. Meanwhile, Davidson looked … pretty much like Pete Davidson. Page Six has the photos.
They are, reportedly, "dating."
According to a source at Us, the two are indeed dating but trying to keep a "low profile."
"Pete and Kaia are dating and they've been trying to keep their relationship somewhat low profile," the insider said.
In early November, Gerber also supported Davidson during one of his comedy shows. "Kaia appeared to be having fun and she was with a guy who had bleached hair, "an eyewitness told Us. "Pete and Kaia weren't showing outward PDA and were being low-key. During the show, Pete and Kaia were texting each other."
Source: Read Full Article