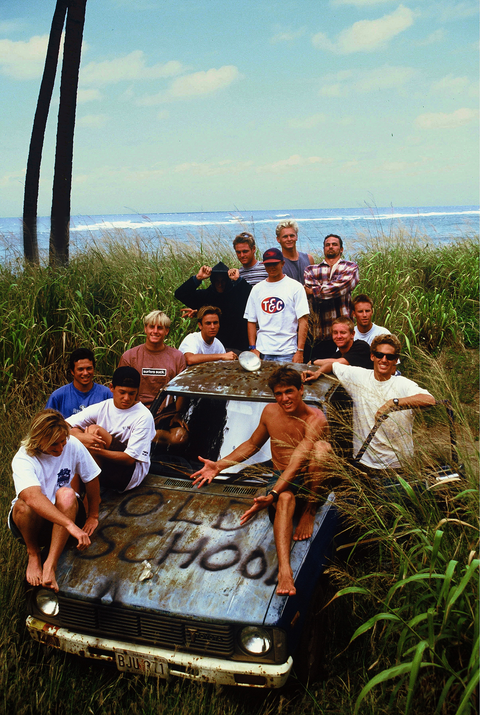 If you grew up in the '90s you knew one thing to be true: Kelly Slater was the man. He is the proud owner of 11 World Surf League Champion titles, five of which he won consecutively from 1994 to 1998. Though he's unquestionably the winningest and most well-known surfer in the world, he didn't get there alone. And now, a new documentary film is showing everyone just how he and his friends changed the sport forever.
Momentum Generation, a documentary set to air on HBO on December 11, is the ultimate sports retrospective on how surfing went mainstream thanks to Kelly and his friends, including Rob Machado, Taylor Knox, Ross Williams, Shane Dorian, Kalani Robb, and Pat O'Connell. Like most sports movies, it's got a few epic action scenes. But the film also cuts to the core, exploring life, love, friendship, and loss in a way you'd never see coming from a few teenage boys just looking to paddle out.
"I didn't want to do it, to be honest," Slater told Men's Health on a patio in Santa Monica, California, soaking up the last rays of sunshine of the day. "I was probably the most vocally opposed to it. I just felt like maybe it hadn't been enough time, and I didn't know if there's enough meat on the bone for the story."
There's certainly enough. Over the course of two years, filmmaking brothers Jeff and Michael Zimbalist compiled a literal lifetime of footage, sourcing from more than 138 different people around the globe to piece together the story of how these young men came to be a force in sports, pop culture, and one another's lives over the last three decades.
"You are the company you keep in life, and I've got a really great group of friends," Slater said, scrolling through the text thread the guys still maintain every day. "Nobody's perfect, but I think as a unit, as a whole, our group is pretty special."
But don't get it twisted: The film isn't one kumbaya moment after another. Without giving away too many spoilers, Momentum Generation chronicles the lives of a group of boys who mostly came from rough beginnings. For Slater, that meant diving deep into his relationship with his father, an alcoholic who often cheated on his wife before the two divorced. Others in the film dealt with broken families, abuse, drugs, and the death of one of their closest friends. Watching the film, you can't help but think it's a miracle these kids became superstars, let alone made it out alive.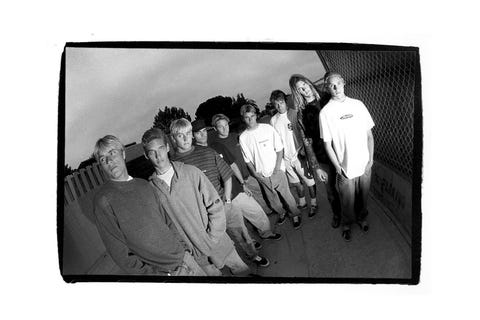 Momentum Generation
But, at the end of the day, they all admit that Slater was the chosen one amongst them, destined to become the Michael Jordan of their sport. And he got there because he had a competitive nature that has gone unmatched for more than 30 years in the water.
Slater said he was willing to do whatever it took to win title after title after title throughout his career. He didn't want to win for the money; it was because he has the heart of a pure athlete. His friends aren't so sure: They spend a good chunk of the movie debating the merits of a soul surfer versus a winner in a sport where titles and money are on the line—not to mention the now-infamous incident simply known as "the hi-five."
"Anyone who makes an issue about how competitive I was in the past, just couldn't handle it, and that's their issue, not mine," he said. "Maybe I was overly competitive, but maybe they couldn't own their competitive nature. That's definitely true for a couple [of] people. And I didn't necessarily point that out about them."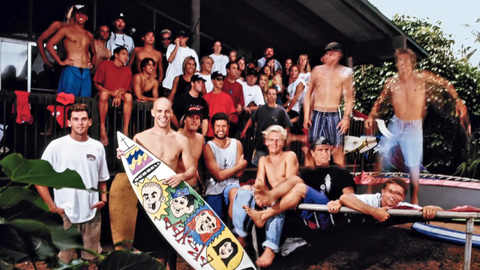 Momentum Generation
Though Kelly can be described as a Zen master today (which is something all those friends throwing him jabs in the film admit to as well), he still wholeheartedly believes in being the best. And owning it.
"If you're really competitive and you beat somebody, they get pissed and they can't deal with it, but that's the nature. If you're not competing to win and beat everyone else, then don't do it," he said matter-of-factly.
Kelly is pushing damn near 47 years old. But, he's still got a few competitions left in him, one of them being the Billabong Pipe Masters in the North Shore later this month. There, he'll go up against guys like John John Florence, who just turned 26. But, for Kelly, it doesn't matter. He's been ready since the day he was born.
"I probably won't put in as much time prior to Pipe as I would have," Kelly said of how he trains today versus when he was, say, Florence's age. But, it's gotta be said, Kelly looks like he found the fountain of youth and dove in head-first.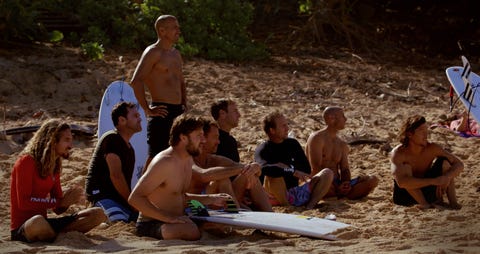 Momentum Generation
As for if he thinks he can still win, well, of course he does. He's Kelly fucking Slater.
"I'm gonna wait until I get there, just how I feel, how my boards feel," he said. "I'll see how focused I am on the contest, but I'm not going into Pipe thinking I can't win. No chance. I'm going there thinking I can win this thing for the next 10 years."
Check out Momentum Generation for yourself on December 11.
Source: Read Full Article