Resurfaced quotes from Wendy Williams' Wendy's Got The Heat are so telling, now more than ever.
The daytime TV host's 2001 memoir features details of husband Kevin Hunter's previous alleged affair with an unidentified lover.
As you know, the timing of these quotes coming to light couldn't be more interesting, as it was reported that Hunter's current alleged mistress Sharina Hudson welcomed a baby girl recently.
In her book, Ms. Williams recalls the moment she knew her husband was being unfaithful to her. While eavesdropping on one of Kevin's conversations, she admitted:
"In those forty-five seconds my woman's intuition kicked in and I knew he was on the phone with a lover. No woman deserves this. I wanted to kill him. I mean really kill him. For real. I wanted to kill him more because I was in the process of breaking my Number One Rule: No Cheating."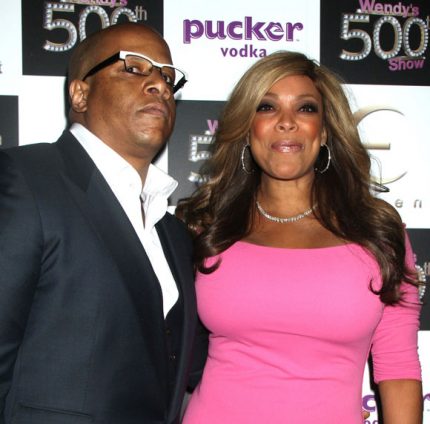 The TV personality stated in her book that she went so far as to hire a private investigator to get details on how serious things had gotten with her husband's alleged mistress.
"I needed to know if she was in love? Was he in love? Were condoms used? Is she pregnant? Was she laying up in the Marriott with him?"
Wendy also stated that the "only thing" that would make her "walk out for good" is if Hunter "lied about anything."
"If he was in love, if she was just as successful at what she does as I am in my career, if she had his baby."
Whoa.
As we previously mentioned, the married couple is currently playing it cool despite all other recent reports of Kevin's alleged newborn daughter.
Production sources on The Wendy Williams Show told TMZ that Hunter has remained on set with his TV personality wife this week as she films because he's still an executive producer on the show.
Williams was spotted without her wedding ring as she was leaving her sober living home last week — but the sparkler magically re-appeared on her finger when she was filming the same day.
And speaking of old memories being brought up…
For those who might have missed it, the 54-year-old's ex-husband Bert Girigorie recently opened up to Radar Online and spilled his own tea about Wendy's alleged infidelity during their marriage.
The duo dated for two years before tying the knot in 1994, and later divorcing in 1995.
Girigorie told the outlet that his ex-wife would often "stay out all night" with no explanation:
"She would stay out all night and come home about 10 or 11 o'clock in the morning and was like 'Oh?' and she didn't offer any explanation. And that pissed me off. I just let it go. I do not wish her any ill will. I hope that she is able to find some peace of mind."
He also added that he now considers their marriage a "sham" for publicity.
We hope all of Wendy's current drama works itself out, especially as she continues to work on her physical and mental health.
Source: Read Full Article