After keeping a relatively low profile since exiting the White House in early 2017, Michelle Obama is back in the public eye — at full force. Her new memoir, Becoming — which has been a major news event since it hit stores on Nov. 13 — is shaping into one of 2018's biggest blockbusters. It has become the fastest-selling book this year at Barnes & Noble, and sold more than 725,000 copies on its first day and over 1.4 million copies by the end of the week. The former FLOTUS has also embarked on a 12-city tour, which started the same day the book was released.
The reaction to Obama's tour has been astoundingly positive, even outside of the U.S., proving that the world's fascination with her has not waned in the slightest. And with big-name moderators (and friends within the Obama circle) leading each discussion during the tour — from Oprah Winfrey and Sarah Jessica Parker, to celebrated Nigerian author Chimamanda Ngozi Adichie — the accomplished lawyer has no doubt reached mega-star status, quickly selling out full arenas, with people shelling out thousands for tickets.
Now that she's moved on from her time as the first lady of the United States, Obama gets very real with readers throughout her coming-of-age tale, sharing extremely relatable (and largely undiscussed) experiences, like couples therapy and fertility struggles. She also opens up about her experiences with fashion, exposing the unglamorous truth of what it means, and takes, to be a high-profile female public servant and an automatic fashion icon — all while being a black woman.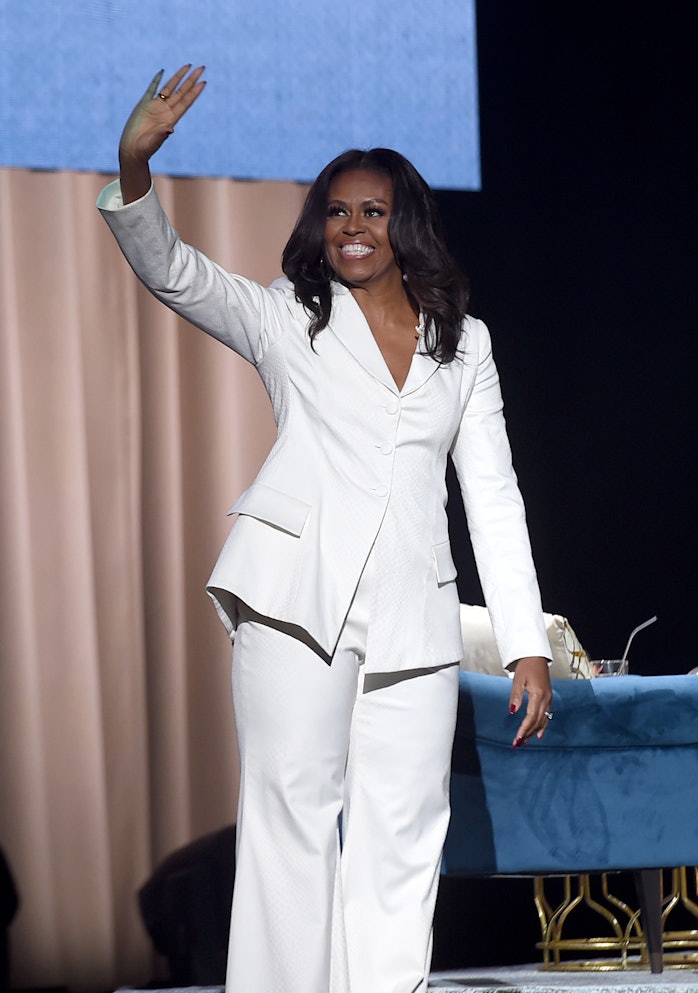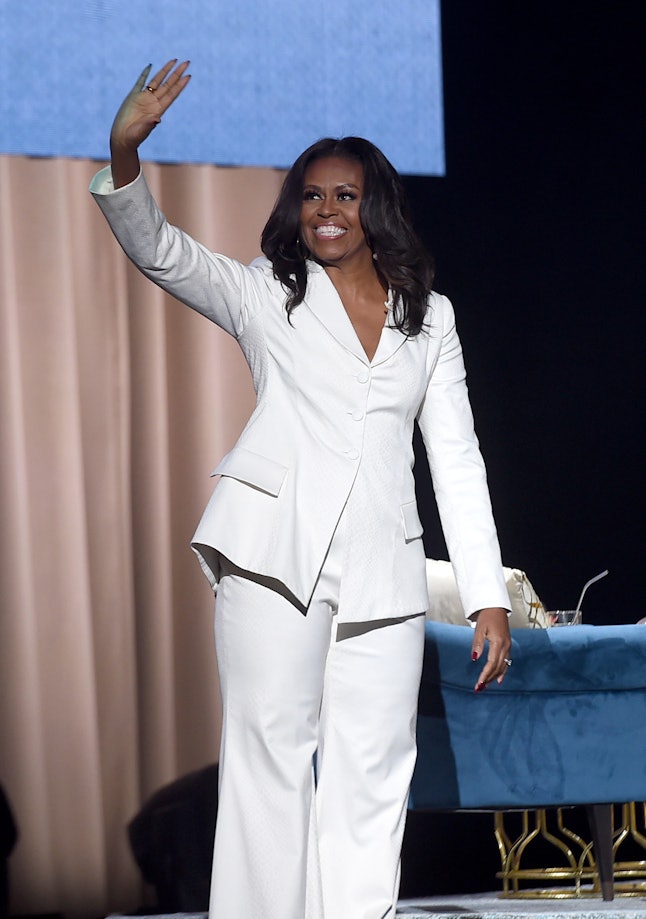 "It seemed that my clothes mattered more to people than anything I had to say," she wrote about the media's fascination and constant policing of her style. During Obama's eight years in the White House, everything from wearing sleeveless dresses that exposed her toned arms to the now infamous gray shorts have caused a fuss. "This stuff got me down, but I tried to reframe it as an opportunity to learn, to use what power I could find inside a situation I'd never have chosen for myself," she continued on.
Navigating the touchy sartorial scene while serving meant Obama had to hire a professional stylist, endure hour-long fitting sessions, research everything she wore, and invest money into each of her carefully calculated pieces. Including preparing for multiple potential scenarios on trips, like an unexpected funeral, she explained in the book.
The pressure that fashion plays on a first lady definitely isn't a foreign concept. It seems that current FLOTUS Melania Trump is almost constantly in hot water for her clothing choices, sometimes for good reason, (i.e. the controversy surrounding the pith helmet she wore in Kenya) and each one of Obama's predecessors have also been put center stage. But as America's first black woman in the high-profile position, Obama's experience was far from typical — and came with much greater feelings of scrutiny, she revealed.
"I was humbled and excited to be first lady, but not for one second did I think I'd be sliding into some glamorous, easy role. Nobody who has the words 'first' and 'black' attached to them ever would," she wrote. "As a black woman, too, I knew I'd be criticized if I was perceived as being showy and high end, and I'd be criticized also if I was too casual."
Obama goes on to detail that this incredibly zoomed-in lens led her to depend heavily on her stylist Meredith Koop to help her nail every single ensemble. As well as her makeup artist Carl Ray, and longtime "hard-laughing hurricane of a hairdresser," Johnny Wright.
"We have to think about so many aspects when it comes to our style and hair in a professional setting," comments Nicole Howard, a Maryland-based entrepreneur and founder of career empowerment website SisStayReady.com, who attended the Washington, D.C. stop of the book tour.
Howard tells Bustle that she believes women of color in particular walk an extremely thin tightrope when deciding on a workplace grooming strategy. Especially due to the fact that, still to this day, that natural hair can be deemed as inappropriate in certain work environments.
When facing the public, Wright always made sure that Obama never had one hair out of place, altering between the silkiest presses, bounciest blowouts, and the softest, loose curls. Which is why the internet was set abuzz when she shared something new with the world on the December/January 2018 cover of Essence magazine — her glorious, natural coils.
Up until that moment, the former first lady had maintained straightened hairstyles on countless other covers. During her time in the White House, Obama never revealed why she opted to wear straight styles. Her signature blowouts could have very well been a personal preference, or, as many professional women of color have faced, a result of the all too common pressures to conform to European standards of beauty, where straighter hair maintains a higher prestige.
"Would Michelle Obama have been perceived differently if she wore an Afro, braids, or even her natural curl pattern? Can all audiences relate to those cultural styles?" Howard asks. "Obama understood the importance of being able to be relatable."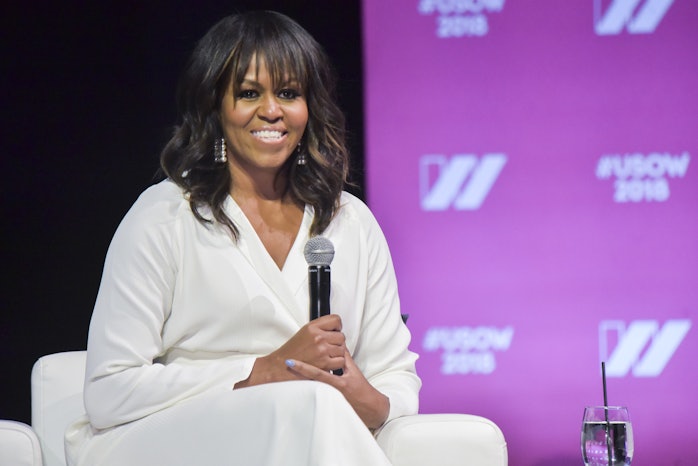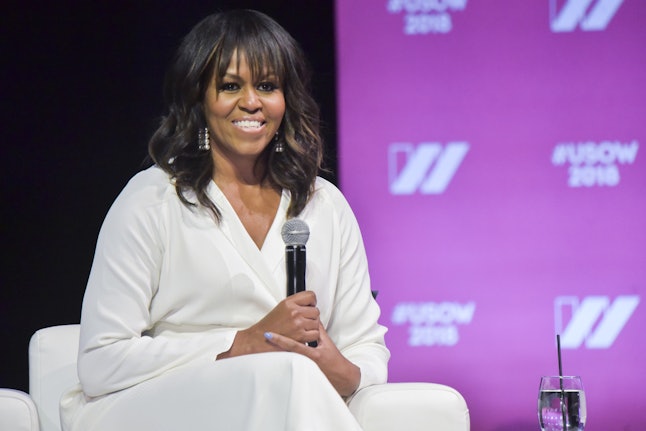 But Chanele McFarlane, founder and editor-in-chief of career and lifestyle platform Do Well Dress Well, can personally relate to the struggles of the former first lady.
McFarlane recalls one incident, from when she worked in the public relations field, where she dealt with blatant hair discrimination for wearing single braids to work instead of her signature straight pixie cut. "No one could pay attention to anything I had to say without first having a discussion about my braids," she remembers. "I was told that my hair looked more 'professional' and 'neat' without them." A week later, McFarlane found herself unravelling her plaits, explaining that the emotional stress they ended up carrying along with them was simply not worth it.
McFarlane also shares that she's been a long-time fan of the former FLOTUS' style approach since Obama's first day in the White House. She even names some of her wardrobe staples, like her sleeveless sheath dresses, her "Michelle Obama" pieces.
"When choosing an outfit for a speaking engagement, I honestly ask myself, 'What would Michelle Obama wear?'" McFarlane confesses. "She has truly set the standard for how black women can put themselves together. It's classy, yet attainable for anyone — and she's not afraid of color."
Brittany Andrew-Amofah, a Toronto-based senior policy and research analyst and political commentator, is another woman of color who has been inspired by Obama's style as well — specifically while she was in the White House. "As a black woman in politics, because there are so few of us," she explains. "And because of how systemic racism operates there's a tendency to watch us very closely, to analyze our every move, and to quickly scrutinize the things we say or how we look. She set a new precedent for how black women's leadership should be seen and interpreted."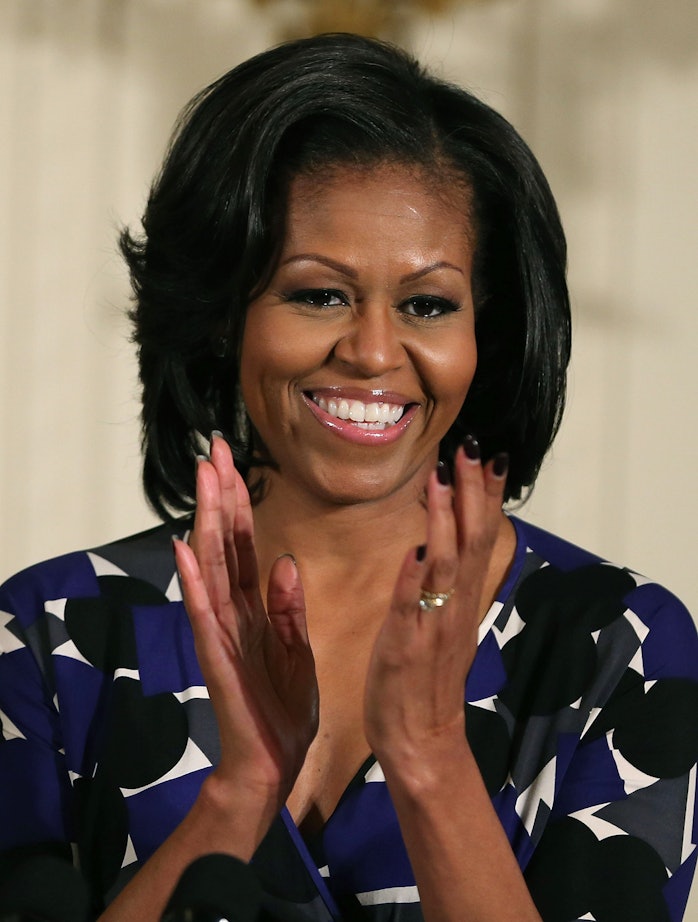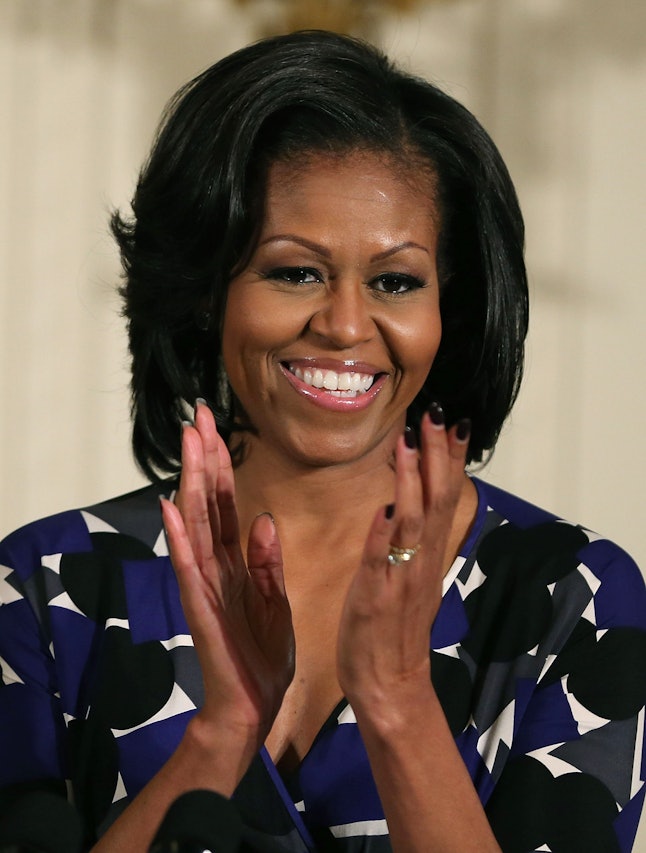 But this isn't the first time the creator of "Let's Move" has been candid about her experiences with race — even outside of her appearance. During Obama's 2015 commencement speech at the historically black Tuskegee University in Alabama, the then first lady named a number of racialized gender jabs she received on her path toward the White House, as well as during her tenure there. She recounts phrases and accusations of being called "loud," "angry," and "emasculating," as well as being referred to as Barack Obama's "baby mama."
The countless pokes Obama has faced when it came to her femininity, personality, and physique — not to mention the blatantly racist caricatures that have surfaced for laughs over the years — mirror the stinging reality many women of color face when it comes to our appearance, especially when you're a black woman of stature.
Just look to Valerie Jarrett, a former senior advisor to President Obama, who was at the center of actress Roseanne Barr's racist tweets earlier this year, where Barr referred to her as an "ape." Or California Congresswoman Maxine Waters, who was insulted by former Fox News host Bill O'Reilly over her hair being described as a "James Brown wig" by the disgraced anchor back in 2017. And we can't ignore Serena Williams: The 23-time Grand Slam champion has been blasted numerous times about her style, hair, physique, and demeanor.
For eons, black women have had to face a valley of negative stereotypes when it has come to our bodies, our clothing, and our hair — rooted deep in a history of racism and beauty ideals born from the slave era. What's more, many times, we find ourselves being the only black woman in various social and professional settings, where we become hypervisible — much like Obama was on the public stage. In these scenarios, our amazing uniqueness, from skin tone to hair texture and body shape, makes it nearly impossible to truly blend in with what's been deemed the standard by white society. This ultimately leads women of color to become easy subjects of the harshest, most unforgiving judgments, and the fear of not being taken seriously.
Similar to Obama, Andrew-Amofah has also found herself, many times, being the one woman of color with a seat at the table. "I've done a lot of firsts, and it's a heavy but incredible burden to carry," she states. "Michelle deserves tremendous credit for redefining what it means to be both classy and stylish in a way that still commanded the respect she needed in order to do her job."
Becoming hands down deserves the worldwide celebration it's been receiving. Michelle Obama's sheer presence as the former first lady and now reminds us just how much we have progressed. Yet her deeply personal remarks on the issues she's faced also helps to address, in a very public way, the ugly truths that our society is still very much a work-in-progress when it comes to the black experience and respecting black women. But at the very least, Obama's remarks has amplified the conversation to a global scale.
"I don't believe anyone has talked as candidly about this before as Michelle Obama," says McFarlane. "It once again highlights the intensity of emotional work required for black women to move through the world, and I am so glad she's made this clear."
Source: Read Full Article