Sole Mates is a new HYPEBEAST series that asks, simply, "why do you love shoes?" Searching for a deeper meaning beyond hype, Sole Mates uncovers each subject's sneaker origin story, letting them wax poetic on why a particular shoe means so much to them.
---
Jimmy Gorecki has seen it all. Born in Philadelphia but now based in California, Gorecki was a founding member of Pharrell's influential ICECREAM skate team in the '00s alongside other luminaries like Terry Kennedy. Now, he's co-owner of Standard Issue Tees and JSP — brands that provide high-quality, made in the USA basics like hoodies, crewnecks and sweatpants, while also collaborating with entities like PLEASURES and Lapstone and Hammer.
Over his two decades-plus in the game, Gorecki has watched trends come and go and skateboarding shift from a bastion of counter culture to a commercial powerhouse. One thing that's remained consistent through all these shifts, however, is Gorecki's love of sneakers — especially Nike's cult classic Air Woven. When the Woven arrived stateside a few years after its Japan-only debut in 2000, Gorecki was a young Philadelphia skate rat and sneaker store employee who couldn't find a pair anywhere. However, this lack of options only made him love the shoe even more, and served as a guiding light for what he thought (and thinks) "underground" sneaker culture really is.
In this edition of Sole Mates, Jimmy Gorecki speaks on what got him into sneakers, if he's ever skated in a pair of Air Wovens, and why he thinks it's remained such an under-the-radar style even after the proliferation of Instagram "archive" pages that attempt to unearth hidden parts of sneaker culture. See Gorecki's full conversation with HYPEBEAST below.1 of 2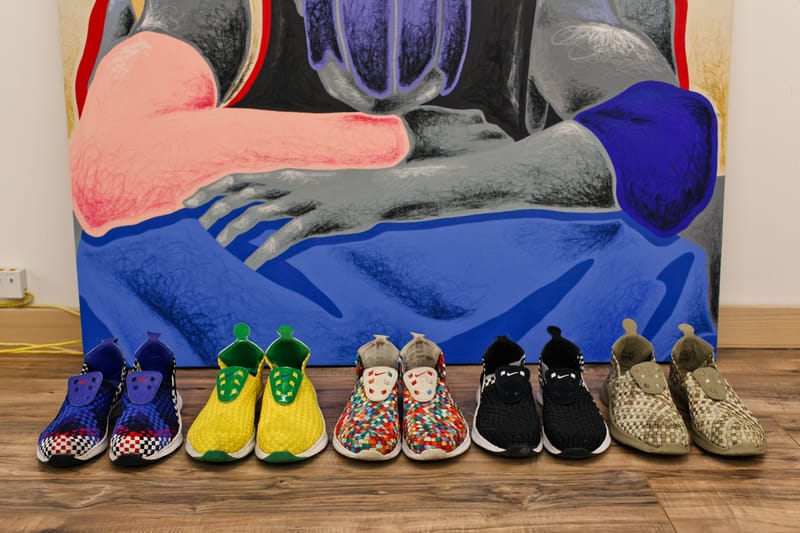 Shannon Brown/@cobra242 of 2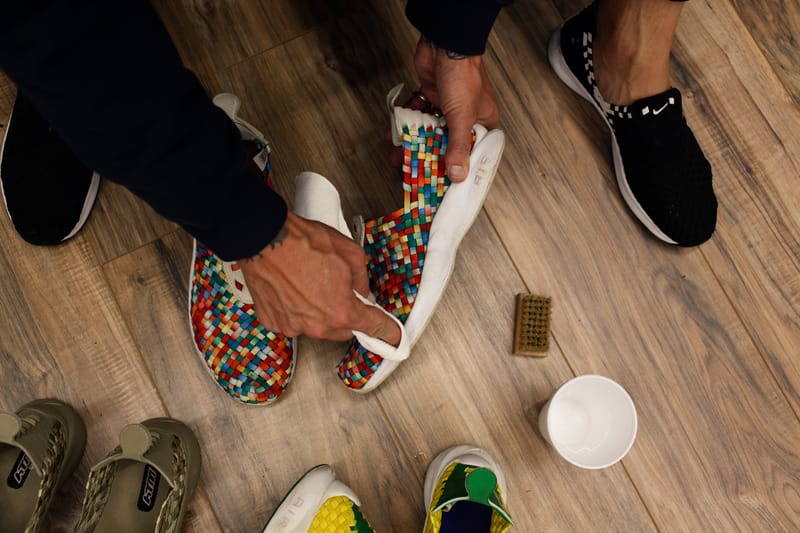 Shannon Brown/@cobra24
HYPEBEAST: Who or what got you into sneakers?
Jimmy Gorecki: My two older sisters. They were really big sneakerheads — mostly because they played basketball and got their style from that. From Nike Basketball's Barkley line to casual kicks like the Timberland 40 Below, they were really immersed in it. As I got older, my good friend Nino Scalia [ICECREAM skate team manager] was the person who opened my eyes to the entirety of sneaker culture.
The Air Woven is a very "cult" sneaker. How did you first discover it?
Nino Scalia introduced me to it. We were both like "something this cool could only come from Japan. There's no way a sneaker like this could have been offered in the United States." Me, as a young 16 or 17-year-old kid, the Air Woven was the end all be all of collectable sneakers — and I couldn't get my hands on it. I don't even know if I would have rocked it back then, in all honesty. It was just so unobtainable that it set the precedent for what — in my eyes — real underground sneaker collecting and culture was.
Were any pairs available in Philly at that point?
Nah. I was working at UBIQ at the time, and I don't know if we ever got a single pair of 'em. It seemed like the Air Woven disappeared pretty quickly after being introduced to the US market. At that point in time I was rocking a lot of Nike ACG shoes like the Humara and the Lava Dome plus Air Max 90s, Air Max 95s, Air Max 97s. That was what was cool in Philly at the time, and the Woven just kind of slipped away. I think that disappearance is what ultimately contributed to the allure of the shoe for me.
Do you remember the first pair of Air Wovens you were able to get your hands on?
The HTM Air Woven — a shoe I actually just re-acquired recently. Both then and now, I had to hit eBay for 'em. They were tough to find when I was younger, because the other ACG and Air Max silhouettes I mentioned before were pretty omnipresent back then. Honestly, that original pair was the first and only one I had until 3-4 years ago when I was able to get my hands on a lot more.1 of 2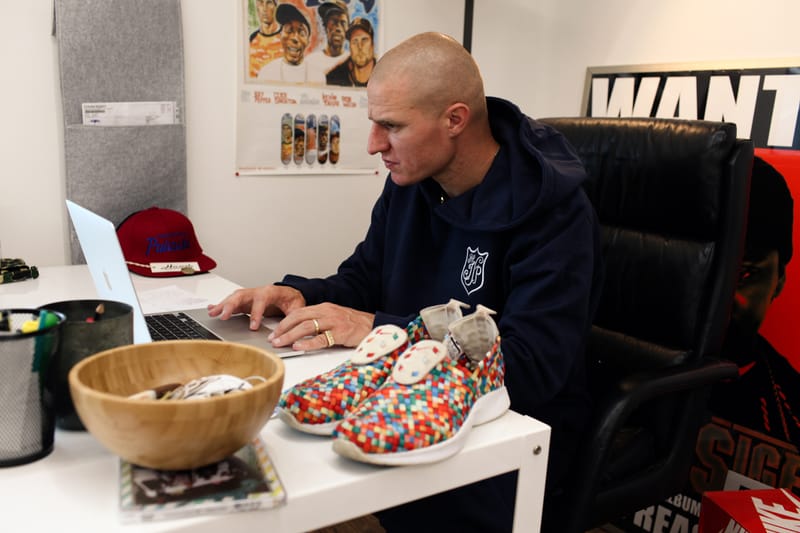 Shannon Brown/@cobra242 of 2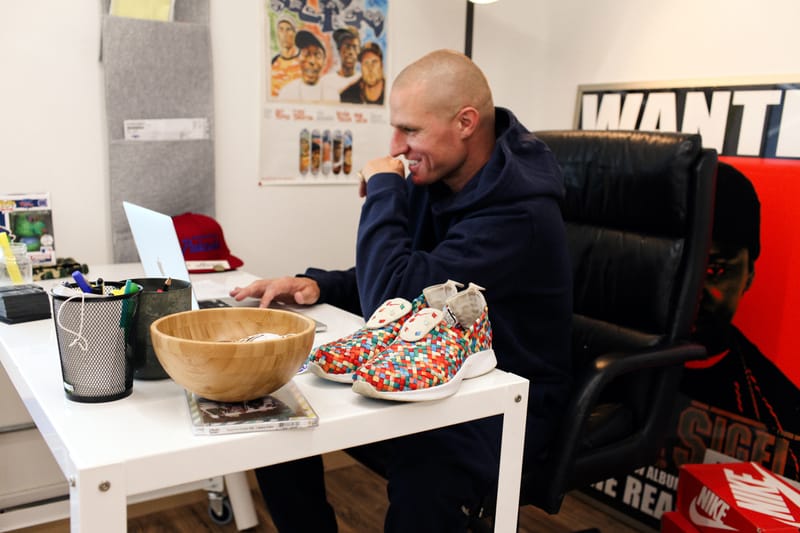 Shannon Brown/@cobra24
So is the HTM your favorite Air Woven?
Oh yeah. The Air Footscape Woven Chukka RPM is another favorite too — that bright mix of colors and that basket weave print just looks so unique. If we're talking HTM, I've gotta show some love to the Terra Humara too. I just pulled a black HTM Humara out the other day, and the f*cking air bubble completely disintegrated after a few steps (laughs).
What pair are you looking to add to your collection next?
I'm head over heels for the blue and white colette pair. It's not the most complex colorway, but something about it is pretty amazing. I've gotta say: it's rad that you can go on the sneaker apps like StockX or GOAT and the Air Woven is still kind of an "underground" shoe. You can find a nice selection for relatively reasonable prices — lots of 'em are 100 bucks, 150 bucks. It's just so versatile too: you can dress it up if you've gotta get your adult on, or you can still run it with some basketball shorts if you're in a hurry.
Did you ever skate in a pair?
(Laughs) Nah man, no way. It's definitely a post-skate session shoe, or a "chiller" as we called it. I wouldn't be surprised if you could turn up a clip or two of the OG Zoo York and Stüssy guys skating a pair back in the day, but not me. Just the idea of skating in them makes my toes bleed.
The Air Woven is a really unique shoe, and encapsulates a vastly different time in the world of sneakers. With today's proliferation of Instagram archive pages and people pining for the "good old days," why do you think it hasn't had another moment in the spotlight?
That's a good question, man. I honestly think it's because the Air Woven is a slip-on, a style that's still kinda particular. But its look is so unique that it is really surprising to me it hasn't bubbled up again. I want it to stay low-key though, so I can continue to pick pairs up easily. Here's hoping that a Virgil Abloh or Kanye West-level figure doesn't get Woven-happy anytime soon, because once those guys do it the whole world follows.
How are sneakers and the stories they carry significant to you personally?
When I think of my earliest memories of sneaker culture, it brings me back to such a cool time in my life. The skating I was around, the city of Philadelphia in the '00s. It was a different time in sneakers too, and everything was so new and fresh. Decades before Nike SB was even thought about and executives in a boardroom were talking about skaters, the worlds of athletic footwear and skateboarding were intertwined. That's what sneakers — and their stories — mean to me.
Source: Read Full Article