We've partnered with Moxy Hotels to help you plan the ultimate night out, whether you're catching up with a friend, networking with an acquaintance, or meeting a first date.
"Hey, are you free tomorrow night?" "Sure, let's grab drinks!" "Where should we go?"
Just that simple, three-text exchange can kick off a tidal wave of anxiety. That trendy cocktail bar that just opened seems too pricey, but your local neighborhood joint isn't nice enough. And if you throw food into the equation, it gets even more complicated. Do you spend the time to make reservations somewhere or opt for a more casual spot and hope there won't be a wait?
Thankfully, there's one go-to spot you can always keep in your back pocket: BumbleSpot at the Moxy. This partnership between Bumble, the women-first social networking app, and Moxy Hotels across the country creates inclusive, interactive places to meet all your connections in real life. The vibe of Moxy Hotels is fun and playful enough for a night out with your pals but still appropriate for a networking meet-up. In fact, the BumbleSpot at the Moxy makes an ideal location for everything from afterwork drinks with coworkers to food with out-of-town relatives to first dates — here's why.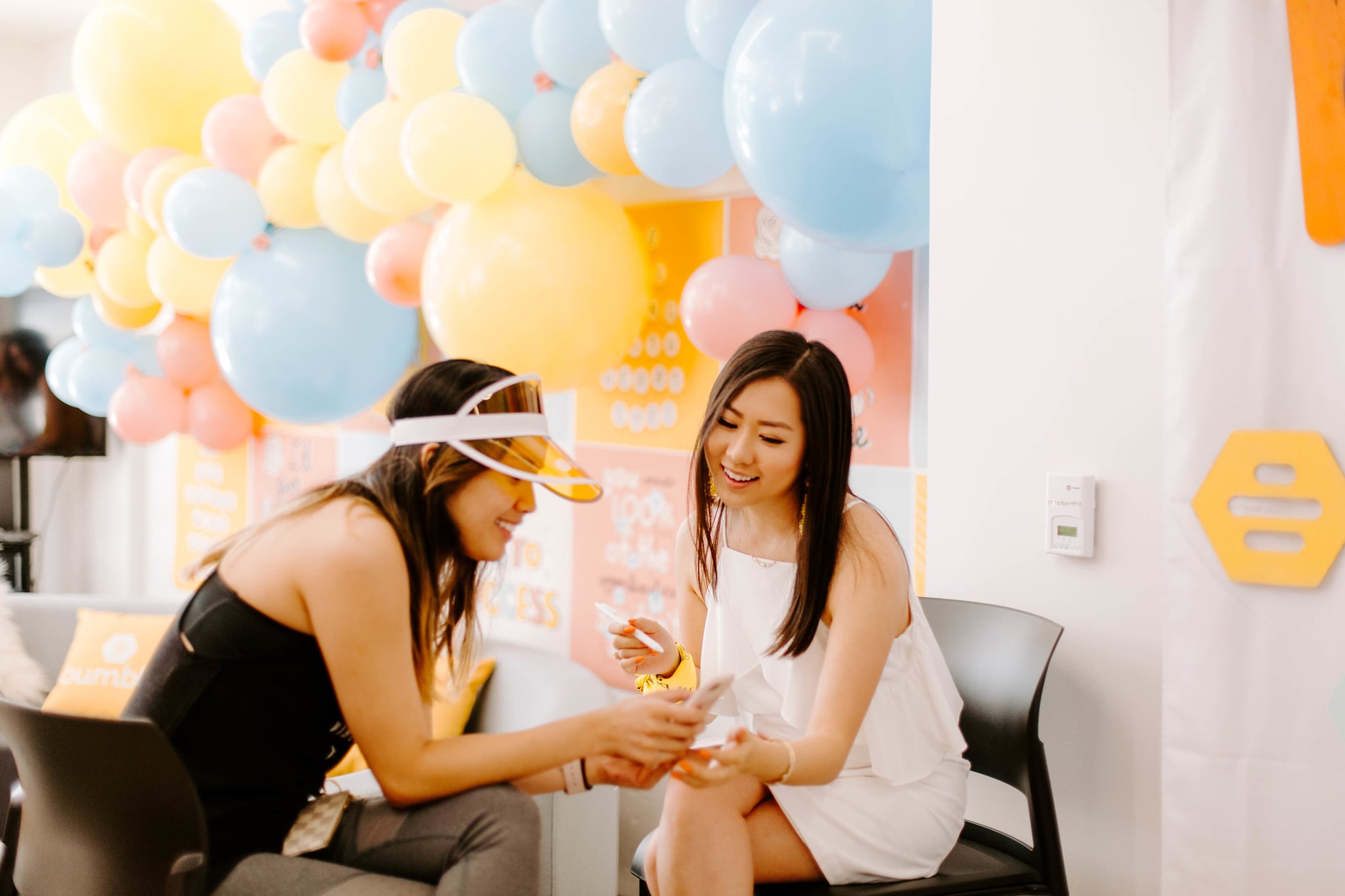 Bumble
For a First Date
Met a cutie on Bumble? You'll want to pick neutral territory for your first IRL date — nothing's more awkward than meeting a stranger at the pub where they know the bartender, bouncer, and every patron at the bar. Instead, meet at the BumbleSpot at the Moxy for the first time. There's one of these meeting spaces in every single Moxy Hotel in North America. Not only will you know you have an inclusive and fun place to meet, but you can also take advantage of food discounts, two-for-one specialty cocktails, and games such as life-size Jenga featuring Bumble-themed icebreakers. Win-win!
For a Friend Hang
Sure, happy hour is fine, but a happy hour with games is even better. Whether you're meeting a new pal or hanging with your best friend, you'll want to check out Recreation at the Moxy NYC Downtown. This bar and play space was designed to feel like a retro house party, complete with a basketball court, skee-ball, and other arcade classics to play while you sip artisanal cocktails.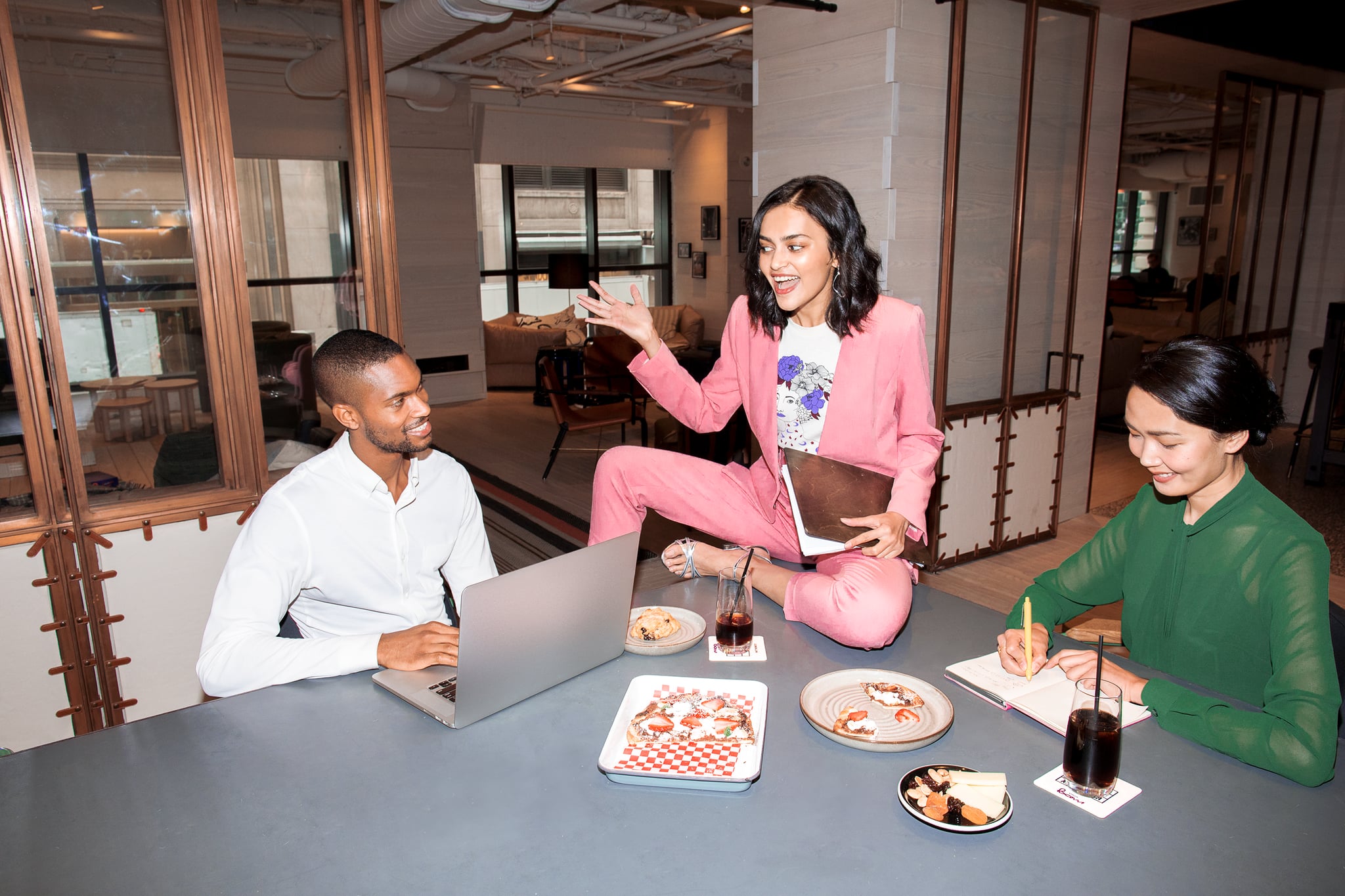 Moxy Hotels

For a Networking Meet-Up
Networking can feel so stilted and awkward — especially if you're meeting in a chain coffee shop near the office at 2 p.m. Add a little fun to the mix by grabbing a drink and some snacks with your future mentor or potential business partner from Bumble Bizz at one of the Moxy's casual restaurants, like the Cherry Creek Beer Garden at the Moxy Denver. What could be better than cold craft beer on an outdoor patio on a nice day?
For a Late-Night Snack
If that first date goes well, you might end up hanging at the BumbleSpot for hours . . . until you realize you haven't eaten since lunch. Head over to Zombie Taco at the Moxy Chicago for adobo BBQ chicken nachos, charred Korean beef tacos, and the massive zombie burrito. It's the perfect end to a promising first date.
Source: Read Full Article