George H.W. Bush who served as the 41st President of the United States has died. Bush served as Commander-in-Chief for just one term, from 1989 to 1993 as a member of the Republican Party. He passed away on November 30, 2018, at his home in Houston, Texas. Though the late Bush's time in the White House was brief, he has been defined as a patriot. He stood at the helm during the Gulf War when the United States defeated Iraq after the invasion of Kuwait. He was also at the center of the collapse of the USSR and the reunification of Germany in 1991.
Though he was a "foreign policy" President, Bush was also able to see his legacy continue through his son, 43rd President George W. Bush, who served two terms in office from 2001 to 2009.  So how old was the late President Bush when he died, and who are his children that he left behind?
George W. Bush (C) poses with father George Bush and his mother Barbara Bush in Rye, New York, summer 1955. | Newsmakers/ Getty Images
George H.W. Bush died at age 94
The late president died on November 30, 2018, at age 94. Bush was born on June 12, 1924, and raised in Massachusetts and Connecticut. He was also a World War II veteran serving in the U.S. Navy as a naval aviator. He was assigned just three days before his 19th birthday in 1943, which made him one of the youngest naval aviators ever. Bush would later discharge from the army after the war and go on to attend Yale University.
Before getting into politics in the 1960s, Bush moved to Texas and got into the oil business which quickly made him a millionaire. He was able to move his way up into the political sphere by first getting elected to the United States House of Representatives and then eventually becoming the Vice-President under President Ronald Reagan throughout the 1980s.
After leaving politics behind, Bush supported his son, George W. Bush during his time in office and was even openly supportive of President Barack Obama through their views often fell on different sides of the fence. Unfortunately, Bush had been having health issues since the '90s. He suffered from Graves disease, which a non-contagious thyroid condition. Also as the longest-lived U.S.President, he dealt with bouts of pneumonia, irregulars heartbeats, and a blood infection in recent years. He'd suffered from a form of Parkinson's disease that forced him to use a motorized scooter or wheelchair since 2012.
| Newsmakers/Getty Images
The Bush children
Despite his death,  Bush will leave behind a massive legacy especially when it comes to his children. At the time of his wife Barbara Bush's death on April 17, 2018, the Bushes has been married for 73 years; theirs was the longest presidential marriage in American history.
The couple had six children. George W. Bush was born in 1946 and became the 46th Governor of Texas the 43rd President of the United States. The family's second child a daughter named Robin, tragically died at age 3 in 1953 from advanced leukemia prompting the Bush family to establish a foundation for leukemia research. Bush's second son and third child, John Ellis "Jeb" Bush also followed in his father and brother's footsteps. Jeb served as the 43rd Governor of Florida and made a few unsuccessful bids for the Presidency of the United States.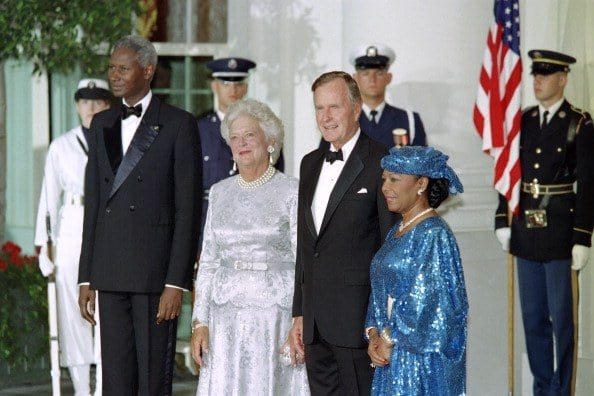 George H.W. Bush| Luke Frazza/AFP/Getty Images
The fourth Bush child and third son, Neil decided to take after his father's business instinct instead of politics. Born in 1955, Neil is an investor and businessman, The youngest Bush son, Marvin, who was born in 1956 also keeps things about business. He has worked for various corporations and insurance companies in Texas. Finally, Dorothy "Doro" Bush Kocher is the only living daughter and youngest child of the Bush family. Born in 1959, Doro is an author and philanthropist. She is the co-chair of the Barbara Bush Foundation for Family Literacy and sits on a variety of foundations.
Though George H.W. Bush is now gone, his life through his legacy and certainly his children won't soon be forgotten.
Source: Read Full Article