As the entire Cosmopolitan entertainment team knows, I have a major indie filmboi crush on Lucas Hedges…so it was probably a bad idea to send me downtown to talk to the Manchester By the Sea, Lady Bird, and Boy Erased actor in person. I had a lot of questions, and they were not all about his latest role in Ben is Back (in theaters December 7) as a young man struggling with an addiction to painkillers who comes home to spend time with his mom (Julia Roberts) on Christmas Eve.
I caught the charming 21-year-old while he was eating lunch at The Crosby Street Hotel, and he was kind enough to offer me a bite of his chicken (I didn't take him up on it). While we spent time talking about this beautiful film he made with his father Peter Hedges (the writer/director behind About a Boy and Pieces of April), I couldn't help but ask him about internet boyfriends, the best movie moms, and the difference between him and Timothée Chalamet (the two co-starred in Lady Bird and have shared a very similar come-up).
It's easy to forget that Hedges—known for a series of serious roles, thoughtful interviews, and a lack of social media presence—is a pretty young, energetic guy who's totally down to talk up his sexy older brother. You're welcome:
I'm putting you on the spot. You've played the son of Frances McDormand, Russell Crowe, Nicole Kidman, and now Julia Roberts. Who is the best movie parent?
That's so tough. They're all kind of ferocious and magical in their own way. I'd probably say the most dedicated movie parent to me is Julia.
In Three Billboards, my mom sort of goes AWOL. In Boy Erased, I have an amazing mother who makes a mistake. But in this one I have a mother who's purely trying to save me. Nothing against any of the other mothers, but the love I felt from Julia was really unique.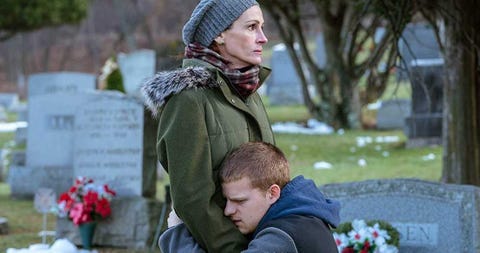 Speaking of parents, you made this film with your dad! What was that experience like?
It ended up being the most important project I've ever done in my life. My dad gave me my love of film—he directly handed that down to me. As a little boy, my dad was my hero and for making this movie he's my hero.
I got an opportunity to make a movie with the guy who not only created me, but inspired me into this world.
He said he wrote this film based on personal experiences he's had in his family with addiction. Did it feel more personal to you?
Every movie I do feels extremely personal. This one even more so because I knew it mattered to our family. There was an immediacy to the importance of this because my family is going through this right now—and probably will continue to. Addiction is something that's passed down and I don't know what my own kids will be like, but I hope this story helps in some way.
What do you hope people struggling with addiction and their families will get out of this movie?
I think what's great about these 12-step programs and meetings is that there is a place, no matter how lost you get, that will always be there to hold you and take care of you and listen, with understanding and love. It's impossible to get so lost…to be beyond hope of returning to sobriety and to a life in which you can love yourself.
I guess I just hope they don't feel alone.
At a special screening, your dad outed your brother for being single—
Yea, my dad loves to joke about this stuff, but he's also serious. But my brother doesn't need much help. He's in this sort of renaissance period in his life. He looks great, he's in the best shape of his life, he's doing amazing!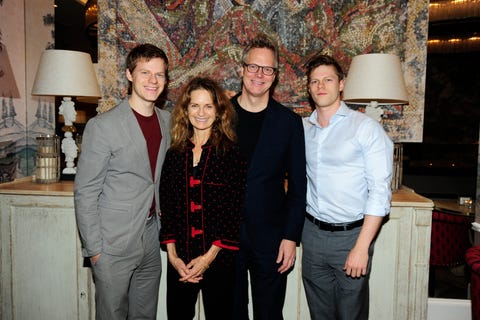 [Simon] told me the other day that there's this photo of our family on Twitter and he was really excited…I don't really want to expose him… [laughs]
Expose him!
A lot of people were tweeting about him and thought he was really attractive. He was like, "I finally got my moment!" When my dad was our age, he didn't get a girlfriend until later. He wants us to have the experience he didn't have.
Do you know what an Internet Boyfriend is?
No, I don't!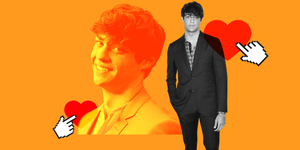 *Explains Internet Boyfriends in detail to Lucas Hedges*
Wow!
You are one, by the way.
Cool! Wait, as in I'm an Internet Boyfriend to one person or to a lot of people?
To enough people to warrant a spot on our Internet Bae gift guide.
Oh, really? No way! Is it something that one person creates, or is there an Internet Boyfriend page? This makes me feel like I'm wanted, which is nice. I'm flattered. That's cool and also bizarre.
I actually wrote a thing comparing you and another Internet Boyfriend, Timothée Chalamet, because you've had a similar career trajectory. What do you think distinguishes you the most from Chalamet?
In many respects, I actually think we have a lot more similarities than I thought. I think the way we outwardly present ourselves and present ourselves through film is very different, but I'm surprised at how—if you strip it all away—we seem to value and think the same things.
But, I guess the biggest difference [long pause]… I honestly don't know, because every time I see him I think, "wow, we're actually pretty similar."
I decided it was the suits.
That makes sense. Oh, I think we have very different music tastes.
How so?
I remember there was a Young Thug song. When I was with him in L.A., we were both referencing the same Young Thug album and all the songs he liked most, I hadn't considered at all and the ones I liked most, I don't think he thought were very special.
This is just one Young Thug album?
Super Slimy, I think. I just loved one song off of it and I didn't know the song he was pumping to. [Looks for the song on his phone] I can't find it! But that's the main difference.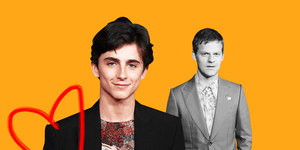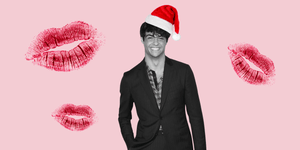 Source: Read Full Article