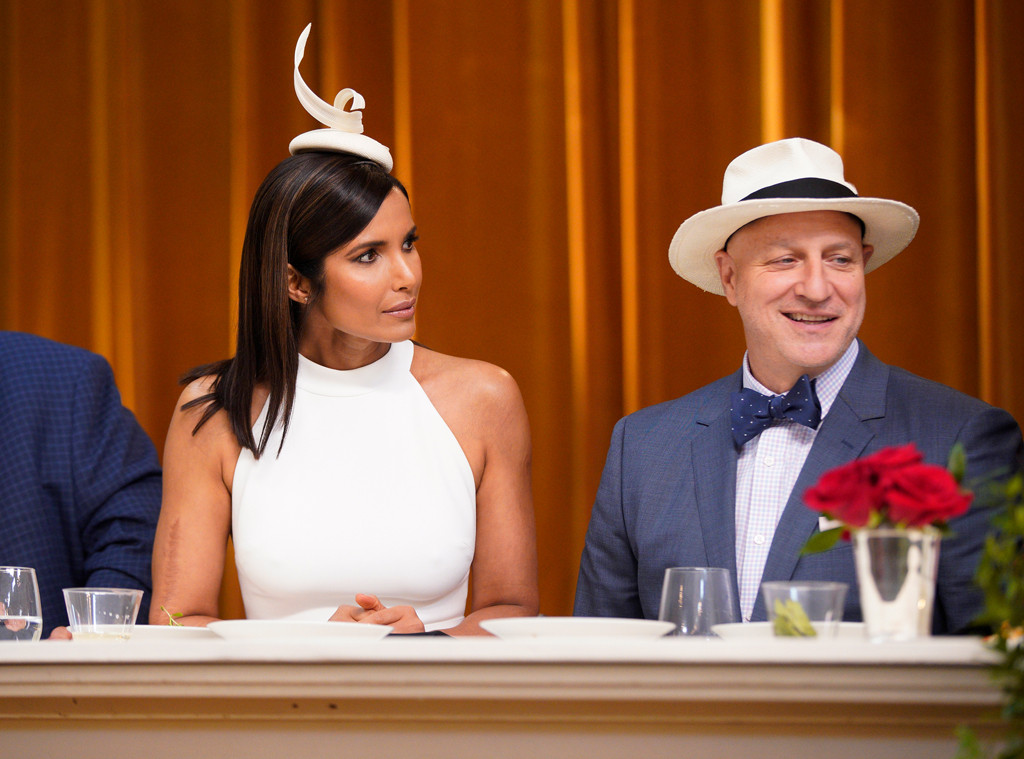 Bravo
Top Chef is heading to Kentucky for its season 16. Back for the food and fun are host Padma Lakshmi, head judge Tom Colicchio, and judges Graham Elliot, Nilou Motamed and Gail Simmons.
This season, 15 chefs from across the United States compete for the title across Kentucky, touching down in Louisville, Lexington and Lake Cumberland. For the finale showdown, the Bravo reality series is heading to Macau, China. Because it's season 16 of a reality show, expect some twists, like double eliminations and the earliest and first-ever three-team Restaurant Wars battle. The cheftestants will also head to Kentucky's face racetracks, Churchill Downs and Keeneland, cook for Lalia Ali at the Muhammad Ali Center, celebrate classic dishes at the Maker's Mark bourbon distillery and more.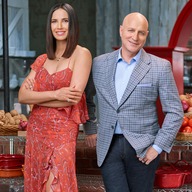 Photos
Meet the Top Chef: Kentucky Contestants
Guests this season include Lena Waithe, Below Deck's Captain Lee Rosbach and Captain Sandy Yawn, Emeril Lagassé, Eric Ripert, Jonathan Waxman, Art Smith, Nancy Silverton, Richard Blais, Brooke Williamson, Nina Compton, Karen Akunowicz, Annie Pettry, Caroline Styne, Sean Brock, Tandy Wilson, Dario Cecchini, Ken Oringer and Abraham Conlon.
Meet the contestants below.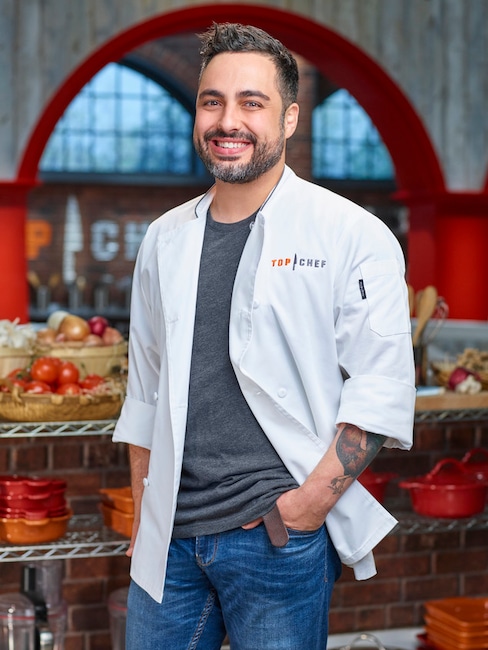 Bravo
David Viana

David is the executive chef and partner at Heirloom Kitchen in Asbury Park, New Jersey. He's worked for the likes of Bobby Flay, Anthony Bucco and Michael White.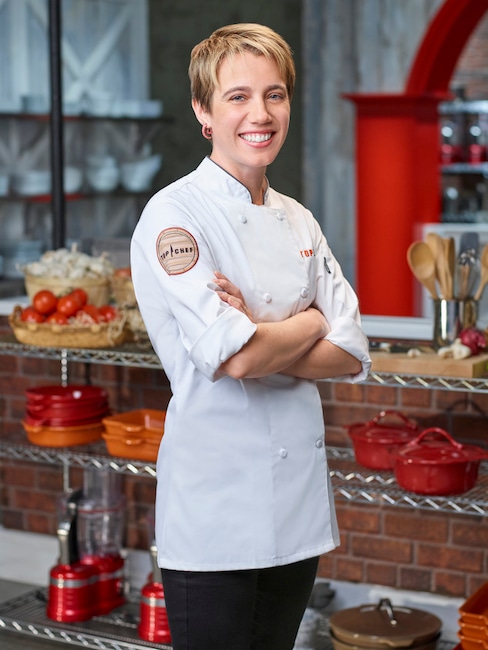 Bravo
Adrienne Wright

Adrienne is the executive chef for Boston Urban Hospitality, managing teams of chefs and cooks at Deuxave, Boston Chops Downtown, Boston Chops South End and dbar, all located in Boston, Massachusetts.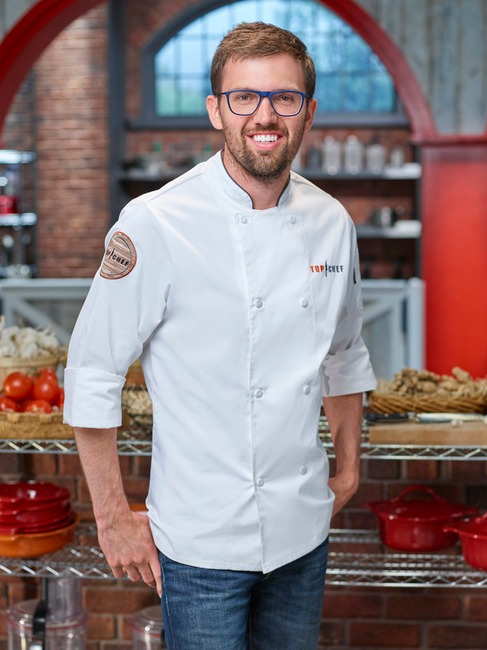 Bravo
Kevin Scharpf

Kevin is the chef and owner of Brazen Open Kitchen and Bar in Dubuque, Iowa where he works closely with small farms in the area.
Article continues below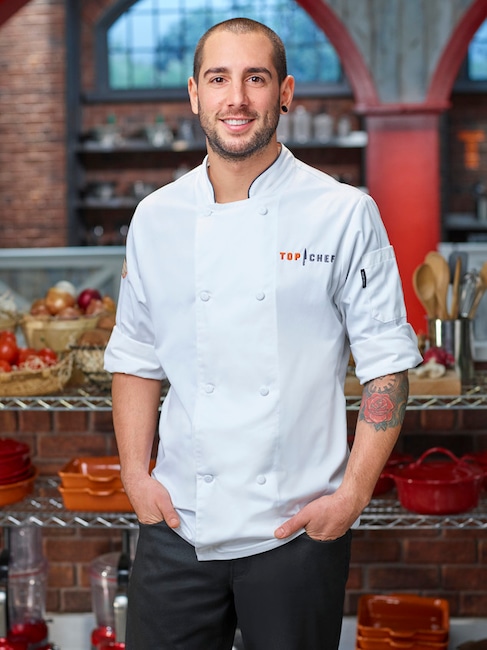 Bravo
Pablo Lamon

Pablo grew up in Buenos Aires, Argentina and began traveling the world to explore his culinary dreams at the age of 23. Currently living in Miami Beach, Florida, he's the chef de cuisine at 27 Restaurant and Bar.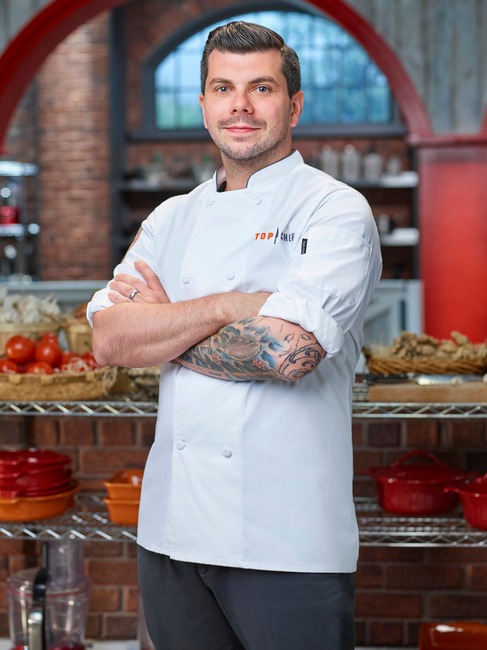 Bravo
Edmund "Eddie" Konrad

A Philadelphia native, Eddie is the chef de cuisine at Laurel, a French-inspired new American restaurant from former Top Chef winner Nicholas Elmi.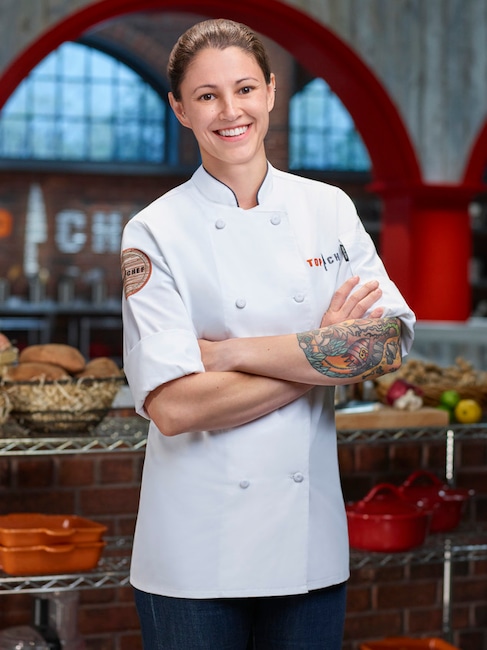 Bravo
Natalie Maronski

Born in Monterey, California, Natalie eventually moved around the world, calling Indonesia, Hawaii and more home at various points. Now based in Philadelphia, Pennsylvania, she's the executive chef and owner of Underground Concepts.
Article continues below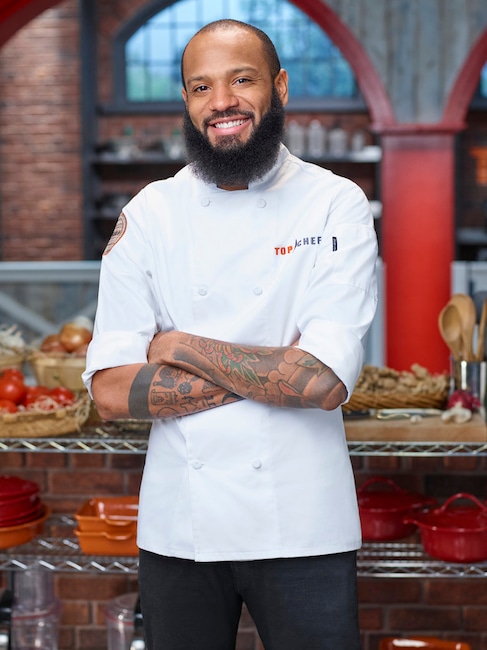 Bravo
Justin Sutherland

Justin is a native of St. Paul, Minnesota and the executive chef of Handsome Hog. He's also a former contestant on Iron Chef America.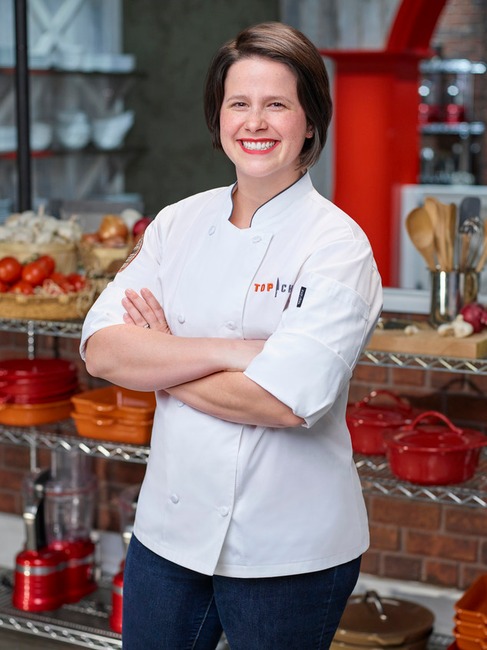 Bravo
Caitlin Steininger

Caitlin, a native of Cincinnati, is the executive chef and owner of CWC, The Restaurant, after traveling with pop up events.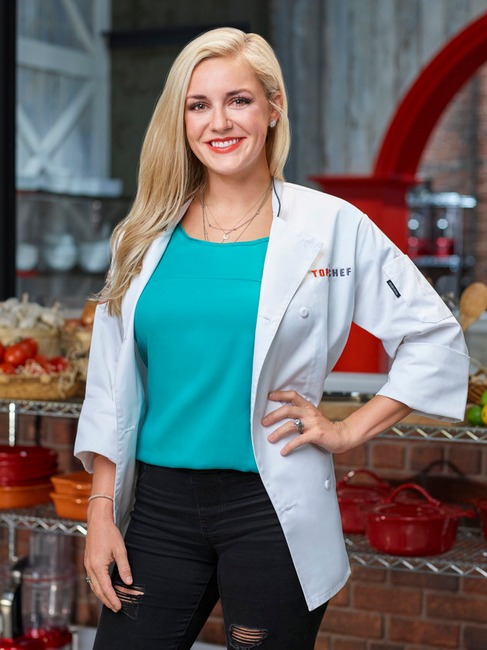 Bravo
Kelsey Barnard Clark

Kelsey is the executive chef and owner of her own catering business, KBC, in Dothan, Alabama.
Article continues below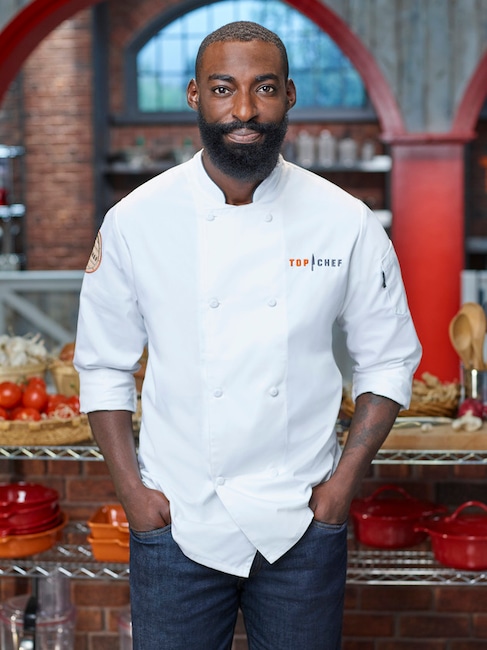 Bravo
Eric Adjepong

Eric, a New York City native, currently resides in Washington, DC, where he's a personal chef, a caterer and public health & nutrition professional, as well as the chef/owner of pop-up Pinch & Plate.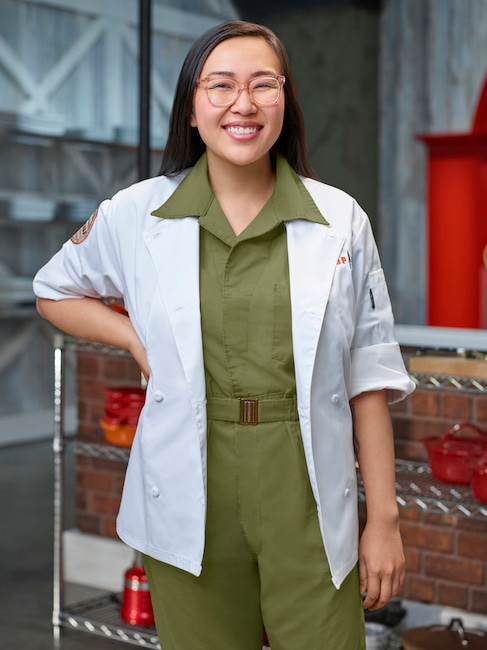 Bravo
Nini Nguyen

Nini, a New Orleans native, is currently the executive chef and culinary director of Cook Space in Brooklyn, New York.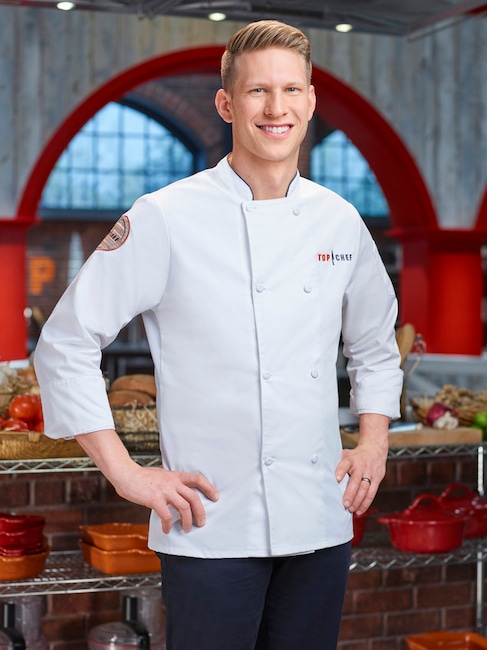 Bravo
Brandon Rosen

Brandon is a private chef currently living in California. Growing up, his family owned and operated their own chocolate factory.
Article continues below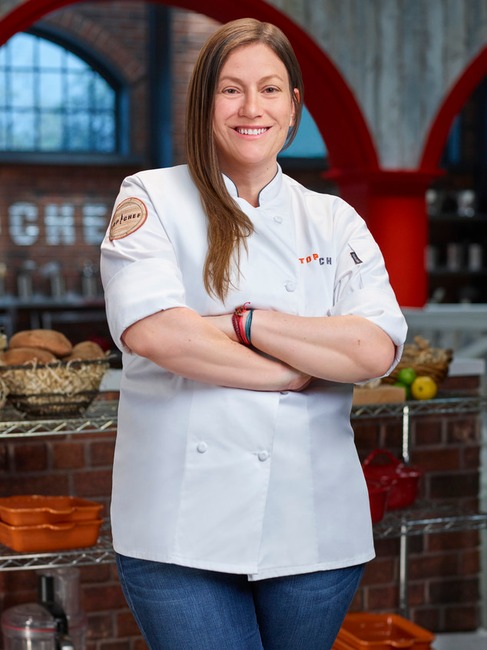 Bravo
Sara Bradley

Kentucky native Sara is the chef and proprietor of freight house, a bourbon bar and Southern-inspired restaurant in Paducah, Kentucky.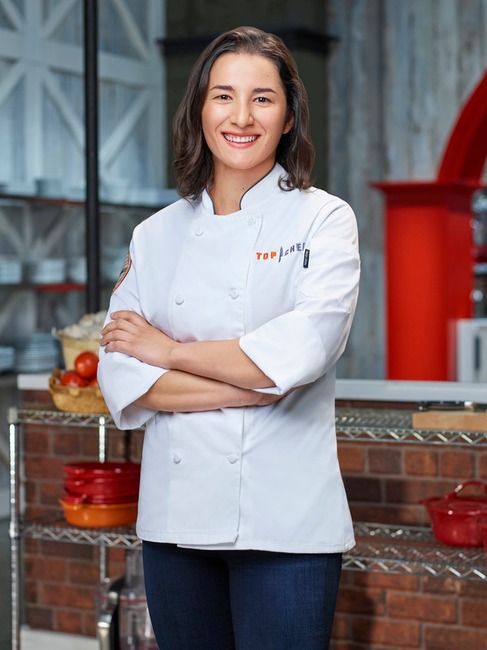 Bravo
Michelle Minori

Formerly the executive chef at Barzotto in San Francisco, Michelle grew up in a small town in California.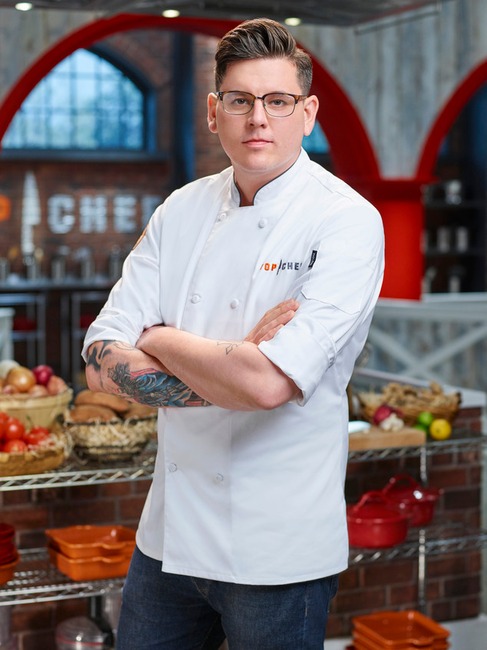 Bravo
Brian Young

Brian was born in New Hampshire, raised in Nashville and now calls Boston home. He's currently the chef de cuisine at Cultivar.
Article continues below
Top Chef premieres Thursday, Dec. 6 at 9 p.m. on Bravo.
(E! and Bravo are both part of the NBCUniversal family.)
Source: Read Full Article