Last we left Shadowhunters, Clary was dead (yea, okay), Magnus lost his magic, and Jace was finally rescued from the Owl. *Takes breath* Alec was seriously injured, Simon made a huge sacrifice for the sake of his mother, and both Maia and Rafael are in the wind. It's been six long months since May's midseason finale, and we have yet to see the consequences of any of it. The first taste we were given was this short (but beautiful) Malec moment in November:
WHY SO SAD, ALEC?!
Maybe he's upset over the series' untimely cancellation and extra long hiatus… Thankfully, over six months (and a bunch of People's Choice Awards) later, we finally have a release date for the final 10 episodes, plus the two-hour finale event. And did I mention a brand new TRAILER? Here's everything we know (including spoilers, so beware).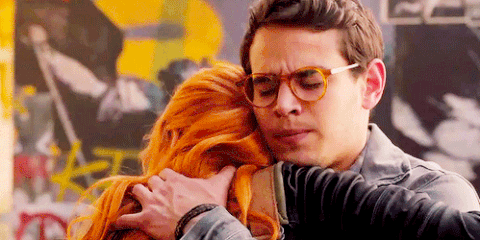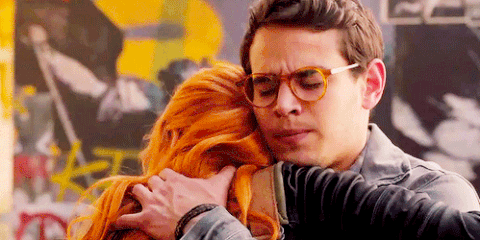 Release date?
In the words of the Shadowhunters twitter account, the final hunt begins Monday, February 25 on Freeform. There will be 10 more episodes, plus an additional two-part series finale. So, 12 episodes total!
What's the deal with this series finale?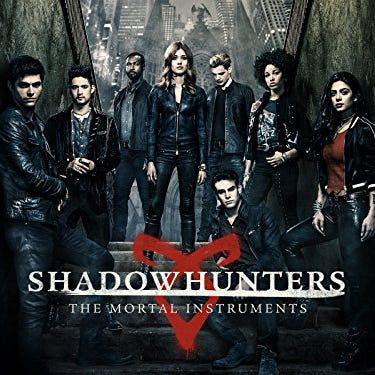 The two-part series finale was obviously shot following the news that Shadowhunters would not be renewed for a fourth season. The entirety of season three had already been mapped out, so this will serve as a way to bring closure to the story of Clary Fairchild (Kat McNamara) and the gang. It's unclear what the actual plot of the special will be and how it will connect to the 10 unaired episodes.
Lucky for us, McNamara assures fans that the final 12 episodes are "the best episodes we've ever done."
Is Clary really dead?
…Nah. After "Erchomai" aired in May, McNamara spoke with Elle about what to expect from the second half of the season. "I'm dead. This is my announcement—I'm done with Shadowhunters and have been written off the show," she joked. "No, no, no, not at all."
As for her whereabouts, she told Elle.com that she is definitely not in Edom, but somewhere you wouldn't expect. Otherwise, the actress did admit to IBT that a short amount of time will pass before we see Clary again, giving the audience a chance to see how the rest of the Nephilim and Downworlders mourn her "passing."
You know who else is not really dead? Lilith (Anna Hopkins). Just check her instagram:
View this post on Instagram
What operating a camera in hell looks like! Gnight #shadowhunters, thank you for having me back for the finale, and thank you to the wonderful cast and crew and fans. Love you all. 😈😭🔥🖤
A post shared by Anna Hopkins (@annabanana_hops) on
Will there be a Malec wedding?
Now that the clock is ticking, fans have been looking for any clues that their favorite ship might go from mortal boyfriends to immortal husbands. Don't rule it out. Even Harry Shum Jr. revealed to Elle that he loves a good wedding. "Any way to showcase the love between these characters, I'm all for," he said. Sounds to me like a perfect plot for a two-part finale…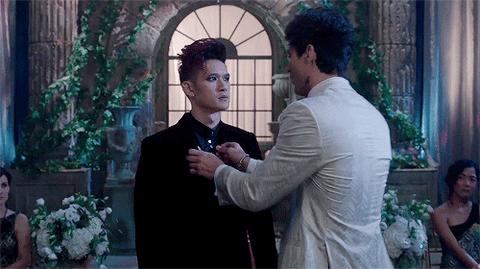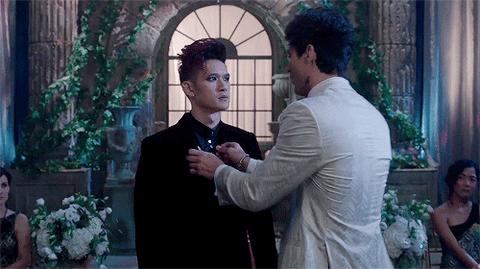 What we do know is that the former High Warlock of Brooklyn will spend at least the beginning of 3B adjusting to life without his powers and immortality. "It's heartbreaking," showrunner Todd Slavkin tells TVLine of Magnus' adjustment period:
Will there be any new faces?
You know it. If you were enjoying getting to know Underhill (Steve Byers), Asmodeus (Jack Yang), and Lorenzo Ray (Javier Muñoz) in 3A, get ready for even more new friends and foes.
Well, new-ish. Back in July, Deadline announced that actor Luke Baines would be taking over the role of Clary's demon-blooded brother Jonathan Morgenstern, previously played by Will Tudor.
In fact, on December 22, TVLine debuted the exclusive first look at Bains' Morgenstern.
#Shadowhunters Welcomes the 'Real' Jonathan Morgenstern in Season 3B — Exclusive #2019FirstLook https://t.co/qjuc7deEmZ pic.twitter.com/qdStnP4AIV
And it looks like Morgenstern will be spending some time with the fair folk? Here he is with actress Kimberly-Sue Murray, who's Instagram bio reads, "Seelie Queen Amara."
View this post on Instagram
Sometimes you get real lucky and get to work with people who are as talented as they are genuine… and sometimes you get even luckier, and get to call them a friend. Happy birthday @ksuemurray – I love the absolute crap out of you, and to prove it, here's a picture where I look like a fuck boy and you look like the goddess you are.
A post shared by Luke Baines (@lukebaines) on
TMI book lovers should also be excited to finally meet Helen Blackthorn, the half-Shadowhunter, half-faerie girlfriend of Aline Penhallow (Eileen Li ). Slavkin introduced actress Sydney Meyer in this sweet tweet:
Appreciation post for @meyers48 who we met at the tablereads when she was filling in for actors and we recognized her talent and now she's Helen Blackthorn #dreamsdocometrue #especiallywhenyouhaveundeniabletalent #3b #shadowhunters https://t.co/pojqQK0mXw
Trailer?!
While the Christmas teaser was a lovely gift, the full trailer dropped on January 31, and it's full of EEK moments. Here it is, straight from Matthew Daddario's twitter account:
Prepare your orbs for 1800 frames of potential hints and secrets from the best 12 episodes of Shadowhunters yet. Feb 25th, 2019! Clear your schedules! Your Monday's are soon spent watching Shadowhunters. Your Tuesdays will be spent recovering. Watch! @ShadowhuntersTV @FreeformTV pic.twitter.com/HlqNy7Sec9
Wait, there is so much to unpack there!
OK, let's break it down. Here were my major takeaways:
Any more spoilers?
Guess who's back…back again…RAPHAEL. During the Shadowhunters' Twitter account's #25DaysofTeasers, Freeform gave us the quickest glimpse of a moment between our favorite vampires that we've definitely not seen before:
Vampire stare down. Day 18 of #25DaysOfTeasers. #Shadowhunters pic.twitter.com/vkQ01kaVmb
Honestly though, your best source of spoilers is Slavkin, himself. His twitter feed is filled with answers to fan questions on Malec, new cast members, and even an upcoming Halloween episode! Here are some highlights:
Yes you do #alcoholispoison #butitcanbesofun #magnusknowshislimits #ordoeshe #3b #shadowhunters https://t.co/Fg0Sb61KU1
A fan has to eat. I haven't seen trailer but I've seen season. Word trailer: Prague, Paris, Brother Z, Crepes, The Dance, Aldertree, Catarina, Helen & Aline #andmore #shadowhunters https://t.co/GsPTg8KS8D
Did you read the script? #wehaveaspy #areyoupsychic #youcanseethefuture #sweetdreams #shadowhunters https://t.co/BIJXfw3pPX
Halloween party at the Hunters Moon #funinside #3b #iftheywontdoitiwill #shadowhunters pic.twitter.com/NbnMK0TclO
Of course. Alec is his partner who will always listen, especially about this loss that is so utterly life changing #whatloversdo #malec #alwaysthereforeachother #inspirationtousall #shadowhunters https://t.co/qAf2i92Yqu
We stan a man who gives the people what they want.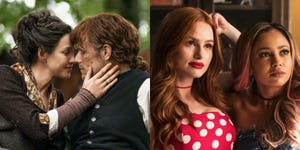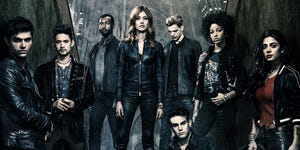 Source: Read Full Article