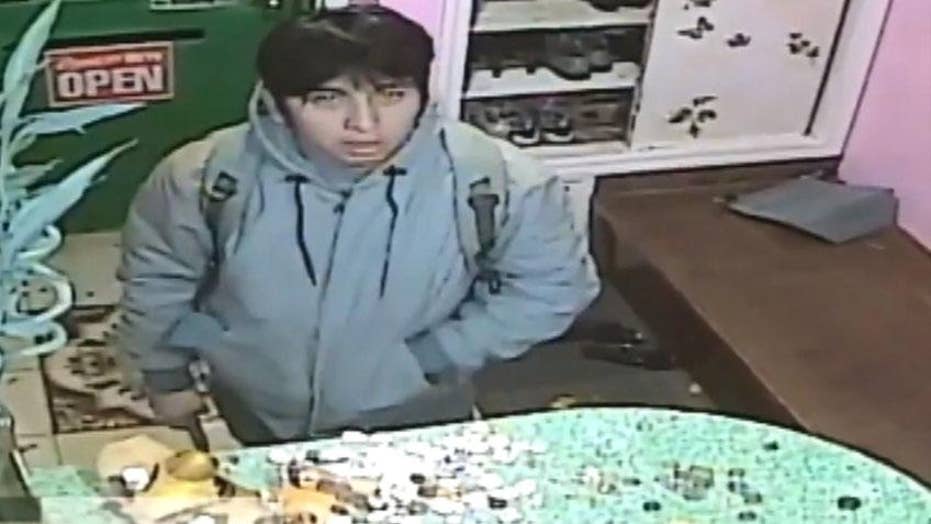 Customer attacks Queens spa employee with hammer
Security footage captures an angry customer attacking an employee in a Queens spa.
A man with a hammer was caught on camera attacking employees at a spa in New York City, and police say they're trying to find him.
The dramatic incident unfolded at Tao Spa Bodywork in Queens on Thursday night after workers told the suspect he wouldn't be getting a refund, according to the NYPD. Officers didn't specify why he wanted a refund.
The customer was seen attacking two women in the store's lobby area. Police said after a 55-year-old woman denied him a refund, he dragged her by the arm and then punched her in the face.
The employee went to the back of the store before three other women confronted the suspect. The man then grabbed one of those employees "by the throat and shoved her against the wall," investigators said.
"He then menaced the other two with the hammer," police wrote in a Facebook post.
NORTH DAKOTA MAN REPORTEDLY ADMITS STEALING FORKLIFT, PLANNING TO FLIP TRUMP'S LIMOUSINE TO 'KILL' PRESIDENT
The suspect — whom the employees had just given $40 — then used the hammer to smash open a piggy bank on the counter before taking the money that was inside.
Police identified the suspect as a Hispanic 20- to 30-year-old man who weighs around 160 pounds and is roughly 5-foot-6-inches tall. He has black hair and was "last seen wearing a gray hooded coat, dark colored jeans, tan work boots and he had on a light colored backpack," police said.
CALIFORNIA WOMAN ALLEGEDLY IMPERSONATED COP, GROPED AND ROBBED WOMAN OUTSIDE BAR
Anyone with information is urged to contact NYPD Crime Stoppers. Authorities are offering a reward of up to $2,500 for information on the robbery.
Source: Read Full Article