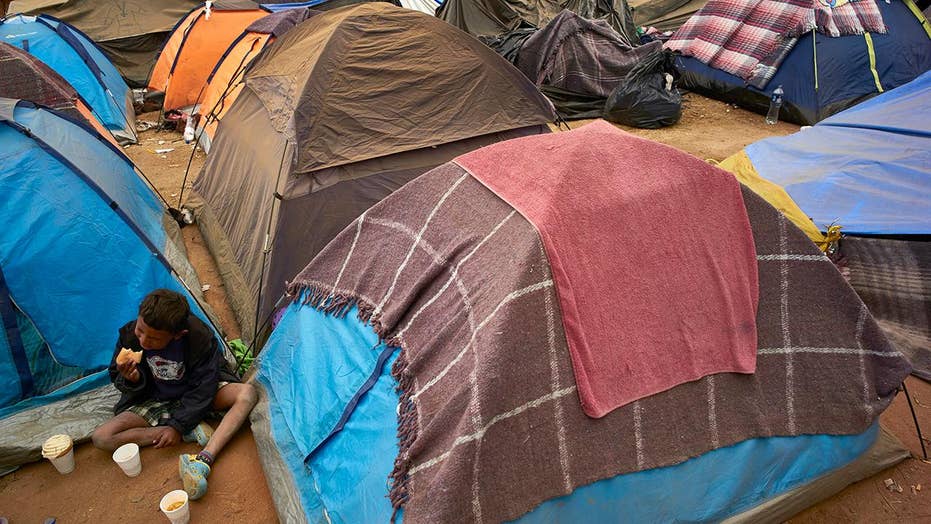 Migrants in caravan plagued with serious health issues
One-third of the 6,000 migrants residing in Tijuana are being treated for health issues, the city's health department says; Griff Jenkins details the report.
Mexican authorities shut down a crowded, unsanitary and mud-filled shelter at a sports complex, moving the remaining migrants who want to enter the U.S. to a new, government-run facility that's further from the border.
Thousands of Central American migrants, mostly Hondurans, have joined caravans in recent weeks in an effort to speed across Mexico to request refuge at the border with America, provoking the ire of President Trump, who frequently urged Mexico to keep them away from the border and previously ordered thousands of U.S. troops to the area.
Officials in Tijuana cited "bad sanitary conditions" as the reason for closing the sports complex shelter. Mud, lice and respiratory infections were rampant in the space that holds up to 6,000 people, officials said, while many areas were filled with trash.
"It's a much better place, and all of the help and government services will be there," Edgar Corzo Sosa, a spokesman for Mexico's National Human Rights Commission, told the Washington Post of the new space.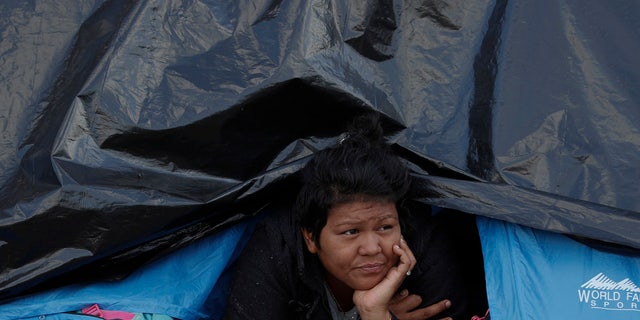 A woman rests inside a tent on the street near a sports complex shelter as authorities tried to persuade migrants to move to a new, more distant shelter, in Tijuana, Mexico, Saturday, Dec. 1, 2018. (AP Photo/Rebecca Blackwell)
Still, some of the migrants were reportedly wary of the Mexican government's efforts.
"People are distrustful that it's an immigration trick, that it's not what they say it is and that they will really be deported," Amelia Frank-Vitale, a doctoral candidate in anthropology at the University of Michigan and an immigration expert who has traveled with migrant caravans for years, told the Washington Post. "It's happened before in southern Mexico."
Tijuana's Mayor Juan Manuel Gastélum previously called the migrant caravan a "humanitarian crisis," telling Fox News that he needed federal assistance to help fund shelter for the migrants.
"I'm not going to break public services to solve this problem," the Tijuana mayor said.
Marlen Gallegos, 48, told the Post that she was initially worried by rumors floating around the sports complex that anyone who went to the new shelter would eventually be deported.
She later learned that was not true.
"It's as they said it would be," said Gallegos, who is from Honduras and planned to wait on her application for U.S. asylum from the new camp. "I'll look for some work around here in the meantime."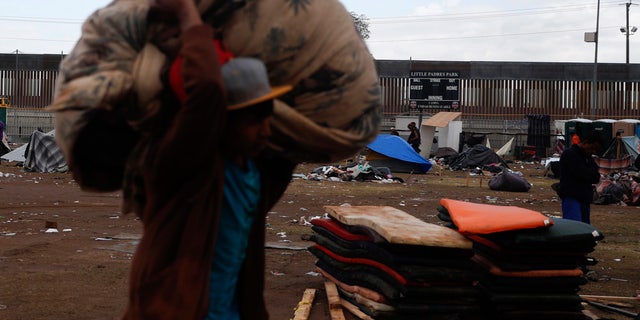 A migrant helps bundle and clear trash as most Central Americans leave a sports complex shelter that authorities were trying to close, in Tijuana, Mexico, Saturday, Dec. 1, 2018. (AP Photo/Rebecca Blackwell)
On Saturday, in one of his first acts in office, Mexican President Andres Manuel Lopez Obrador signed an agreement with his counterparts from three Central American countries to establish a development plan to stem the flow of migrants seeking asylum in the U.S.
Meanwhile, a U.S. judge on Friday refused to immediately allow the Trump administration to enforce a ban on asylum for any immigrants who illegally cross the U.S.-Mexico border.
Judge Jon Tigar rejected the Justice Department's request to suspend his earlier order temporarily blocking the ban. The administration had still not shown that the ban was legal, or that any harm would come from continuing to implement existing immigration laws, Tigar said in his order.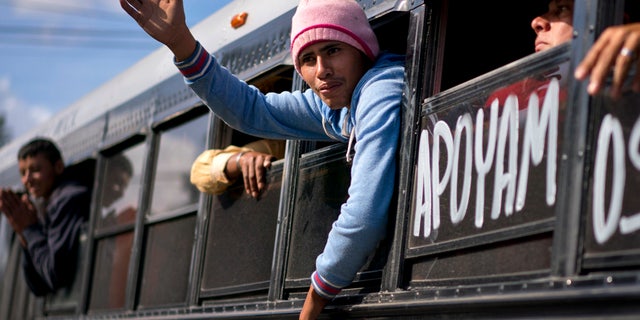 A migrant greets people while being transferred via a bus to a new shelter in Tijuana, Mexico, Saturday, Dec. 1, 2018. (AP Photo/Ramon Espinosa)
At issue is President Trump's Nov. 9 proclamation that barred anyone who crossed the U.S.-Mexico border between official ports of entry from seeking asylum. Trump issued the proclamation in response to caravans of migrants approaching the border.
The Trump administration has indicated that it will appeal Tigar's ruling.
Fox News' Griff Jenkins and the Associated Press contributed to this report. 
Source: Read Full Article