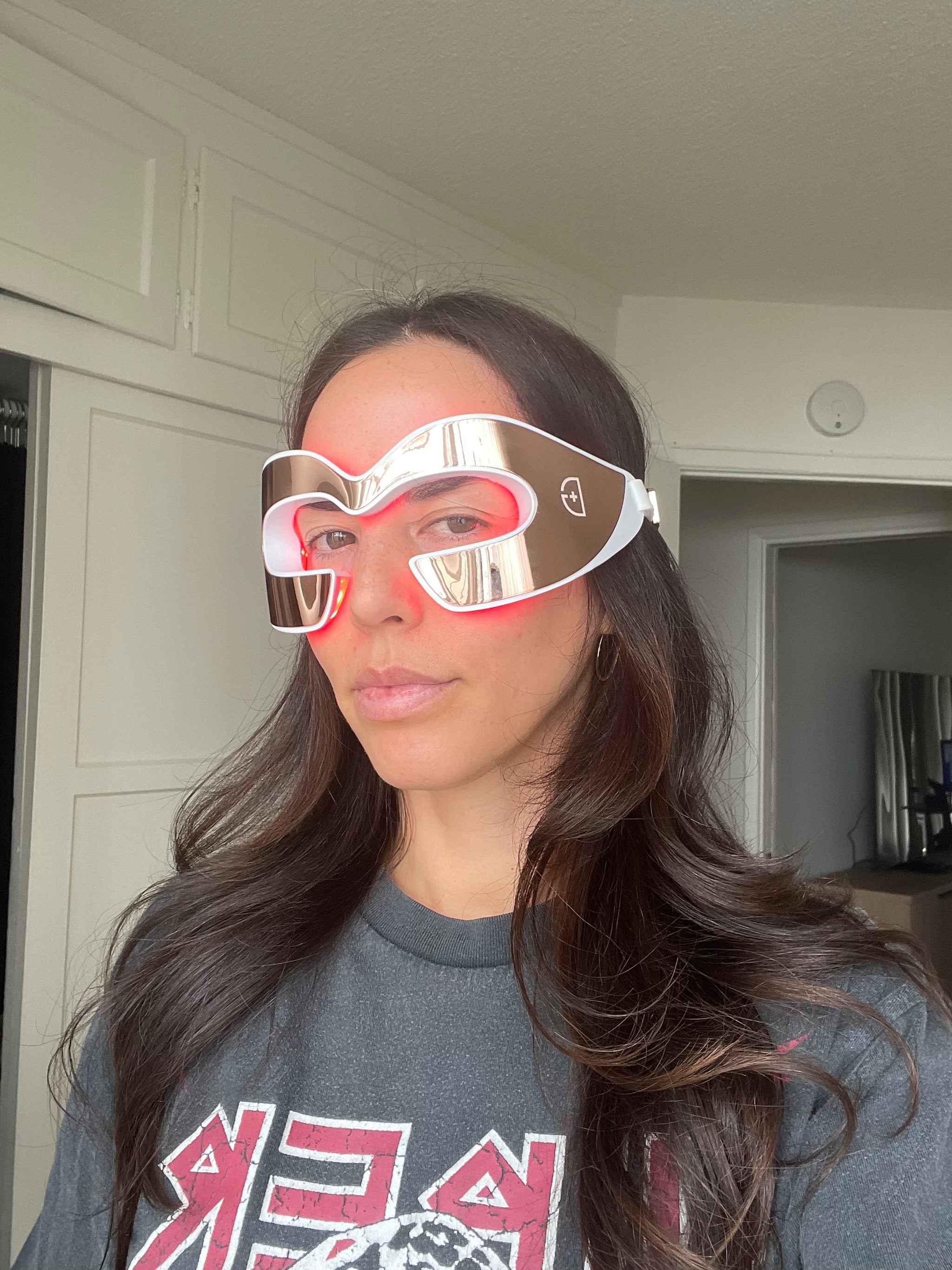 Dr. Dennis Gross just launched a new and improved version of its LED EyeCare device.
The updated product design features 360 degree coverage, 30 percent more lights than the original, and encompasses amber, red, deep-red, and infrared lights.
The product is also FDA cleared to build collagen, firm skin, and reduce deep-set wrinkles.
For the last six months, injectables have been on my mind. I'm not getting any younger, and my recent breakup has had me considering how to better myself both mentally and physically. However, I'm still a little nervous about the entire idea, so I've been searching for other ways to stave off wrinkles that don't involve needles and a visit to a professional. I'm a big fan of beauty tools like LED masks, and after using the Dr. Dennis Gross DRx SpectraLite EyeCare Max Pro ($199) for the last couple of months, I can safely say that the thought of getting injected (at least for my crow's feet) is no longer at the forefront of my mind.
For the unfamiliar, according to Web MD, LED (light-emitting diode) therapy is a treatment that uses varying wavelengths of light, including red and blue. Although it was originally developed by NASA, LED light therapy is now used for skin aging and even acne. Since LEDs don't contain ultraviolet rays, they're safe for regular use. However, you should consult with a doctor or dermatologist before use if you have sensitive skin. This product is a revamp of a previous version, and it's FDA approved as a treatment for reducing deep-set wrinkles and fine lines — exactly what I've been searching for — no needles necessary.
About the Dr. Dennis Gross DRx SpectraLite EyeCare Max Pro
The Dr. Dennis Gross DRx SpectraLite EyeCare Max Pro is an LED eye treatment.
The device is hands-free and has an adjustable head strap with a universal fit.
The tool is FDA cleared to help stimulate collagen, firm skin, reduce deep-set wrinkles and fine lines, smooth texture, and diminish puffiness, dark circles, and uneven skin tone.
The updated version of the device features 30 percent more lights than the original, provides a larger coverage area, and has an additional wavelength in the near-infrared range.
The amber wavelength targets the epidermis, the red wavelength targets the papillary dermis, and the infrared wavelength targets the reticular dermis and hypodermis.
The device comes with a protective bag for easy storage when not in use and a USB charging cord.
How to Use the Dr. Dennis Gross DRx SpectraLite EyeCare Max Pro
The brand recommends using the product daily after washing and fully drying your face. From there, they recommend placing the device on your face and adjusting the strap to fit comfortably. Once powered on, it will turn off after a three-minute treatment. Once the treatment is over, they suggest wiping the device clean, storing it, and then applying creams or topical treatments as desired. They also note that you should not use this product after applying products containing SPF because it could block light penetration.
I've been testing this product for a couple of months, and my favorite way to use it is in the morning immediately after washing my face. I try to use it every day, and since the treatment only takes three minutes, it's easy to do while I'm brushing my teeth or sipping a cup of tea. The design doesn't fully cover my eyes, so I'm able to multitask and do other things while I use it. On the weekends when I can spend a few extra hours in bed, I usually get up and wash my face, then hop back under the covers and slip this mask on while I relax with my eyes closed or read a book.
What I Like About the Dr. Dennis Gross DRx SpectraLite EyeCare Max Pro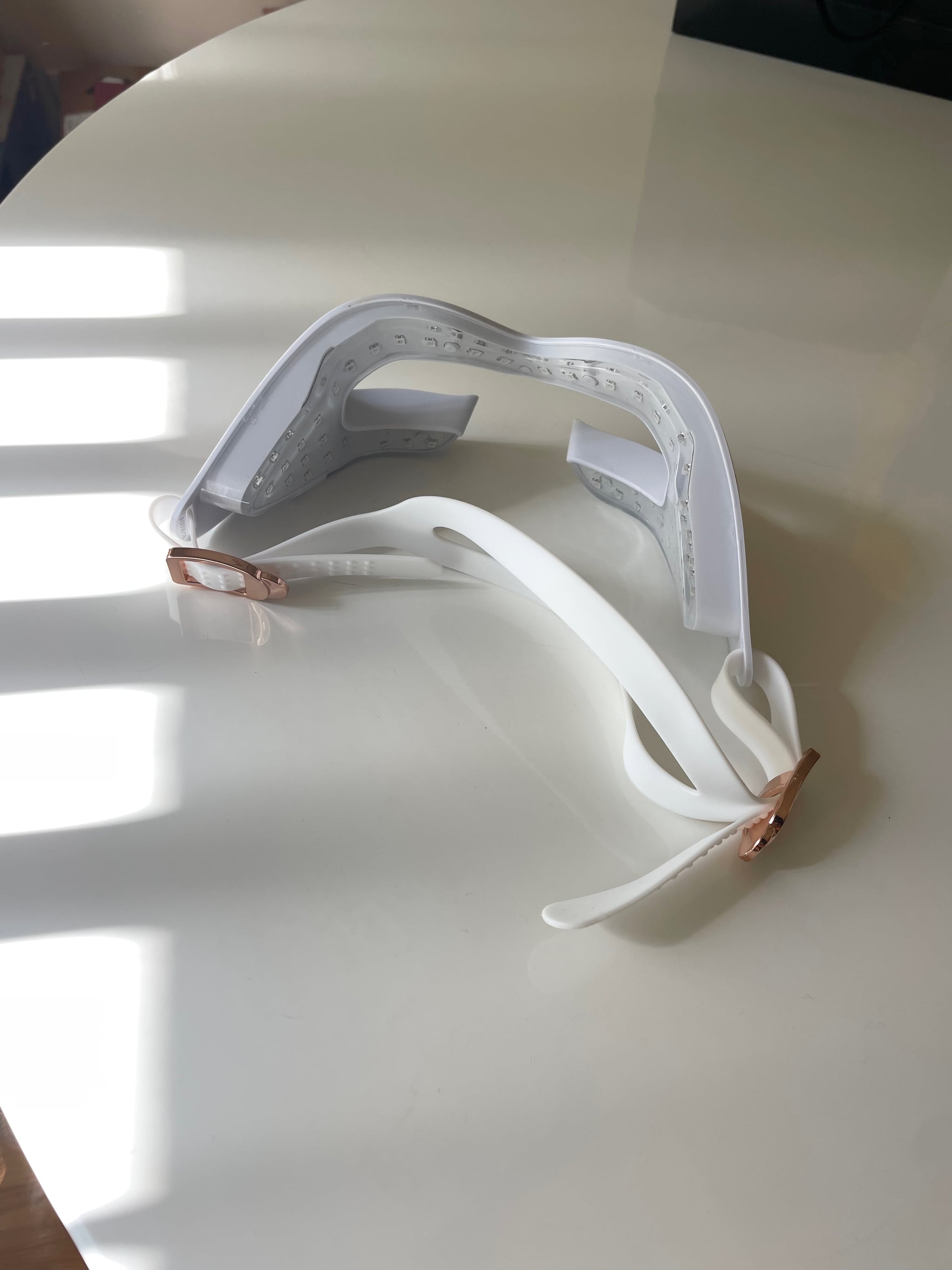 First of all, the design of this product is absolutely stunning. I feel a little bit like a superhero every time I slip it on. I'm also no stranger to LED treatments, and this one has been the most user-friendly. The settings aren't complicated to master whatsoever — it's just one button that you hold down to turn the device on. You can click the button again to turn the device off, otherwise, it switches off automatically once the three-minute treatment is over.
It's also hands down the most comfortable LED mask I've tested. The adjustable silicone strap doesn't dig into my head, and the portion that sits over my face feels snug but doesn't hurt — it conforms to my face nicely. The silicone strap also means I can wear this mask while standing up, lying down, or even doing cartwheels if I really felt like it. The mask stays in place no matter what. Plus, I love that no portion of the mask rests on my nose. I've had issues with other LED masks pinching my nose area and even leaving behind marks — the fact that this mask makes me even more obsessed with it.
Since this product is FDA cleared, I know that it will actually do what it says it will. After just a couple of months, I really have started to notice a difference. While my fine lines and wrinkles haven't disappeared, I started noticing more plumpness around my eye area after just two weeks of use, and I'm excited to continue using it because I think the benefits are only going to get better. I also have dry, sensitive skin and take daily acne medication, and although some LED masks have irritated my skin in the past, using this one doesn't cause any issues with the delicate skin around my eyes.
What to Consider Before Trying the Dr. Dennis Gross DRx SpectraLite EyeCare Max Pro
If you're someone with sensitive skin or if you're currently taking medication that makes you sensitive to light, I would recommend consulting with your doctor before purchasing this product.
Rating:
Source: Read Full Article