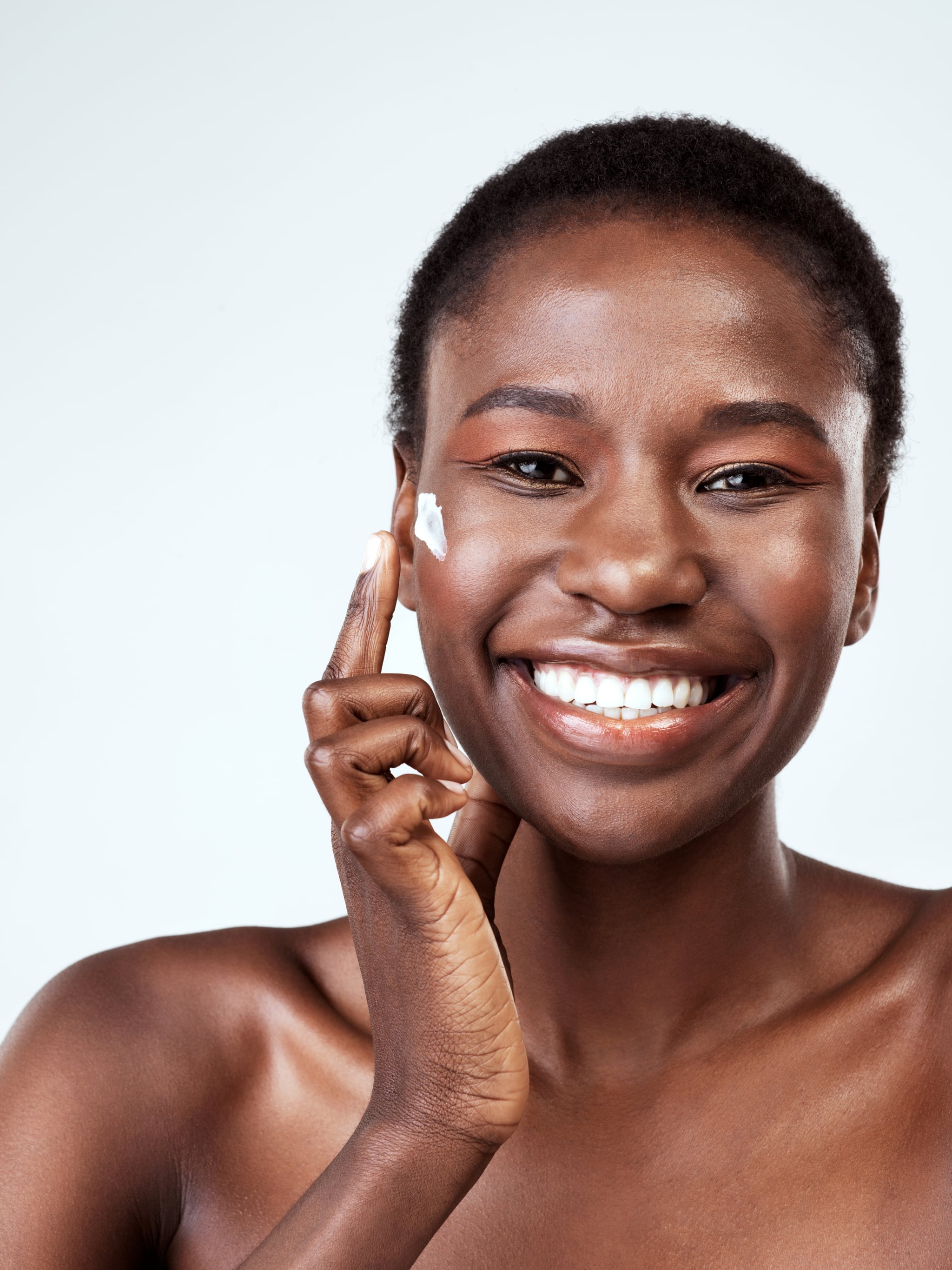 Image Source: Getty / PeopleImages
Skin care can be hard to get right. With so many buzzy ingredients and product innovations to keep track of, simply taking care of your skin can be a little daunting. A handful of dermatologists on social media are trying to make it easier, including Whitney Bowe, MD, board-certified dermatologist and founder of Dr. Whitney Bowe Beauty, with a little practice she likes to call "skin cycling."
Dr. Bowe often preaches the benefits of skin cycling to her 1.1M followers, resulting in many people trying out the method for themselves and even taking notes to help better understand the process. So, what is it? At its core, skin cycling helps you get more out of your nighttime skin-care routine (not your morning) by being strategic about how and when you use certain products. If you are new to skin cycling or need a little help understanding it, we got the scoop directly from Dr. Bowe herself. Keep reading to learn what skin cycling is, how to do it at home, and why it's beneficial.
Morning skincare routine should be consistent but at night it's all about #skincycling #that #dermatologist #skincare #skincareroutine
What Is Skin Cycling?
Dr. Bowe explains that skin cycling takes your nighttime skin-care routine "to the next level" to deliver great results by being strategic and deliberate about what products you use and when. "It's a simple but incredibly effective twist on skin care that has been hugely successful for my patients and now thousands of my followers on social media," she says. "It allows you to get all the benefits out of your powerful actives, without the downsides, [such as] irritation and sensitivity."
Skin cycling is a four-night process that goes a little like this:
Skin-Cycling Routine
Night 1: Exfoliation
On the first night, you exfoliate. "I opt for chemical exfoliating products over harsh physical scrubs," Dr. Bowe says. "This type of exfoliation gives your skin an immediate glow but also preps you to get the most out of night two." Great chemical exfoliating ingredients include alpha hydroxy acids (AHAs) and beta hydroxy acids (BHAs). One of our favorites is the Shani Darden Lactic Acid AHA Exfoliating Serum ($88).
Night 2: Retinol
The next night, you use retinol. "Retinoids are one of the most powerful ingredients to include in your skin-cycling routine," Dr. Bowe says. "However, if you try to use them too frequently, or layer them with other potentially irritating ingredients, you end up with inflammation rather than results." Because of this, it's best to use retinol on its own as the only exfoliating or resurfacing ingredient in your routine. We like the The Inkey List Retinol Anti-Aging Serum ($13) or the Hero Cosmetics Rescue Retinol ($28).
Nights 3 and 4: Recovery
Nights three and four are all about letting your skin rest, which is important for protecting your moisture barrier. "Hold off on the exfoliating acids and retinoids and give your skin a chance to recover," Dr. Bowe says. "On recovery nights, you want to focus on nourishing your skin microbiome and repairing your skin barrier, so think hydration and moisture." Using ingredients like hyaluronic acid, ceramides, and glycerin on your recovery nights are best. Some of our favorite moisturizers to use on your recovery night are the Dr. Whitney Bowe Beauty Bowe Glow Microbiome Nourishing Cream ($95) and the Tula 24-7 Moisture Intense Ultra Hydrating Day & Night Cream With Hyaluronic Acid + Squalane ($58).
After night four, you go back to the beginning of the cycle and repeat.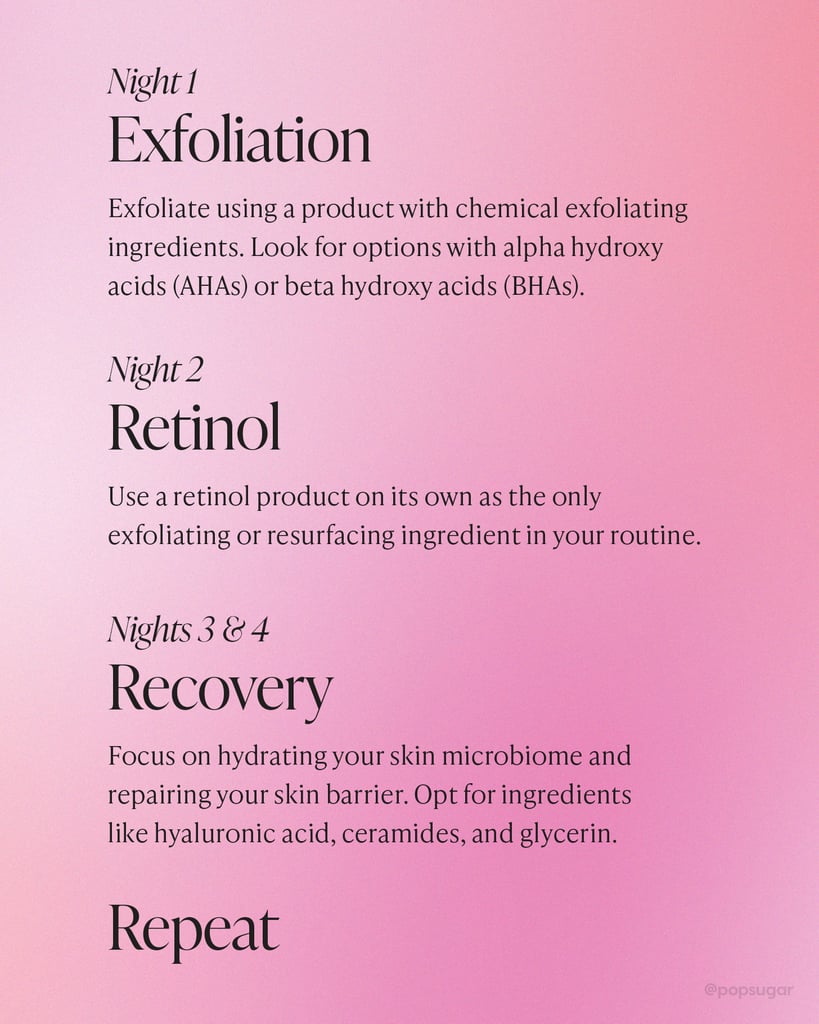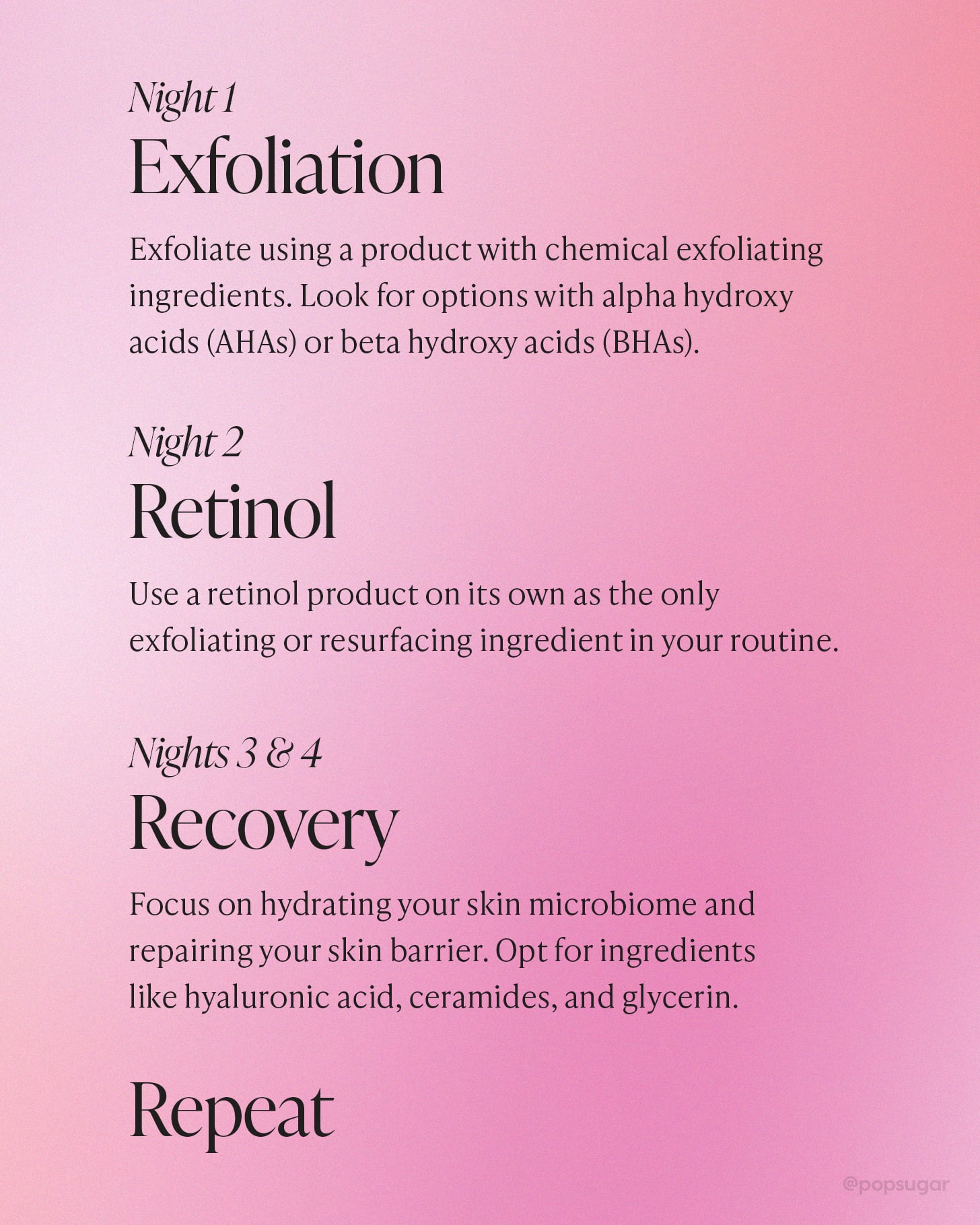 Image Source: Illustration by Becky Jiras
The Benefits of Skin Cycling
This practice allows you to reap the benefits of your exfoliants and retinoids without overdoing it and causing irritation. "There are two groups of people who will benefit most from skin cycling: those who are overwhelmed by all the products out there and not sure where to start, and those who are already using great products but reaching a plateau in results," Dr. Bowe says.
The cadence at which you use products is important because too much of a good thing — like powerful acids and retinoids — can actually be bad. One of the telltale signs of overdoing it is a damaged skin barrier, which causes the skin to be in a "state of chronic, low-grade inflammation," Dr. Bowe says. "This results in free-radical damage and oxidative stress, accelerating the aging process, predisposing to sensitive skin and breakouts, and even worsening hyperpigmentation."
Every skin type can benefit from trying skin cycling. "You can make small tweaks based on your skin type and your goals," Dr. Bowe says. For example, if you have sensitive or dry skin, you can use a lower-grade retinol or acid or add a third recovery night to the rotation. Those with acne-prone skin, on the other hand, can benefit from testing their skin-care routine on a three-day cycle: exfoliation, retinoid, recovery, repeat. It's all about finding what's right for you.
How Quickly Does Skin Cycling Work?
According to Dr. Bowe, you may start to see results in your skin after just eight days, which is two full cycles. "You can expect to see a more healthy glow and an overall radiance to your skin," she says. "Skin should overall look and feel more hydrated and feel softer to the touch."
The longer you skin cycle, the more of a difference you'll notice in your complexion.
Source: Read Full Article