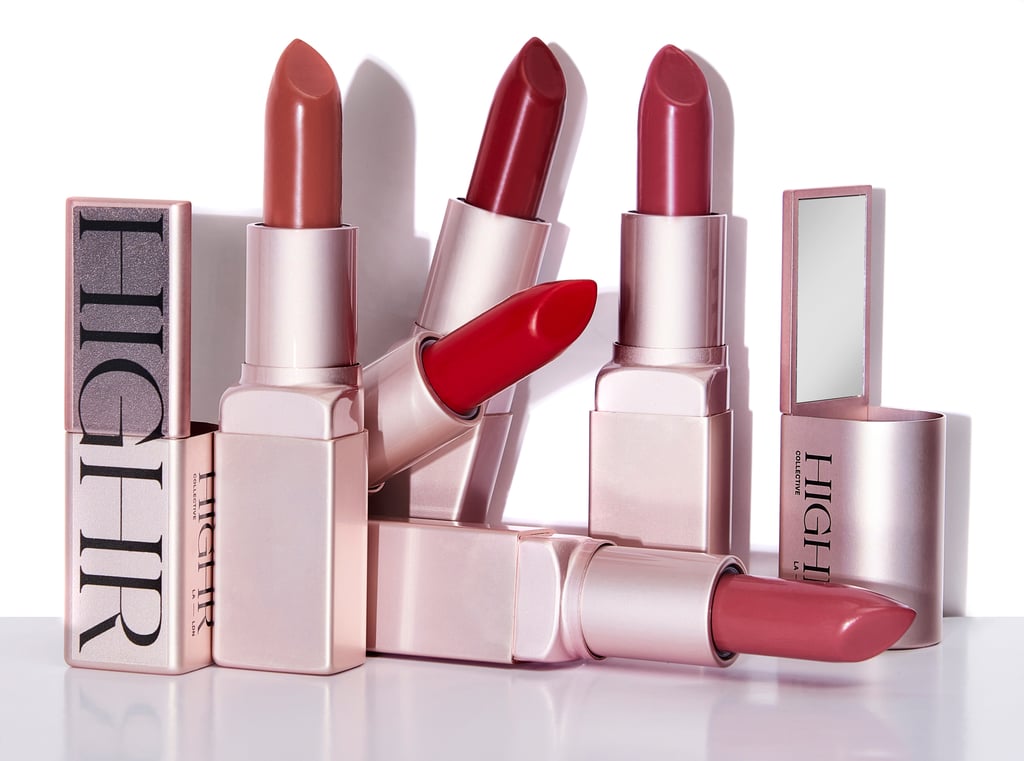 These Lipsticks Are More Than Pretty, They're Also the First Tubes to Be Carbon Neutral

It's 2021, and people are finally starting to shop for beauty with sustainability top of mind. Earlier this month, Garnier released a survey of 18,000 UK consumers, revealing that 73 percent of respondents want to be more sustainable this year. And while there's been lots of talk about reducing waste through ditching face wipes and banning cotton buds, there's been less discussion about what's actually in your makeup bag being more sustainable. Highr Collective, a brand started in London and made in LA, is aiming to change that by not only offering high-quality, natural cosmetics, but by also being the first makeup company to be 100 percent carbon-neutral.
A Makeup Brand With a Higher Purpose
Highr Collective was founded by Molly Hart, an American expat who, before moving to London, worked first as a makeup artist and at the MAC counter, and then at Estée Lauder's corporate headquarters in New York City as part of the company's first digital marketing division. As part of the newly established team, Hart helped launch the Facebook pages for all of the prestige beauty brands, eventually becoming the community manager for some of them.
It was Hart's unique experience as both a makeup artist and a social media community manager, coupled with her interest buying
organic products across other categories, that inspired her to start her own makeup brand. "My whole career I've been talking to customers online or at the counter, and over the years, there were so many crises that I had to manage and so many consumer questions that I had to answer. And after I had kids, I just felt like I didn't want to go back to work for these companies that I didn't think were putting something good into the world. Instead, I wanted to launch a business that had a higher purpose."
Starting Off Carbon-Neutral
From the beginning, Hart knew she wanted a brand that was "clean" from supply chain to the product itself. "I was on maternity leave, and I was literally on my couch breastfeeding for an entire year watching the news. I began to feel like governments weren't going to make the right decisions in order to reverse what was happening with climate change, and so it's up to businesses," she explained. "But I also felt like businesses weren't making the right decisions to limit their impact on the environment." Knowing she was launching a business, Hart decided that sustainability needed to be part of the concept from the beginning.
"From day one, we tracked all of our air travel, all of our freight, facilities, accommodations and then we offset everything with NativeEnergy, a company that helps other companies offset their carbon emissions," said Hart. "By tracking everything from the start, we were able to tell people how much one exact lipstick saves in terms of CO2. Now, when people join the company, they know that if they're ordering samples or if they're traveling somewhere to a conference, that they have to record where they went, and then that's all tallied through NativeEnergy. They give us a sum, and then we make the donation." To date, the company has offset a total of 13.1 metric tons on CO2 emissions.
On the manufacturing side, the chemist formulating the lipsticks works out of a factory in LA that's powered by 100 percent solar energy, whilst the outer packaging is fully recyclable. "Everything is compostable, including the adhesives, and everything is printed with vegetable ink," Hart explained. The one thing that isn't recyclable is the lipstick tubes themselves, which are made from aluminum and feature a small mirror inside the cap. "Right now, we're telling people to send the tube back to us when it's finished. That way, we can properly disassemble it and recycle it." Not ideal, but when you think about it, how long have some of your favorite lipsticks been in your life? "Lipstick is far from a single use item," Hart added, "so we made our first priority to make sure that all single-use packaging is made of recycled material."
A Natural and Sustainable Lipstick That Feels (and Looks) Luxurious
What makes the Highr Collection Lipsticks so impressive is the texture and how pigmented they are. I've tried quite a few natural and organic lipstick formulas, and whilst they often feel lovely, they also tend to slip and slide right off your lips. Hart admits getting the base formula right was the most challenging part of the entire process, a task that took nearly 18 months to complete.
"We wanted to create the feel, the texture, and the wear of a traditional synthetic formula, but do it completely with plant-based butters and oils," Hart explained, adding that she won't include any ingredient that has been found in research to be a carcinogen, endocrine disruptor, human body toxicant, microplastic, irritant, or sensitizer. "When you're working with organics, the oils are much weaker oils than something that's not organic, like your typical polyethylene- or silicone-based formulas." To keep the lipsticks vegan, Hart also wanted to avoid beeswax (and synthetic beeswax was out of the question as, according to Hart, it's made from petrochemicals), so she finally settled on candelilla wax. "It's a nice, matte wax that, when you blend it into the butters and oils, gives it that nice grip you want from a lipstick," said Hart.
That grippy-ness also ensures you get a nice layer of intense pigment in one swipe (although, I found it takes about two or three layers to get a nice seamless finish across the entirety of your lips). As for the color of those pigments, Hart chose the five shades based on what people actually buy, informed by the sales data she's been combing through for over a decade. "I know what customers are shopping and what they want and what they're looking for. And so we worked back from that to create a nice, tight collection of universal color that we think would suit everybody."
The well-edited range includes three iterations of pinks (Chateau, Truest, and Mercy), and two reds, Chiltern and Bravado, the latter of which is the first shade Hart settled on for the line. "I'm a red person, and a pain point for people who love red lipstick is that there are so many reds that photograph really bright under a flash. We wanted to create a nice brick-red that didn't photograph like that, so we added like a touch of brown to get this this cool,'70s-style color."
Claims of shade universality are tricky to confirm as there are only so many of us on the team who can test them. What we can report is that, as a former makeup artist, Hart took the inclusivity of her shade range seriously, trialing the final five on 115 women ranging in skin tones, as well as sending them out to her makeup-artist friends. "We tweaked a lot of shades," she said. Chateau, a peachy-pink beige, took the longest to get right, followed by Truest, which is a cool rose. "That one took a while because anything that has cool tones in it is also difficult to do when you're using mainly mineral pigments," she explained.
But words can only do so much when describing a piece of makeup. To see what the Highr Collective Lipsticks look like in real life on POPSUGAR editors, keep reading.
Source: Read Full Article