After finding out that his actress wife was included in the annual prestigious list, the Michael Kelso depicter on 'That '70s Show' offers the world how he thought of it via his social media account.
AceShowbiz –Ashton Kutcher could not help but voice his complaint online. Time Magazine has released its 2022 list of 100 Most Influential People, and the Michael Kelso depicter on "That '70s Show" followed it up with one hilarious reaction upon learning that his wife Mila Kunis made it into the prestigious list.
On Monday, May 23, the "No Strings Attached" actor took to his Twitter account to share his mind and gave the world something to laugh about. "Dear Time magazine, I already lose every argument I have with my wife," he protested, "You just had to do this didn't you?"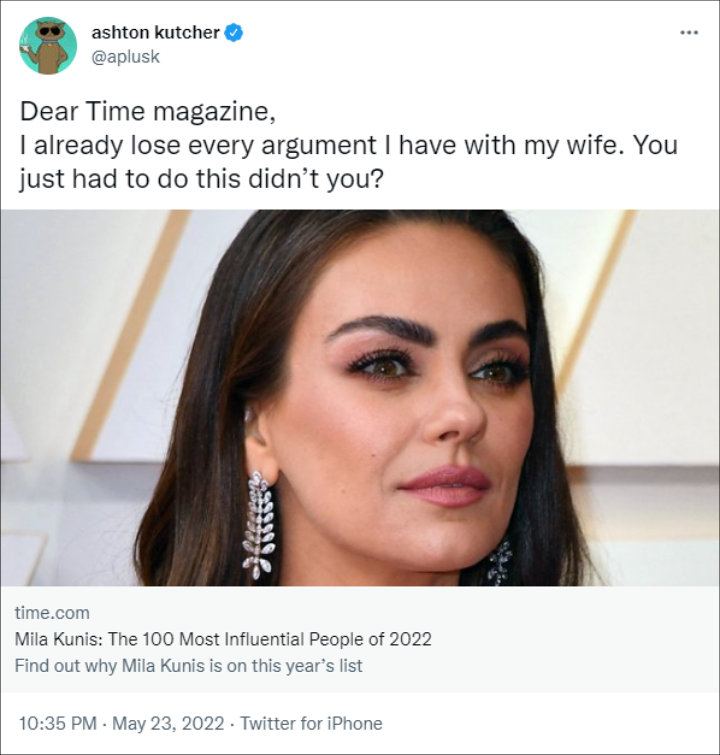 Ashton voiced his hilarious complaint on Twitter.
Ashton quickly received mixed reactions from fans. One replied by praising Mila, "She's a rockstar," and gave smiling face with sunglasses emojis. Another one sympathized with him by writing, "AK, this is what very happy marriage looks like, the beautiful bossy wife tells us what to do and we happily accept their POV… it is a win-win!"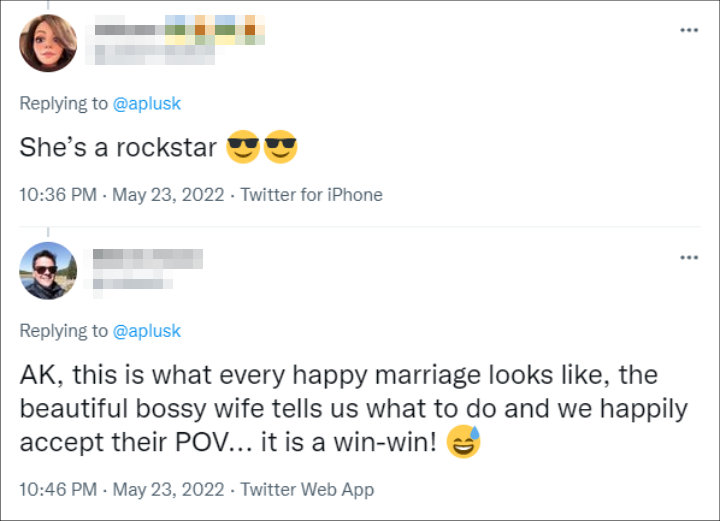 Ashton received mixed reactions from fans.
A third one teased Ashton, "It's totally getting framed and hung in every room of the house, isn't it?" and added a crying and laughing emoji. This comment apparently intrigued the 44-year-old actor, who in return replied by tweeting, "Just on my mirror," with a laughing out loud emoji.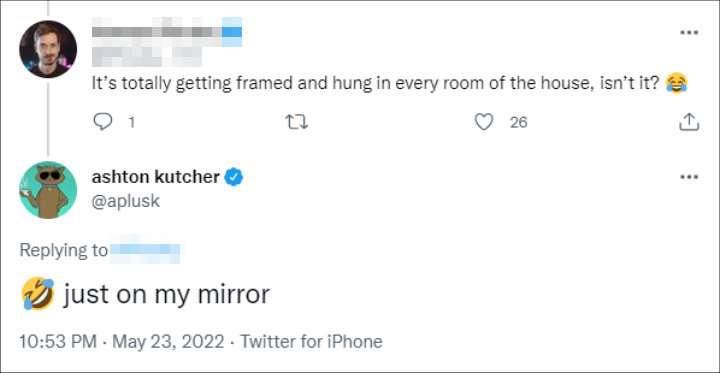 A fan teased Ashton after his hilarious complaint.
Mila made it into the prestigious list after her and Ashton's contribution in helping Ukrainians during the Russian invasion. The couple successfully raised more than $36.5 million via GoFundMe. Their assistance was greatly appreciated by Ukraine President Volodymyr Zelenskyy, who met with them via Zoom and thanked them via his social media post.
Fellow actress Zoe Saldana provided Time with a tribute essay for Mila. The "Guardians of the Galaxy" star began by praising the "Black Swan" actress, "She gives 100% to each and every one of her roles: as a mother, as a wife, as a daughter, as a granddaughter, as a friend, as a producer, as an actor. She goes all in, and she cares a great deal."
Zoe went on to applaud Mila for embracing her racial background amid the difficult time. "Mila has always been proud of who she is and where she comes from, and the sacrifices that her family made for her and her brother to come to America," she penned. "She's also been very aware of what it must have been for her parents and grandparents and great-grandparents to have left it all behind."
"As daughters of immigrants, you understand that you stand in a certain box that makes you quite responsible very early in life," Zoe continued sharing her thoughts. "It is a mission and a responsibility and a blessing."
Elsewhere in the essay, Zoe credited Mila and Ashton for always rising to the ocassion. "Seeing her fundraise for Ukraine and raise tens of millions: it's what we have come to expect the Kutcher-Kunis clan to do, to always rise to the occasion," she wrote. "What needs to be done? They will take it upon themselves, they will initiate anything and everything in their power to be of service."
The 100 Most Influential List also featured other big names in Hollywood. Among those were Simu Liu, Andrew Garfield, Zendaya Coleman, Miranda Lambert, Oprah Winfrey, Kris Jenner, Mary J. Blige and Adele.
Source: Read Full Article