https://www.instagram.com/p/CM4xtTJreRR/
A post shared by Heidi Klum (@heidiklum)
I keep forgetting Heidi Klum is married to Tom Kaulitz. It's been two years and we never hear anything about them, so I guess that's good. Recently Heidi posted a short video to her Instagram of her changing up her look. That's not exactly newsworthy for a model, I realize. It is, however, when it's a supermodel who is cutting her own bangs alone in her bathroom for her husband. According to Heidi, she asked Tom what his favorite hairstyle was and he replied, "long hair with bangs." So she cut her grown out bangs into shaggy fringe all on her own and documented her journey for us to see.
When the mood strikes, Heidi Klum switches up her hairstyle! But instead of taking a trip to the salon or arranging a visit with her glam squad, the 47-year-old supermodel decided to get creative with a pair of scissors and DIY some fringe bangs in her bathroom.

Yep, that's right — she gave herself a choppy set of bangs completely on her own. And honestly, they look pretty good! What prompted such a spur-of-the-moment decision you ask?

Well, Klum asked husband Tom Kaulitz what his favorite hairstyle is. Surprise, surprise, it's "long hair with bangs." As such, Klum strutted over to her bathroom in a black lacy bra and a white robe and grabbed a razor from her drawer.

The Project Runway judge documented her at home haircut, posting the entire process via an Instagram video on March 25. "My husband wants bangs, my husband gets bangs 💇‍♀‍," she captioned the post.

While the change is quite noticeable, the jury is still out on if Kaultiz recognized the transformation. "He better notice this when he comes home tonight," Klum jokes in the video.
[From Us]
You can watch Heidi's IG video below. I have to be honest, I thought the video was going to rankle me but it's pretty cute. I got the impression she asked Tom for his opinion and she made the choice on her own, he didn't ask her to do it. And since she's doing it in her bathroom without her regular team of Wendy Iles or Lorenzo Martin, it sounds like it was something fun and sexy she wanted to do for him. That's kind of sweet. Heidi is appropriately nervous throughout the video and she repeatedly messes up. Ultimately, she does a fine job and with her face, she can carry a botched bang job. I felt her when she said he'd better notice. "Noticing" is not always a guy's strong suit. I was impressed that Tom even had an answer to what his favorite hairstyle was. I think mine would've pointed to my head and said, "that one, I guess." It would be funny if Tom got the terminology wrong, though. What if he saw her and said, "oh, those are bangs? Wait, what is the part you put in a scrunchie called, then?"
I almost cut my own hair this weekend, I'm so desperate. I literally shut my hair in a door the other day and got yanked backwards as I tried to walk away. I know, I know – lesser problems. I check my salon's website every day. I'm on their list to call when they reopen, but I also know how long that list is so I'm going to be dealing with this mess a while longer. Maybe in the meantime I can just wear mine in a pony and tape that header shot of Heidi to my face.
https://www.instagram.com/p/CM3F-k5jUXX/
A post shared by Heidi Klum (@heidiklum)
Embed from Getty Images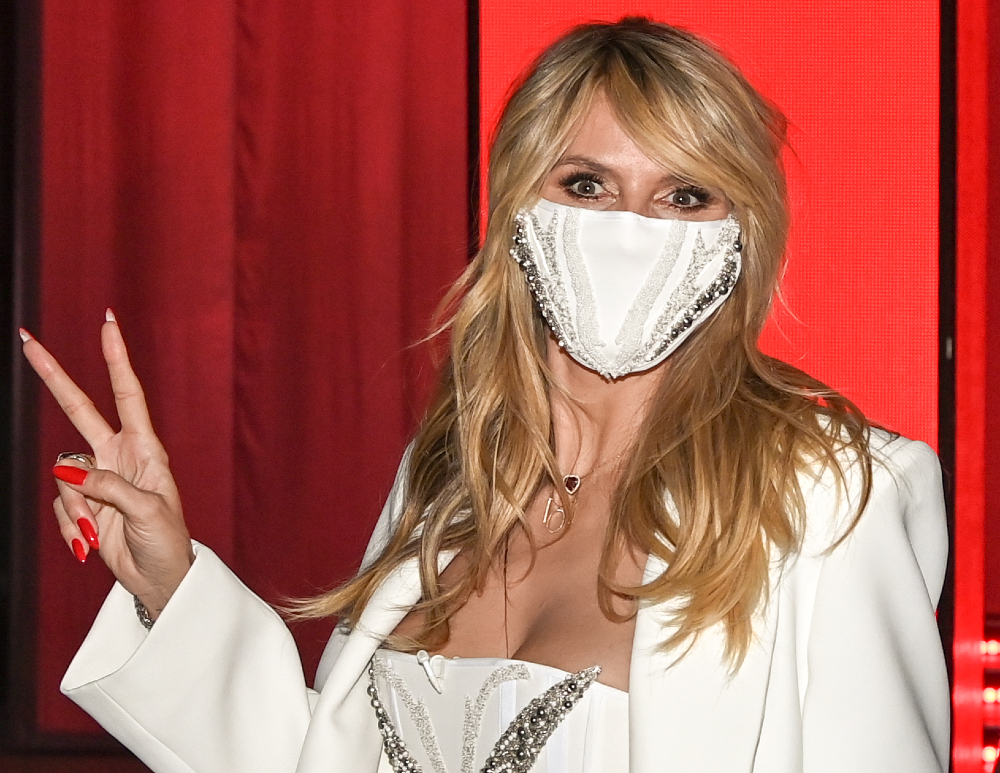 Photo credit: Instagram, Getty Images and Avalon
Source: Read Full Article