Former NFL player David Patten died on Sept. 2 in a motorcycle accident, according to ESPN, at the age of 47. Patten was riding his motorcycle near Columbia, S.C., in the evening when he crossed the median and hit a car which then hit another car, the South Carolina Highway Patrol told ESPN. One of the other drivers was taken to the hospital for injuries; the accident is still under investigation.
A one-time player for the New England Patriots and a Super Bowl winner, Patten has since received an outpouring of grief from the NFL world. Robert Kraft, the owner of the Patriots, said in a statement provided to ESPN, "I am heartbroken by the news of David's passing. He was a devout Christian who followed his passion following his football career and founded his own ministry. David transitioned from an undersized and understated wide receiver to a powerful and passionate preacher. In New England, he will always be remembered as a three-time Super Bowl Champion." 
Kraft isn't the only one who spoke out about Patten's death. Keep reading for more statements from NFL members.
The sports world grieves David Patten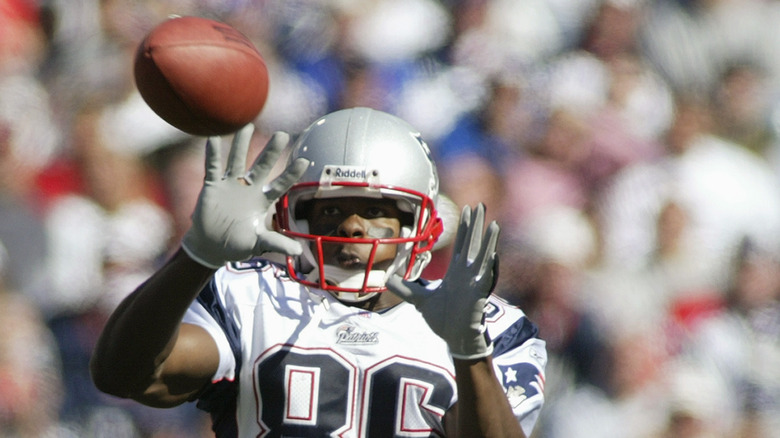 In light of David Patten's death, the NFL world has taken to Twitter to commemorate the NFL wide receiver. Twitter user Field Yates, an NFL correspondent for ESPN, tweeted: "RIP to David Patten, who was an immeasurably clutch player for the Patriots that caught the first postseason TD pass of Tom Brady's career. On October 21, 2001 he became the first player since 1979 to catch, run and throw for a TD all in the same game. Gone too soon."
Columnist Chad Finn also commemorated Patten on Twitter. "David Patten was so d*mn clutch for the '01 Patriots," Finn wrote. "Eight catches for 107 yards in the Snow Bowl. Caught Bledsoe's TD pass in the AFC title game and Brady's in XXXVI. An unheralded part of the foundation the dynasty was built on, and a nice guy too. May he rest in peace." New England Patriots wide receiver Deion Branch tweeted of Patten: "Great Player, but Most of All A Great Man, Mentor and Brother."
Patriots coach Bill Belichick spoke out as well. "It breaks my heart to hear of David's tragic passing at such a young age," Belichick said in a statement, per ESPN. "I am grateful to have coached David. He is an essential person and player in Patriots history, without whom we would not have been Super Bowl champions."
Source: Read Full Article