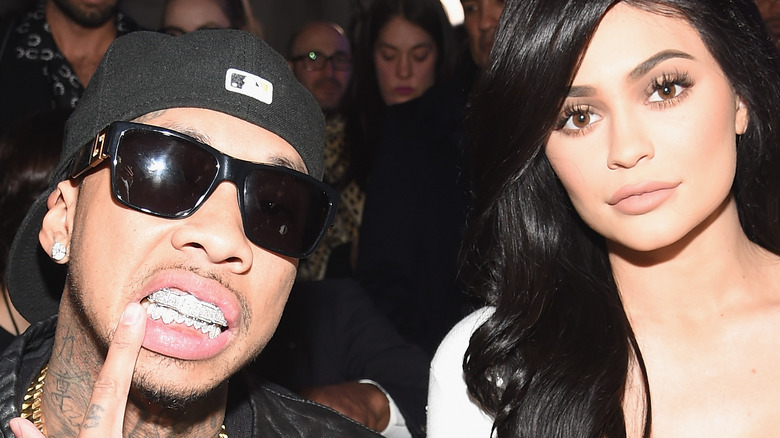 Kylie Jenner's on-again, off-again relationship with Travis Scott might be what's making headlines these days, but it's far from Jenner's first newsworthy relationship. In fact, it's one of Jenner's first serious relationships that had fans talking. 
Jenner was just 14 when she first met rapper Tyga, who was around 22 years old at the time. The two became acquainted when Tyga performed at sister Kendall Jenner's Sweet 16. The awkward flirting between a young Kylie and Tyga would be forever memorialized on "Keeping Up With the Kardashian" in a 2011 episode about the party (via WUSA9).
Jenner wasn't on Tyga's radar at the time, naturally. In fact, that same year he met who would become another important figure in both his life and the Kardashians: model Blac Chyna (per Capital Xtra).
Romance rumors started about Tyga and Kylie after he and Chyna split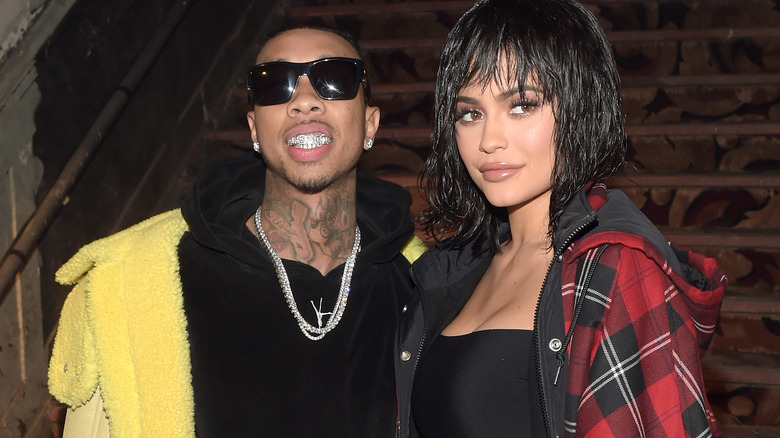 Rumors surrounding a possible relationship between Tyga and Kylie Jenner first started in 2014, but some pretty important stuff predated that moment. Tyga and girlfriend Blac Chyna welcomed son King Cairo in 2012, then got engaged a month later (per the Daily Mail). Things were going OK for the couple but in late 2014, Tyga began spending time with the Jenners again. According to Chyna, she didn't know anything was amiss until he threw Kylie Jenner a party for her 17th birthday, as rumors of their involvement were picking up steam.
Chyna and Tyga would break up that year, but he and Jenner didn't go public with their relationship until after she turned 18 in August 2015 (per Vulture). Over the next two years, the two had a roller-coaster ride of a relationship that saw many breakups and makeups. The couple finally called it quits in the spring of 2017, which Jenner shared on an episode of "Keeping Up With the Kardashians." 
"There was absolutely not one thing wrong with me and T," she said (per E! News). "Him and I will always, always have a bond. There was no crazy fight, we just decided — well, I decided that I'm really young. I don't want to look back in five years from now and feel like he took something from me when he's really not that type of person."
Those good terms changed when Travis Scott entered the picture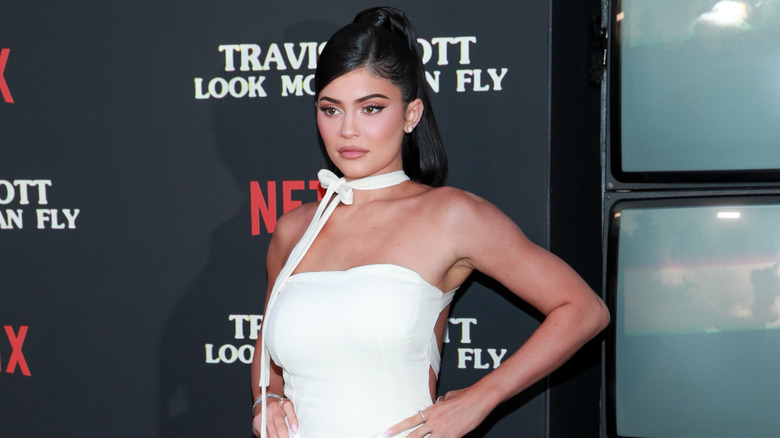 There seemed to be no bad blood between Tyga and Kylie Jenner until Jenner showed signs of moving on. At Coachella 2017, she was introduced to Travis Scott. The two hit it off quickly and became an item (per Insider). By February 2018, the two would welcome daughter Stormi Webster. 
It was from there that Tyga started making some pretty questionable comments online. When TMZ began hinting that Kylie was expecting in the summer of 2017, Tyga reposted the report with the caption, "Hell nah that's my kid." Some took it to mean that he was shutting down rumors he was the father, while others believed he was trying to convince the public he was (per Seventeen).
A month after Stormi was born, he was singing a different tune in a cryptic tweet. "I've never said anything about someone else's child or family insinuating my involvement; and will never do so. Please, Stop spreading false stories and attacking people's families," he wrote. "I have nothing to do with any of that. People should be able to live in peace."
Tyga did say he was partially responsible for Kylie's fame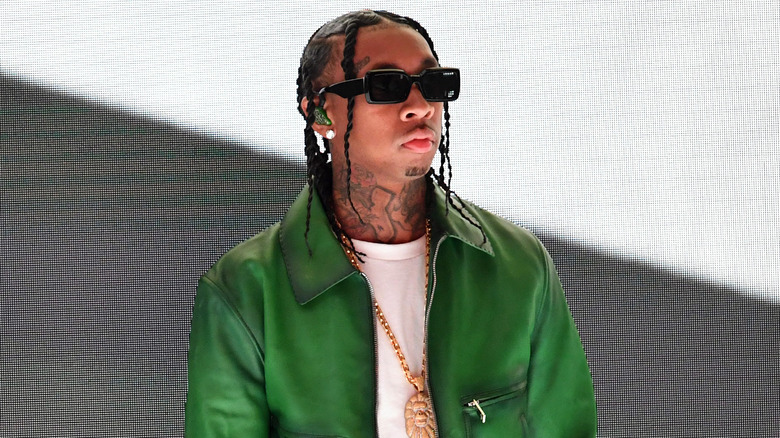 In the summer of 2018, Tyga appeared on Nicki Minaj's "Queen Radio." There, Minaj asked Tyga about his relationship with Kylie Jenner. He argued that he was partially responsible for the successes Jenner has had.
"You gotta look at the before and after," he said (per Insider). "She always had a platform and she was always destined to be what she was gonna be regardless, but when I stepped in — and it was a lot of codes being taught. It was like, 'you could do this, you should start this, you should start doing your hair like this, or you should do this.'"
"You should adapt because you need Black people to f*** with you, 'cause you need culture. If you ain't got Black people behind you, you ain't got nothing," he continued. "So I had a lot to do with all that — which I don't need credit for, I don't need to go online and tell people, like, 'I did this and I'm the one that helped her,' coming up with these colors and names on her, um — what is it, the lip line thing? It was a lot of stuff but it's like, I'm not that bitter type of person because God is gonna pay me back. The universe is gonna pay me back."
The two seem to have lost contact in recent years, but there's no bad blood. Onward and upward for all.
Source: Read Full Article