Artist and fashion designer Ajay Jennings has a bone to pick with Bella Hadid. While chatting with a stylist colleague recently, the pair were discussing how the model is rarely, if ever, photographed in the same outfit twice.
Jennings, founder of the brand Moss Tunstall, says the Hadid example – and there are many others in the world of fashion and celebrity – is evidence we need to "bring the conversation [around fashion] back to reuse, restyle. It needs to be recontextualised."
New isn't necessarily 'shiny': Moss Tunstall's Ajay Jennings, with model Sol Fernandez, in his studio.Credit:Chris Hopkins
Still, there are plenty of celebrities getting the memo. Take the Princess of Wales at last month's BAFTAs, wearing a repurposed Alexander McQueen gown with a pair of earrings from fast-fashion giant Zara. Like many issues in sustainability, or "conscious fashion" as it's becoming more widely known, it's often a case of two steps forward, one step back. But, most agree, every bit of advocacy helps, even if it's not perfectly executed, every time.
But Jennings, whose range is produced mostly from found items, or remnant fabric, says the industry should keep influencing people to reconsider what "new" actually means when it comes to clothing.
"Something doesn't have to be shiny for it to be beautiful," he says. "I'm not the first person to [make upcycled garments] but there needs to be a shift in the way people consume fashion. It's a dirty polluter, and we have this obsession with having something that no one has worn before."
Bella Hadid (left) isn't known for outfit repeating, unlike the Princess of Wales (centre) and Cate Blanchett.Credit:Getty
In another sign of progress, Moss Tunstall is featuring in the premium runways at this week's Melbourne Fashion Festival. Organisers say it's the first time an "upcycled brand" has been elevated to the Paris end of the program. Last Friday, the festival also kicked off with an all-vintage runway at Melbourne's historical Block Arcade, yet another sign that fashion events are becoming more sustainably minded.
And last weekend, a group of fashion design students and graduates took part in an upcycling challenge at Emporium Melbourne, the point of difference being that well-known brands such as Jac & Jack, Aje and Bec & Bridge provided the pieces and fabrics to be sliced, diced and embellished.
Stylist Karinda Mutabazi, who helped oversee the upcycling challenge, said it was encouraging to see a shopping centre embrace the narrative around upcycling. "We had a really great response from a lot of [fashion] brands," she said. "Brands [typically] want to control the way their garments are used, they have an aesthetic, a uniform message. When we thought of this idea I thought, let's just see what the response will be."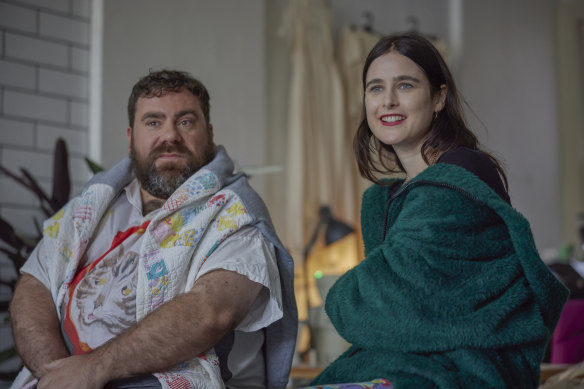 Romance Was Born's Luke Sales and Anna Plunkett have had upcycling at the core of their business since the start.
The students from the design school LCI Melbourne used the two-day challenge to demonstrate Japanese dyeing techniques, bleach baths (to de-saturate colour from fabric) and different forms of embellishment, all with a universal message. "If there's something in your wardrobe you don't like, try to change it – you don't have to be skilled [at sewing]," says Mutabazi.
Romance Was Born designers Anna Plunkett and Luke Sales have made upcycling part of their brand's DNA for more than 15 years, and agree small changes make a big difference. Sales says for their last show, in February, the brand collaborated with artist Paul Yore, whose installations and sculptures centre around found objects.
"Identifying other materials such as patchwork and crochet made us think we would be a good match to work together, and in turn we were able to continue with our love of upcycling, so win-win," Sales explains.
Last year, Romance Was Born ran an upcycling clinic, where people could bring treasured items to receive the signature whimsical, romantic, colourful Romance touch. But for everyone else, Sales promises there are more upcycled pieces coming soon. "They are really special, and our customer has had a really positive response to them."
Moss Tunstall will feature in the Urban Oasis runway at the PayPal Melbourne Fashion Festival, on March 9, 7pm. melbournefashionfestival.com.au.
Make the most of your health, relationships, fitness and nutrition with our Live Well newsletter. Get it in your inbox every Monday.
Most Viewed in Lifestyle
From our partners
Source: Read Full Article