Kyle's marriage woes continue to get the spotlight on RHOBH, as she calls Mauricio's work "the other woman" and he snaps at her — exclaiming, ""What is wrong with you?!"
Kyle Richards and Mauricio Umansky's marriage — and the troubles within it — were center stage again this week on The Real Housewives of Beverly Hills.
Near the top of the hour, Richards met up with good friend Dorit Kemsley, who felt there has been something off about about her interactions with Kyle and Mo for some time. In a confessional, she noted that she and her husband PK used to double date with them regularly, but those nights out have dwindled; she also felt there was a "heaviness" to how Kyle spoke about their relationship.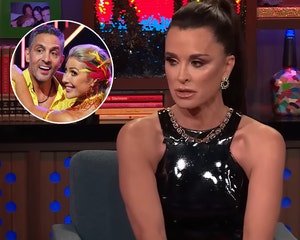 Kyle Richards 'Hurt' by Mauricio Umansky and Emma Slater Holding Hands, Believes 'There's Something There'
Kyle explained to Dorit that Mauricio has been "very stressed at work" lately and she's had a "rough time" over the past six months or so. Kemsley wondered whether she ever felt like she and Umansky wouldn't stay together in the long run, before pointing out how she never posts with him on Instagram anymore either.
"I felt like a needed a little freedom. Some space," Kyle responded, prompting Dorit to ask, "Like, specifically, away from your husband?"
"I think away from everything," Richards added, before Kemsley said she still felt like there was "something you're not telling me."
The conversation kind of dead-ended right there, but the tensions between Kyle and her husband continued later in the episode.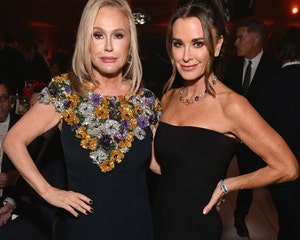 Kyle Richards Breaks Down Strained Relationship with Kathy Hilton on RHOBH Premiere
Everyone in the family was feeling the awkwardness during a birthday dinner for the couple's daughter, Portia.
"We've always been on the same page and in sync and right now it does not feel like we're in sync," Kyle said in a confessional before the event. "It seems lately he's consumed with The Agency and his work, running this big company and opening all over the world. I think he's poured his heart and soul into The Agency, so it's the 'other woman.'"
At the party itself, Mauricio's mother Estella came up to Kyle and asked, "Everything is okay with you and Mauricio, right?"
"Every time I open Google, it's something about you separating, divorcing, whatever," she continued. "It got to a point in which I called Mauricio and sent him a text, 'Is everything okay? Generally, I don't believe these things but it's too much.' Who started this?"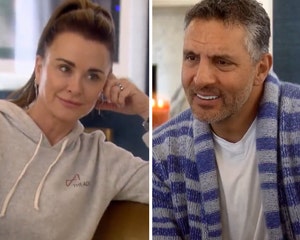 Kyle Richards Addresses 'Challenging Year' with Mauricio on RHOBH Before Tense Exchange
Kyle explained the rumors started after she was photographed without her wedding ring, after a workout. In a confessional she said it happened once because she was lifting weights, adding that she was "very taken aback" that her mother-in-law was asking those kinds of questions at Portia's party. "This is not what I want to hear right now, at my daughter's birthday dinner," she added.
As she continued talking to Mo's parents, she also told Estella that Mauricio had a tattoo — something they didn't know about. Being inked up is clearly a big no-no in his family and he was not thrilled when Kyle later told him what she'd done.
"What is wrong with you?! Why would I not be allowed to do that, what is up with that?" he snapped, before walking out of the room. "Now he's mad at me," Richards said to her daughters, before expressing regret in a confessional.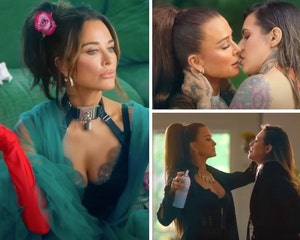 Kyle Richards Gets Steamy with Morgan Wade In New Music Video
"Why did I open my mouth? I thought, okay, it'll be funny in the moment, wait to see her reaction. But now, his reaction? I really wish I had not said anything," she said.
The episode ended with her attempting to smooth things over with him off to the side of the party, but Mauricio wasn't having it. "
"I don't want to talk about this right now. It's mine to talk about, not anybody else's and whether I choose to talk about it or not," he said, loud enough so others started to turn in their direction. "I don't want to talk about it now. I don't want to talk about it."
It was pretty damn awkward … and likely just the beginning of the drama viewers will see play out as the season progresses.
RHOBH airs Wednesdays on Bravo.
Source: Read Full Article