Fact check on that now viral video from 11 years ago that has been generating hashtags such as "childtrafficking"
It's more than just a story about missing context…it's twisting satire into a distorted reality.
A clip of Tom Hanks calling a child "sexy baby" at a beauty pageant has gone viral on social media — but the footage is in fact from a comedy skit that appeared on "Jimmy Kimmel Live!" in 2011.
Despite the satiric origins of the clip — which was mocking TLC reality series "Toddlers & Tiaras" and even, in fact, critiquing child beauty pageants for their sexualization of children — it has become proof for some who believe a wild conspiracy theory about Hanks.
The footage circulating online only shows a brief moment from the skit where the Oscar winner says "sexy baby, you are such a sexy baby" to a child actor playing his daughter as she runs toward him in her pageant outfit.
Unable to render YouTube Video.
Conspiracy theorists not only implied that the actor was acting inappropriately with a child, but many wrongly assumed the child actress (Nikki Hahn) was in fact his real life daughter (the math, of course, does not add up).
Hashtags including "childtrafficking" began to gain steam on social media, with many drawing connections to late sex offender Jeffrey Epstein.
The actual skit, however, is the opposite of endorsing child beauty pageants and very clearly is intent on showing just how bizarre and twisted they actually are (you can watch the full video above). The sketch focuses on Hanks preparing his "daughter" Sophie Hanks for the fictional "Miss Ultimate Sexy Baby Nevada"; he does not have a daughter named Sophie.
The celebrated actor has been the target of QAnon conspiracies, with some believing he is part of an elite cabal of satanic cannibalistic pedophiles; among the false claims is that his name is listed on flight logs of Jeffrey Epstein's private jet.
This resurfaced video is just another among a long list of false claims and misinformation about Hanks.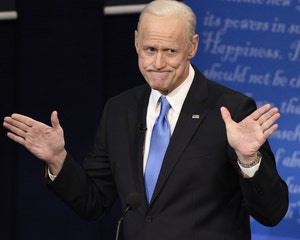 Jim Carrey Reacts to Being 'One of Several Different Actors' Playing Joe Biden Conspiracy Theory
Source: Read Full Article