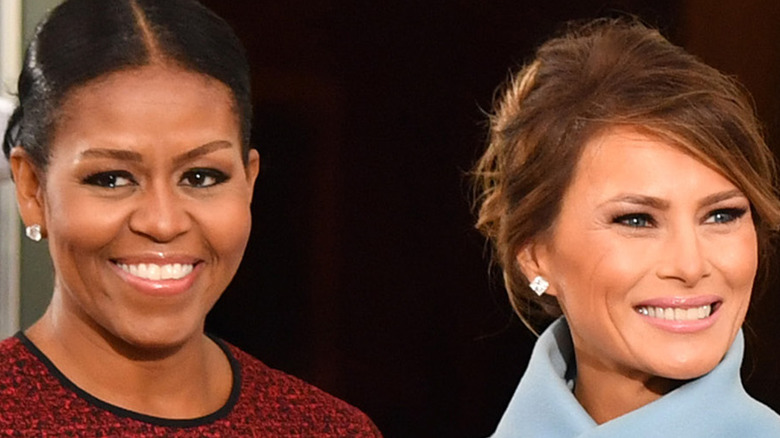 When one family and administration leave the White House after losing an election or a second term is up and another moves in, there are traditions of common courtesy that go along with it. For example, outgoing presidents leave a note with encouragement and advice for an incoming president on the Resolute Desk, where it will be seen when the new commander in chief enters the Oval Office for their first day of work (via CNN). Outgoing first ladies often try to help incoming first ladies and that's just what Michelle Obama did for Melania Trump after Donald Trump was elected president.
Soon after the 2016 election, the current first lady met the future first lady for the first time when Obama invited Melania for tea at the White House. According to The Washington Post, the meeting was brief and included a tour of parts of the White House grounds. While all seemed cordial, their relationship didn't remain that way despite the best efforts of Obama.
Michelle Obama and Melania Trump's second meeting turned awkward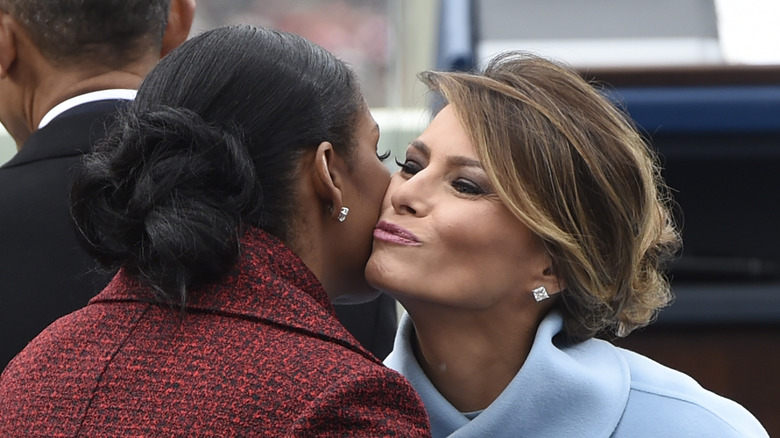 The next time Michelle Obama and Melania Trump met was at Donald Trump's inauguration. When the Obamas and the Trumps met up on the White House steps, Obama was shocked that Melania handed her a gift. It was a perfectly wrapped box from Tiffany's, the famed New York City jewelry store (via CNN). Cameras captured the moment, including the bewildered look on Obama's face.
In 2018, when Obama appeared on "The Ellen DeGeneres Show", she explained what happened. "There's all this protocol," she said. "This is like a state visit, so they tell you that you're going to do this, they're going to stand here. Never before do you get this gift, so I'm sort of like, 'OK, what am I supposed to do with this gift?'" (via USA Today) Obama continued telling the story of her confusion. "Everyone cleared out and no one would come and take the box, and I'm thinking, 'Do we take the picture with (it)?' And then my husband saved the day — see he grabbed the box and took it back inside. But everybody cleared out — no staff, no one. I was like, 'What do you do with the box?'"
DeGeneres had to ask what was actually in the box after more than a year of the country wondering. Obama revealed that it "was a lovely frame."
Michelle Obama offered Melania Trump her help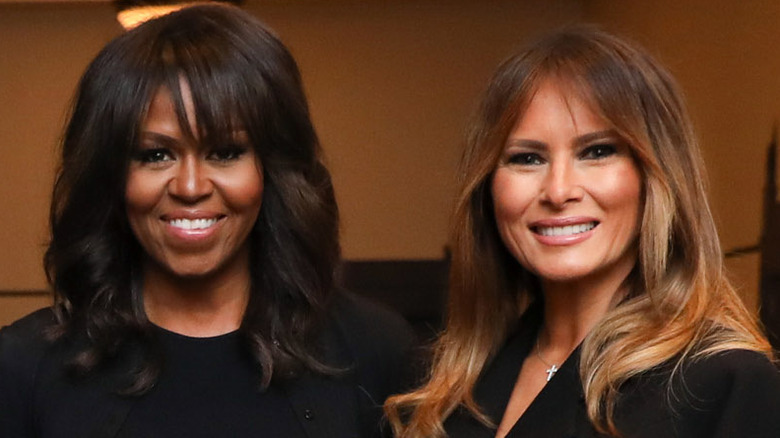 In her 2018 memoir, "Becoming," Michelle Obama told the story of how former first last Laura Bush offered her help at the end of former President George W. Bush's term and said she was "just a phone call away" if she needed anything. So, Obama paid the courtesy forward and did the same for Melania Trump — and then never heard from her, according to CNN.
After the book was released, White House communications director Stephanie Grisham released a statement explaining Melania's failure to take Obama up on her offer. "Mrs. Trump is a strong and independent woman who has been navigating her role as First Lady in her own way," Grisham said (via CNN). "When she needs advice on any issue, she seeks it from her professional team within the White House."
CNN also reported that in 2017 Melania had tea with Obama's predecessor, Laura Bush at The White House.
Michelle Obama explained why she offered Melania Trump help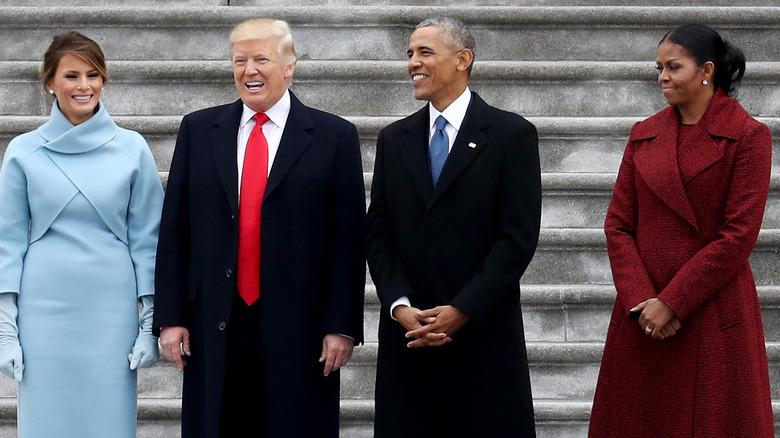 After the 2020 election when Michelle Obama saw President Donald Trump refusing to accept defeat, she spoke of the peaceful transfer of power in an Instagram post and how she saw her part in it.
"My husband and I instructed our staffs to do what George and Laura Bush had done for us: run a respectful, seamless transition of power — one of the hallmarks of American democracy," Obama wrote. "I have to be honest and say that none of this was easy for me. Donald Trump had spread racist lies about my husband that had put my family in danger. That wasn't something I was ready to forgive. But I knew that, for the sake of our country, I had to find the strength and maturity to put my anger aside. So I welcomed Melania Trump into the White House and talked with her about my experience, answering every question she had —from the heightened scrutiny that comes with being First Lady to what it's like to raise kids in the White House. I knew in my heart it was the right thing to do because our democracy is so much bigger than anybody's ego."
Source: Read Full Article