Your alarm jolts you awake before you roll over to hit the snooze button once, or maybe twice. Okay, three times at most. In the depths of winter, most 9-5ers rise before the sun and don't stop working until after it sets again. It can feel like we're constantly surrounded by darkness — and that's not exactly ideal for anyone's mental health. Approximately 1 in 20 people in the U.S. population suffer from Seasonal Affective Disorder (also known as SAD), which is colloquially referred to as "winter depression."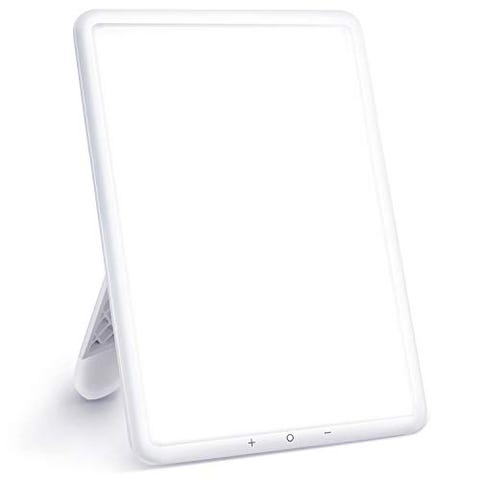 If you struggle with an inability to concentrate, fatigue, or a decrease in energy, it's possible that you're experiencing common side effects of SAD. If getting a natural dose of Vitamin D doesn't fit into your schedule (or your environment), a fantastic hack is to invest in a light therapy lamp. Now is the perfect time to make the purchase because 1. TaoTronics' highly-rated light therapy lamp is almost 50 percent off and 2. There are still more than 60 days until Spring and mostly grey skies. Light therapy lamps mimic the full spectrum of light found in daylight in order to combat SAD symptoms.
The lamp is UV-free, so don't worry about having to slather on sunscreen or anything. It uses LED light with a 10,000 lux intensity to send 6500K of light your way. Think of it as a little pick me up, so you can focus your attention on your tasks for the day. The Mayo Clinic notes that the light therapy lamp "requires time and consistency" to be effective. "You can set your lightbox on a table or desk in your home or office," their website reads. "That way you can read, use a computer, write, watch TV, talk on the phone or eat while having light therapy."
The simple addition to your day-to-day routine will leave you happier and healthier.
Source: Read Full Article