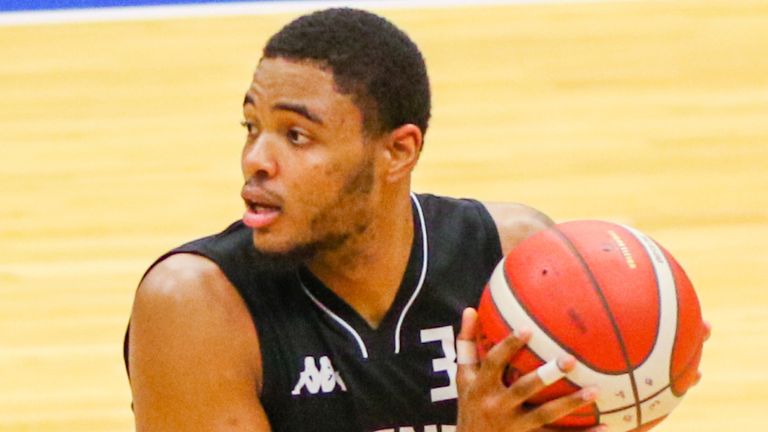 An emotional Breaon Brady struggled to hold back the tears as he described finding a family as his proudest moment while preparing to bid farewell to the Houston Cougars following the team's season-ending Sweet Sixteen loss to Kentucky in March 2019.
The Akron, Ohio native had made a name for himself as a stout defensive contributor after transferring from Saddleback College in 2017, featuring on a joint-school record 37 occasions as Houston won 89 per cent of their games across the 2018-19 campaign on their way to becoming American Athletic Conference (AAC) regular season champions and AAC tournament runners-up.
Just shy of two years later, the 24-year-old is averaging a league-high 11.5 rebounds per game in the BBL after signing with the Manchester Giants last August.
Brady arrived as one of multiple marquee summer acquisitions as the Giants sought a fresh direction on the back of a 0-13 Championship campaign, which marked their eighth straight losing season. The opportunity to spearhead a new era for the Manchester franchise has made for another welcome family atmosphere, one just of slightly varied accents.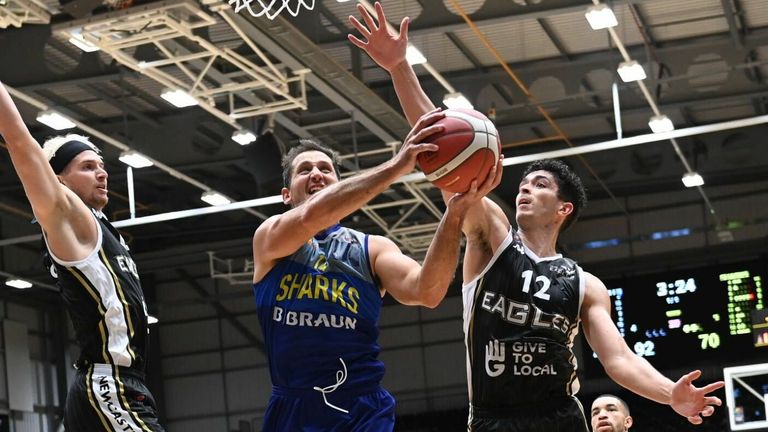 "Our first day was tough, it was crazy. We started on a Tuesday and it was a bad day for us, just conditioning and getting back into it but we all pulled together. And on that first day I looked around at the talent we have, the good guys we have and I'm like 'it's going to be a heck of a year'," Brady told Sky Sports.
"It's strange to see how well players adapt to one another so fast. And we have that chemistry early, we may have struggled in early games where it looked like the chemistry wasn't there but when we go back we look at film and go back to practice and there's always that sense of urgency to understand where one is coming from.
"We've got players from all over, I'm from Ohio, Lyle (Hexom) is from Omaha, Sam (Cassell Jr) is from Baltimore, the UK guys, Alex (Ouandie) is from Bulgaria so we've got so many different personalities put on one team but we're clicking very well."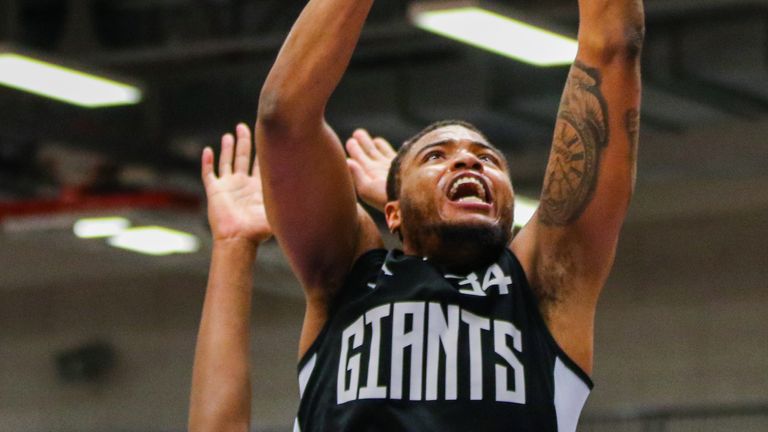 "These guys will always be my family no matter what happens. If I play with you, if I call you my brother, I mean it. I call every single one of these guys my brothers because I mean that and I'll give my all for these guys."
Brady on his new Manchester family
Brady's move to Manchester has also seen him reunite with fellow off-season arrival Lyle Hexom, the pair having previously played together at Saddleback where they reached the State Championship Final in 2015-16.
"Lyle has been my guy for years," he added. "And what's crazy is I haven't played with Lyle in like over five years. Just linking up again together it feels like we played last year together. It's awesome.
"We picked up where we left off and we're just trying to show this league what we can both do. We have a lot to prove because we're Americans coming in here trying to help this team and I think our biggest goal is to stay humble, stay hungry and just stay ready."
Less than six months since moving to the UK, the center has already celebrated Thanksgiving, his birthday, Christmas and New Year outside of the United States for the first time.
Though yet to experience the life and soul of Manchester in its entirety due to the coronavirus pandemic, Brady still appreciates it as a reflection of what makes playing overseas so special.
"To be in a new country and to spend my birthday here and stuff like that, I don't know how many people back home where I'm from can say that," he said. "I look at it as a blessing."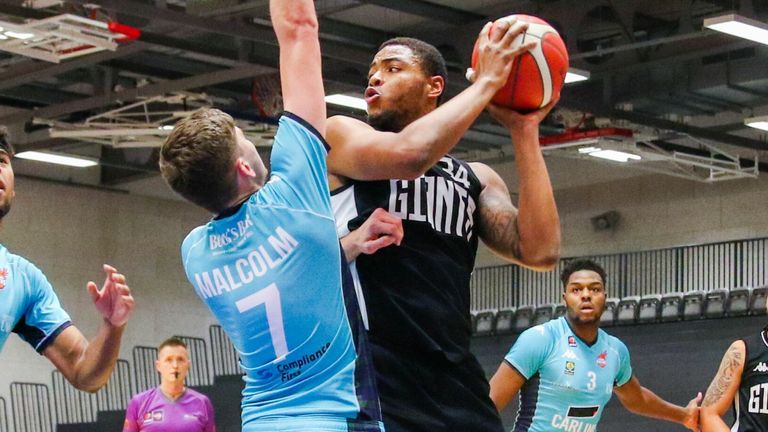 Like a lot of young children in America, Brady naturally grew up aspiring to play in the NBA, before coming to realise just how difficult it is to break onto the sport's elite platform.
His former Cougars team-mate Corey Davis Jr is currently plying his trade with BCM Gravelines-Dunkerque of the LNB Pro A in France after going undrafted in 2019, while another, Galen Robinson Jr, plays in the NBA G League with the Austin Spurs.
The BBL may represent a deviation to what is a common plan, but it also poses as an opportunity Brady has zero hesitation in encouraging others to pursue.
"A lot of players before they enter college their dream is to make it to the NBA, when you get to a certain point in college you realise you're either going to make it or you're not going to make it and only 60 people get drafted," he said. "If you're not one of those 60 you might go undrafted, you might not but that's why you explore the world of overseas.
"There are so many opportunities, there is so much of the world you can see while playing this game. That's why it's a blessing in disguise for me because I would have never thought a year ago I would be over here.
"Just to be here to see a whole new different world is amazing. I can share that with other people, share my memories, but not only that is you never know what you can come into over here. You can get put on a great programme like this."
ALL STAR FIVE!
Breaon Brady makes the @bblofficial All-Star Five again after posting a double-double of 20pts and 16 rebs on 64% shooting.
Lyle Hexom comes off the bench with an index rating of 28 after posting 26pts and 8rebs.#IAMGIANT pic.twitter.com/aJeIwjSwQq
With regards to recruitment, the BBL continues to go from strength to strength.
Besides Brady's introduction, the past off-season also saw the Giants bring in Sam Cassell Jr, the son of three-time NBA champion Sam Cassell, and Donovan Johnson, while the London Lions snapped up former NBA duo Byron Mullens and DeAndre Liggins.
San Diego State product Jeremy Hemsley and Bowling Green graduate Antwon Lillard landed with the Sheffield Sharks, the Newcastle Riders signed Zach Jackson after a spell in the Ukranian Superleague, and the Cheshire Phoenix strengthened their roster with the addition of American duo Kahron Ross and Devin Mitchell.
"For players that want to go to the NBA, all credit to you, but it's hard," continued Brady. "Going overseas, you see LaMelo Ball, players like that, Brandon Jennings, you see the NBA players, when they leave the league where do they go?
"Amar'e Stoudemire played abroad, a great player in Stephon Marbury did it. There are guys that left the league and made their mark playing overseas in basketball. You don't have to be in the NBA to be on that platform.
"Because if you win for your team over here, they'll treat you way differently than they will in the States. It's amazing to see the reaction from fans when we win game, the feedback.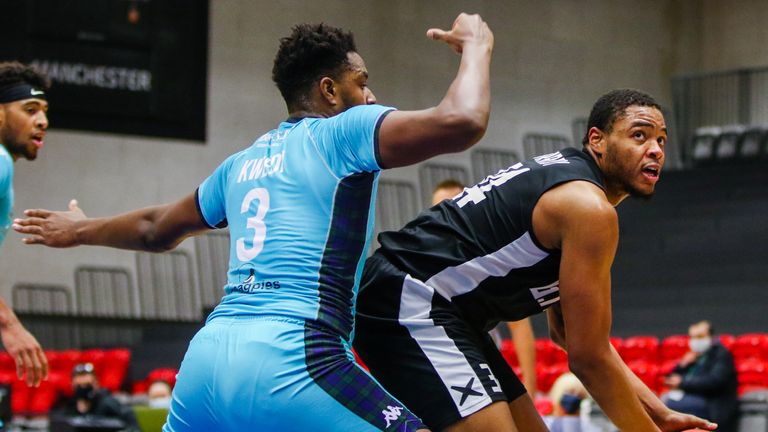 "It's different from being in the States. You get the college love or the family and friends, but over here you've got people you never met just beaming you, shouting you out and that's amazing."
The Giants enter Friday's match-up with the Phoenix having won three and lost three of their opening six matches in the Championship, most recently beating the Plymouth Raiders 88-79 in December before seeing their next three fixtures postponed due to Covid.
Their strongest performance of the season so far arguably came in the 92-88 loss to the Lions, with Danny Byrne's men having led by as many as 17 points in the second quarter before taking one of the league's front-runners down to the wire.
Brady admits he relishes the heightened expectations surrounding the team having experienced a similar environment during his time at Houston.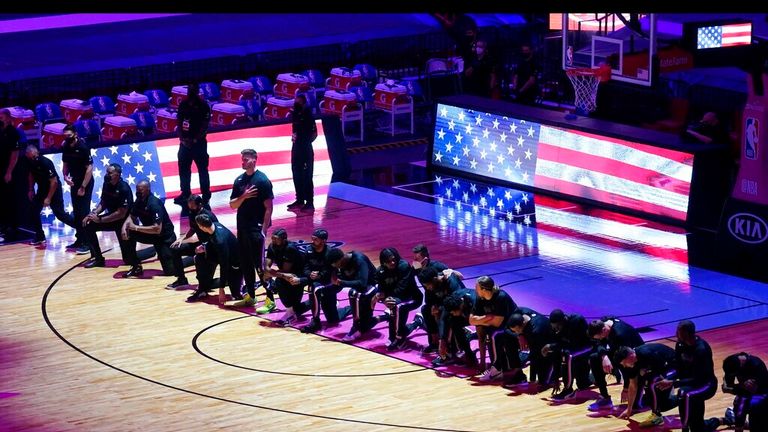 "I had the same type of pressure when I was joining a programme in college," he explained. "They brought me in with the same type of mentality that 'this is a rebuilding programme, that we want to be successful and we want you to be part of it' and I was kind of sold on the same thing with Jamie (owner Jamie Edwards).
"He brought us down here, he had a plan set for us and he put it into fruition so just trusting him and this whole process has been wonderful and I'm glad I came down here because everything he said is coming in.
"Just to welcome the adversity, that's what it's all about. I was taught that in college and so just to bring that to this programme has been very helpful.
"Everybody is feisty, everybody is just wanting to win. You should see us after a loss, it's real hectic. Even winning we know we've got a lot more to do. We've only won a couple of games, we've still got a lot of ball game left so we're just looking forward to moving forward in the season."
Watch Brady and the Manchester Giants take on the Cheshire Phoenix live on Sky Sports Arena from 4:30pm on Friday, January 8.
Source: Read Full Article