Tony Bellew's boxing career ended almost two-and-a-half years ago, but his love affair with the sport seems destined to go on for ever.
The Liverpudlian's 11 years in the ring as a professional held many highlights, most notably capturing the WBC cruiserweight title at Goodison Park, home of his beloved Everton FC, and twice defeating David Haye in what were – perhaps unfairly – branded seismic upsets at heavyweight.
In October 2018 at Manchester Arena, Bellew stepped between the ropes as a fighter one final time in his bid to become undisputed cruiserweight champion against Oleksandr Usyk, and the best part of half an hour later, he stepped back out – beaten, no longer a fighter, but still a lover of the brutal art.
"You'll always miss that competitive side. That's in you from a young age and it has to be. But at the same time I'm very, very happy with how my boxing career finished," Bellew tells The Independent, his Geordie accent carrying an audible sense of contentment.
READ MORE: Warrington stunned on ugly night as journey into the unknown is reset
"I achieved everything I set out to do, I realised things that I could only have dreamed of as a child. I feel fulfilled.
"Fighting at Goodison Park was the ultimate dream for me – I'd say the defining moment of my life but I'm not sure my wife would like that, I think our wedding day is her favourite… but becoming WBC cruiserweight champion of the world, my lifelong goal was secured that night. The only reason I continued to box was to financially secure my goals. 
Independent Rugby Newsletter
Live Rugby union coverage direct to your inbox every week
Read our full mailing list consent terms here
"I'm very thankful for the opportunities that boxing's given me, that I've been able to pass on to my children, to give them a better life. Yeah, mate, boxing is brilliant… I love it, I'll always love it."
Bellew retired with a record of 30-3 (20 KOs), having only been stopped twice in his career. One of those two occasions was in his final fight, against undefeated Ukrainian Usyk, a bout for which 'Bomber' was fuelled by more than the motivation of financial security for his family.
"I didn't even need to do the last fight," Bellew says. "I had to face him – I didn't need to, I wanted to. I did the last fight purely trying to be great, trying to beat the greatest cruiserweight of all time, and I came up short…
"I knew months before that it was gonna be my final fight. I just knew. I'd promised my family that I was gonna stop with that one. It was just time to be great – all them belts on that stage, the undisputed, unified cruiserweight championship of the world, and that was it for me. It couldn't get any higher, I was going out at the top.
"In the background, you're getting older every day – you're just not the same as you were. You get a bit slower, your body feels the aches more, you can't train the way you want to because you just can't physically get there. All them things, it builds up. But I was in unbelievable shape, I felt fantastic in there, I was just beaten by the better man on the night.
"He's the best fighter I ever faced in a boxing ring, Oleksandr Usyk, the best fighter of my era. It's boxing; you can't always have all the glory, that's not how it goes. I fell short at the final hurdle, but there's no shame in that."
Bellew was the underdog heading into his clash with Usyk, just as he was ahead of each of his back-to-back bouts against Haye – in March 2017 and May 2018. The Liverpudlian embraced the odds: "I've always looked at myself as the underdog all my life, so it never really bothered me. I was never supposed to achieve the things I achieved." Bellew wasn't supposed to beat Haye. He certainly wasn't supposed to stop him twice.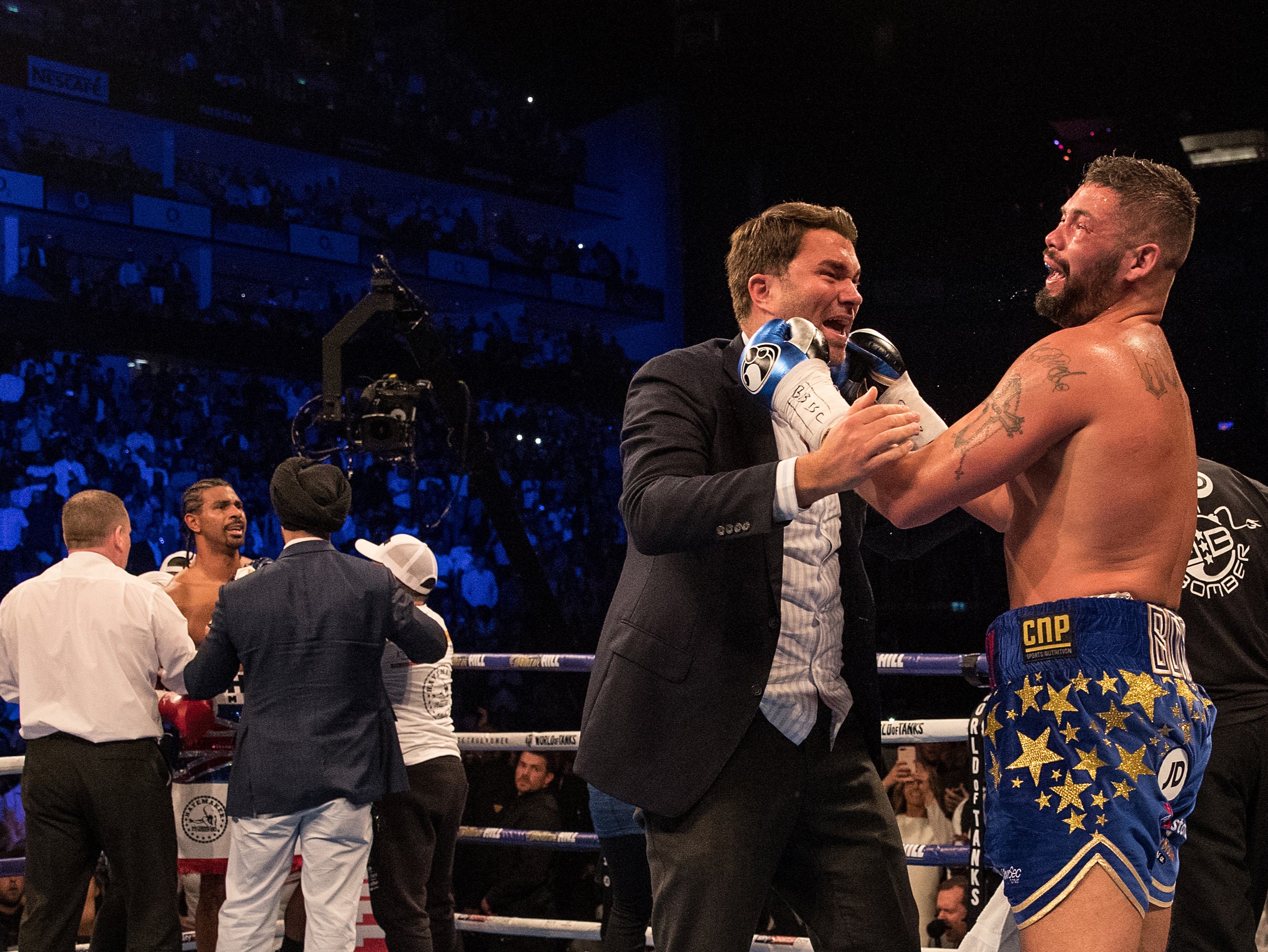 But he did just that, in the 11th round of their first meeting and in the fifth round of their rematch, with both fights taking place at London's O2 Arena. The universal jubilation around those performances among boxing fans is a rarity in the sport nowadays, with its fandom frequently let down by their heroes and frustrated by the politicking of villains. 
"Agents, managers, TV networks… each of these individuals have an agenda, because they want to keep their guy at the top for as long as they can," Bellew tells The Independent. "It's gone on since boxing began. 
"That doesn't mean anyone's cheating, bribing judges or anything like that; it's all well and good judges turning up to a contest and saying, 'We don't really know these guys, they're complete strangers and we're just gonna watch and judge' – that's not realistic and that's not real, let's be totally honest. They know the back-stories, they know how the fighters fought before, how old they are, the position they're in, and it plays on the emotions, on the thought process, on the judging mindset. 
"The only way you're ever gonna get a judge come into an arena of thousands of people and judge it on exactly what they see is if you literally put them on the moon for their whole lifetime before they judge a bout, then make them watch that fight there and then. I know from when I boxed: I'm being judged not just on the actual bout but on my personality as well."
Still, Bellew – who now manages fighters alongside his work as a pundit for Sky Sports – retains his love of the sport. "The world changes when the best fight the best in boxing," he says. "The whole world watches. Boxing, in my eyes, is still the biggest fight in the world when the best fight the best. The whole world tuned in when Floyd Mayweather faced Manny Pacquiao, when Mike Tyson fought Lennox Lewis, when Marvin Hagler fought 'Sugar' Ray Leonard, when Muhammad Ali fought Joe Frazier and George Foreman."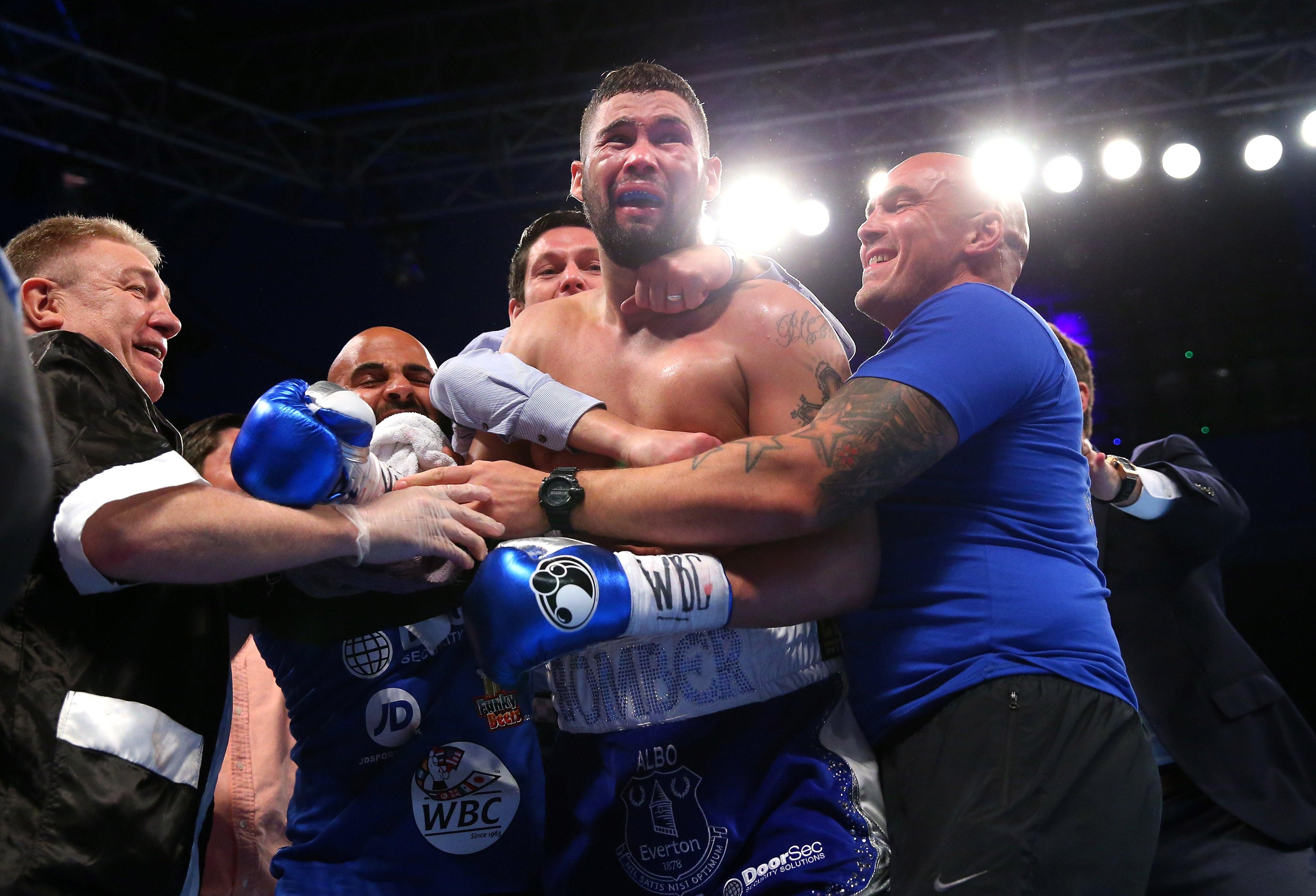 Indeed, the impact of those historic clashes extended beyond sports and bled – like a battered heavyweight – into other cultures. An obvious example thereof is the series of Rocky films, with 2015's critically adored reboot Creed featuring Bellew as the final boss to Michael B Jordan's protagonist.
"The experience was unbelievable, one of the best times of my life," Bellew recalls. "Living in Philadelphia for three months was brilliant, and working with a brilliant director in Ryan Coogler – someone I speak to regularly and who I'm very thankful to for giving me the opportunity.
"At the time I wasn't a world champion, but I was playing the pound-for-pound king of the world in a Rocky movie, getting to know 'Sly' Sylvester Stallone and Michael B Jordan. I've got so many friends still in that world.
"Would I do it all again? I don't see why not."
Whether or not he appears on the silver screen again, Bellew's face will feature on the front cover of "Everybody Has A Plan Until They Get Punched In The Face: 12 Things Boxing Teaches You About Life", a book the 38-year-old will release in May.
As well as keeping his mind sharp, Bellew continues to stay in shape physically – even if his cruiserweight days are far behind him. "I do some runs, some strength and conditioning work. When the gyms were open I chose to do quite a lot of swimming, because my joints just can't take the impact like they used to," he says. Bellew also serves as an ambassador for Pure Brand Nutrition, whose Genesis19 protein shakes serve as part of his fitness regime. "It's not just for your elite-level athletes, like I once upon a time was – it's for your regular people out there," Bellew says. "It can be helpful to your elite athletes with fuelling recovery, progress and things like that, but this new range is aimed at your regular person who wants to stay fit, and it's got a great taste."
Bellew's legacy means that "once upon a time" will never seems as distant in the minds and memories of boxing fans as the years will come to suggest.
But the former champion's fulfilment means he is happy to leave the fairytale be.
Source: Read Full Article