Disney will not rest until every single animated film, beloved and forgotten, has been remade. Seriously! Who can blame them? It's an easy way to get our nostalgic fix and allow gorgeous movie stars to cosplay as our favorite Disney princes and heroines.
After running through the big classics with live-action remakes of Cinderella, Beauty and the Beast, The Jungle Book, The Lion King, Mulan, and Aladdin, here's what's next on the magical slate. It's not just straight adaptation, either. The world of live-action Disney remakes has expanded to spin-offs and even television series. You can thank Baby Yoda and The Mandalorian for that. While several of these upcoming films are probably still VERY far off, some of them will be here before we know it.
Cruella (May 28, 2021)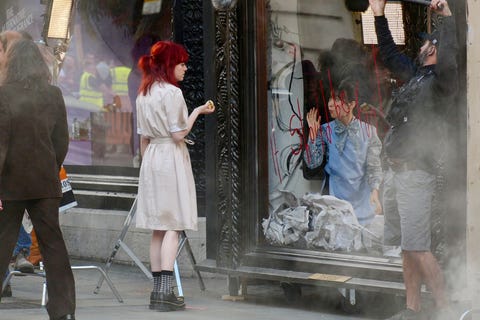 This isn't exactly a remake (Glenn Close already pulled on that string in 1996) but a spin-off of 101 Dalmatians. Cruella, of course, will focus on the titular villain who can't resist a good coat—and how she got that iconic hairdo. Emma Stone was announced as the lead, which means she'll probably be nominated for at least half a dozen awards, and her Edward Scissorhands look is, uh, a choice.
During a video played at Disney's D3 event in August 2019, reports CNet, Stone told the audience Cruella will be set in the 1970s and take place in London, with a punk rock vibe. Directed by Craig Gillespie, the film also stars Joel Fry as Jasper, Paul Walter Hauser as Horace, and Emma Thompson as the Baroness.
Don't worry too much if you're still a fan of the Close original. She's serving as an executive producer on this remake, according to CinemaBlend. A theatrical release is still planned, but we wouldn't be shocked if it simultaneously went up on Disney+ for Mulan rental prices, just to be safe.
Peter Pan & Wendy (TBD 2021)
Jeremy Sumpter's 2003 Peter Pan remake will soon have a successor, this time with Wendy in a leading role (where she belongs). Ever Anderson will play Wendy in her first starring role, and Alexander Molony cinches his first as Peter, Variety first reported. Other cast includes Jude Law as Captain Hook (hot), Jim Gaffigan as Smee (sure), Grownish's Yara Shahidi as Tinkerbell and newcomer Alyssa Wapanatâhk as Tiger Lily.
Pete's Dragon director David Lowery is attached, but there's little else we know about the flick. We can expect it to be a somewhat straightforward adaptation of the classic, Lowery says, but it's unclear what exactly that means yet.
Per Variety, the film will go direct to Disney+ instead of theaters. Isn't it nice that these direct to streaming releases don't have the same stigma that Disney's Direct To Video movies used to have when we were kids?
Pinocchio (TBD)
Source: Read Full Article