Fox News reporter Rick Leventhal and reality TV star Kelly Dodd have a romance worthy of a TV show. Leventhal is a Fox News star covering top national and international stories. Dodd is one of "The Real Housewives of Orange County." Before they met, Leventhal and Dodd were both successful in their work but not lucky in love. The couple married in 2020, and it's been heart-eyes ever since.
According to Amomama, Leventhal has been married twice; his first wife was Penny Daniels, with whom he shares two children. The Fox News reporter married a second time in 2016 to professional poker player Beth Shak. Leventhal and Shak divorced in 2017.
"The Real Housewives of Orange County" star, meanwhile, has one daughter and was married twice before Leventhal. Keep reading to learn the true story of how Leventhal and Dodd met — it didn't take long for sparks to fly between these two.
Rick Leventhal met Kelly Dodd through another Real Housewife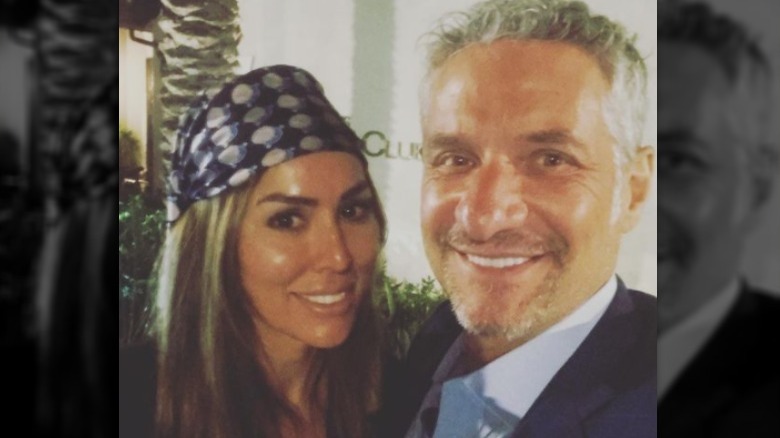 Rick Leventhal met Kelly Dodd in the most reality TV way! The couple met through "The Real Housewives of New York" star Ramona Singer. Dodd went with Singer to a cookout at Leventhal's home in the Hamptons in the summer of 2019. It was love at first sight, and Leventhal asked Dodd to marry him in November 2019. Singer was even a bridesmaid at their wedding.
Once the couple married, the globe-trotting Leventhal moved to California and asked Fox News to take him off breaking news stories. In June 2021, Page Six reported that Leventhal was leaving Fox News after 20 years. A source told Page Six that the reporter's preference to stay in California instead of covering breaking news while "still commanding his high salary didn't jibe with his job description."
Within days of quitting Fox News, news broke that his wife was no longer part of "The Real Housewives of Orange County." On June 15, Variety reported that Dodd wouldn't return to the Bravo reality series after five seasons. According to Celebrity Net Worth, Leventhal is worth $3 million, and Dodd is worth $10 million, so they don't have to worry about jobs like the rest of us. But the couple is facing a health challenge; on June 14, People reported that Dodd and Leventhal had Lyme disease. Fans are wishing them a speedy recovery!
Source: Read Full Article