Internet users take to Twitter to share an old Drake photo which seemingly suggests that the Canadian star knew about the alleged affair between Kim Kardashian and the NBA player.
AceShowbiz -Does Drake know something that most people don't? After Kanye West made shocking allegations that his ex-wife Kim Kardashian cheated on him with Chris Paul, fans quickly took to Twitter to share an old Drake photo which appeared to suggest that the Canadian star knew about the alleged affair.
In the said picture, the "In My Feelings" spitter, who was beefing with Ye at the time, was seen sporting a Chris jersey with two friends while promoting his 2021 album "Certified Lover Boy". "September 3 CLB," so Drake wrote over the picture.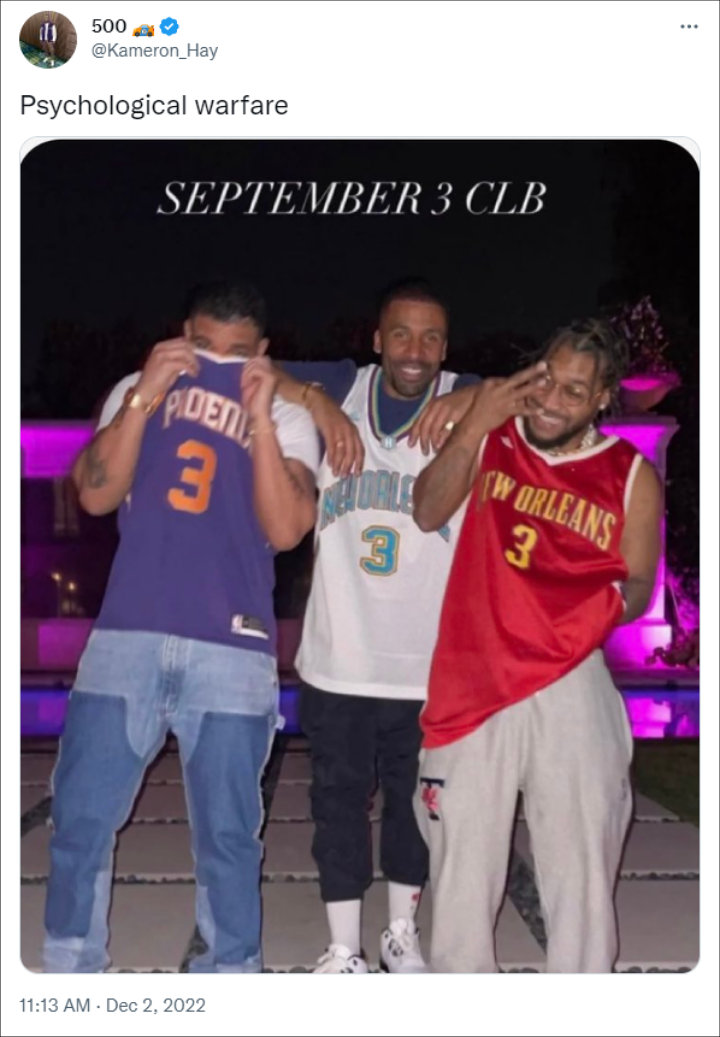 Drake seemingly taunted Kanye West by wearing a Chris Paul jersey.
As Drake is known for being the king of subliminals, people were easily convinced that Drizzy was taking shots at the "Donda" rapper with the snap. "Drake was playing mind games the whole time with Ye back when CLB was dropping?" one Twitter user asked. "Had all the homies in a Chris Paul Jersey while he was beefing with Kanye. Damn."
"I was gon say ppl love reaching but ya know what I can't possibly think of any other reason to wear a Chris Paul jersey," another user tweeted. Someone commented, "the fact drake posted this a year and a half ago when he was beefing with kanye without saying anything else is kinda wild."
Some others, meanwhile, slammed Drake for it. "this has to be one of the craziest trolls I have ever seen. Drake is a generational villain..," one tweeted. "Drake is a nasty man," one other added, with someone dubbing the award-winning rapper "a petty assassin."
Kanye made headlines after he alluded to catching Kim sleeping with Chris in one of his tweets. "Before we get outa here, I caught this guy with Kim. Goodnight," the Yeezy designer wrote before his Twitter account got suspended because he "violated [Twitter's] rule against incitement to violence" again.
A source close to "The Kardashians" star, however, denied Ye's claims. "This is not true, and sadly it's an ongoing pattern with Kanye – attacking Kim to redirect everyone's attention after a day of crazy antics where he has said every hateful and offensive thing he can possibly dream of," the source claimed.
"He has a history of falsely accusing her of also having affairs with Meek Mill, Drake and countless others," the source continued. "Kanye has for years deflected his own awful behavior, infidelities and obsession with porn and sex addiction to abuse and slut shame Kim. She wants to be left alone so she can focus on the well-being of their children."
You can share this post!
Source: Read Full Article