After the former 'Golden Girls' star claimed that he 'can't get over' her, the 'Deadpool' star takes to his social media account to share his hilarious response.
AceShowbiz –Ryan Reynolds has a funny response after Betty White claimed that he "can't get over" her. Taking to his social media accounts, the "Deadpool" star jokingly said that he's "sick" of the media.
On Thursday, December 30, the 45-year-old actor took to his Instagram and Twitter account to slam the media in the most hilarious tongue-in-cheek way. "Absolutely sick of the media exploiting past relationships just to drive clicks," he cheekily wrote, defending his and Betty's sacred bond.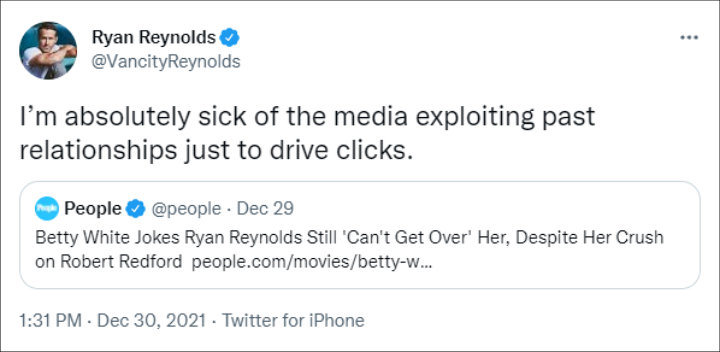 Ryan Reynolds jokingly slammed the media for 'exploiting' his 'past relationship' with Betty White.
Ryan's response arrived after Betty claimed that he had a crush on her for years during an interview with PEOPLE for its weekly issue celebrating the "Golden Girls" actress' 100th birthday. For his part, Ryan joked that he has been a fan of his co-star "for as long as [he] can remember."
"I heard that scripts for 'Golden Girls' were only 35 pages, which makes sense because so many of the laughs come from Betty simply looking at her castmates," Ryan continued. The "Free Guy" star also said that Betty is "a typical Capricorn. Sleeps all day. Out all night boozing and snacking on men."
Betty will be turning 100 on January 17. She also divulged her longevity secrets to the outlet. "I try to avoid anything green," she said of her diet plan. "I think it's working." The "Hot in Cleveland" star added, "I'm so lucky to be in such good health and feel so good at this age. It's amazing."
Fans will also be able to celebrate Betty's big birthday next month with a special one-night-only theatrical event. "Betty White: 100 Years Young: A Birthday Celebration" will be distributed by Fathom Events and will be shown in 900 cinemas nationwide on January 17.
While Betty is going to mark her milestone birthday next month, Ryan hasn't missed her birthday in the past. To celebrate her 99th birthday last year, the "Red Notice" star posted behind-the-scenes footage from "The Proposal" featuring himself, Betty and Sandra Bullock to his Instagram Story.
He wrote at the time, "We made this 12 years ago. Betty turns 99 today. But she is 100 [percent] the funniest person on the planet." He continued, "I don't usually post about ex-girlfriends. But Betty's special. Happy Birthday to the one and only, @bettymwhite."
Source: Read Full Article