For the most part, Donald Trump has been relatively M.I.A. ever since he left the White House in January. Though he's claimed to a "number of people he's in contact with that he expects he will get reinstated [as president] by August," as The New York Times' Maggie Haberman tweeted, the former president has been laying low in Florida. According to Bloomberg, Donald has made Mar-a-Lago his "Fortress of Solitude" as he uses the country club as his power base for his post-presidential life.
"[Donald is] so relaxed and having a great time," Joe Budd, a Palm Beach County Republican, told the website in June. "He's doing what somebody of his age and success probably should be doing at this stage of life: enjoying himself, playing some golf. I think falling into that role is something he's going to find satisfying. To be the kingmaker, but not have to be the king, I think is going to be OK with him."
As it turns out, Donald and Melania are being treated differently at Mar-a-Lago. Scroll ahead to read new details about their life at the resort, including how people act around the former first couple when they are seen dining at the restaurant.
Donald and Melania Trump are 'treated like zoo animals' at Mar-a-Lago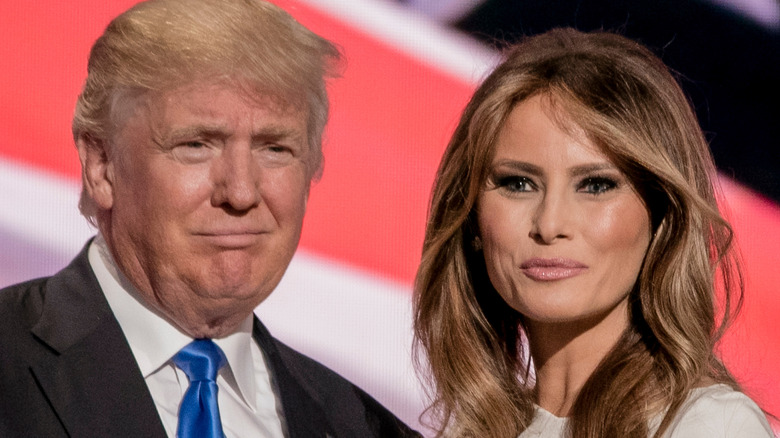 Donald and Melania Trump are reportedly "treated like zoo animals" at Mar-a-Lago because they sit by themselves at a "roped off table" in the restaurant. According to Michael Wolff's new book "Landslide: The Final Days of the Trump Presidency" (via Insider), the couple receives a standing ovation when they arrive for dinner and greet their friends and well-wishers as though they are a "newly married couple" on their wedding night.
The former first couple has been living in the Florida country club since Trump left the White House in January after losing the 2020 election to Joe Biden. However, Melania and Donald's relationship has been called into question since there have been reports (via CNN) that she's been "bitter and chilly" towards her husband. Despite the fact that they often dine together, it's also unclear if Melania lives with Donald. The author explained in his book (via MSN), "Maybe Melania lives here. For four years in the White House, it was never quite clear how much time she was spending at the White House."
Wolff's statement echoes that of a source who told CNN that the former first lady is rarely seen at Mar-a-Lago. "She's not a presence at Mar-a-Lago at all," an insider revealed in April. "She's not mingling with people and rarely interacts with her husband's staff."
Source: Read Full Article