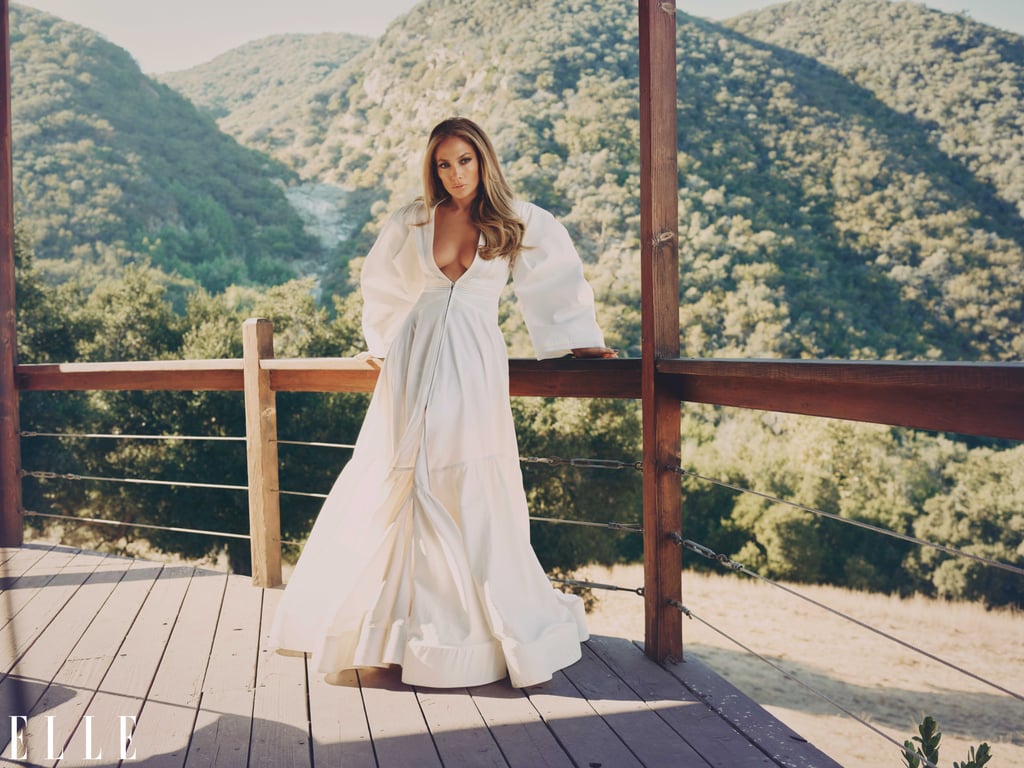 J Lo's White Gown in Elle Magazine Only Reminds Us of 1 Thing: A Wedding Dress

Jennifer Lopez covers Elle's February 2021 issue in the most glamorous set of outfits, from cutout bodysuits to gowns by the likes of Dior and Christopher John Rogers — the latter being a white, full-skirted number with a plunging neckline that easily evokes images of a wedding gown. Speaking of which, Jennifer Lopez and Alex Rodriguez have postponed their wedding twice: "We had planned what we really, really wanted to do, [but] I don't know if we'll be able to re-create that. We canceled it, and since then we haven't really talked about it. There's no rush. We want to do it right when we can do it," J Lo said in her interview. So, something tells us she's still open to the the idea of finding a bridal look and hasn't locked one in just yet.
Lopez glows throughout the photo series, photographed by Micaiah Carter, and that might have something to do with the multitasking mask and serum from her new JLo Beauty line. The singer goes on to open up about wearing her Puerto Rican heritage with pride at last year's Super Bowl, divulging details about how her Versace outfit came to life: "I [told] Donatella Versace, 'I want to be an American flag because I'm going to be singing "Born in the U.S.A." with my daughter, but when I open it up, I want them to know that my heart and soul is Puerto Rican.'" While that was quite the momentous fashion moment to reminisce about, we invite you to enjoy a few more as you scroll down to get the full breakdown of the fashion designers J Lo wore for Elle.
Source: Read Full Article