In his time on Earth, MF Doom touched millions of lives. The masked rapper was known for his unique flow on instrumentals, with poetic lyricism that inspired many. Although he was primarily an underground artist, MF Doom was able to make a more than comfortable living off of his legacy. But what was actually the villain's net worth after his death in 2020?
MF Doom's legacy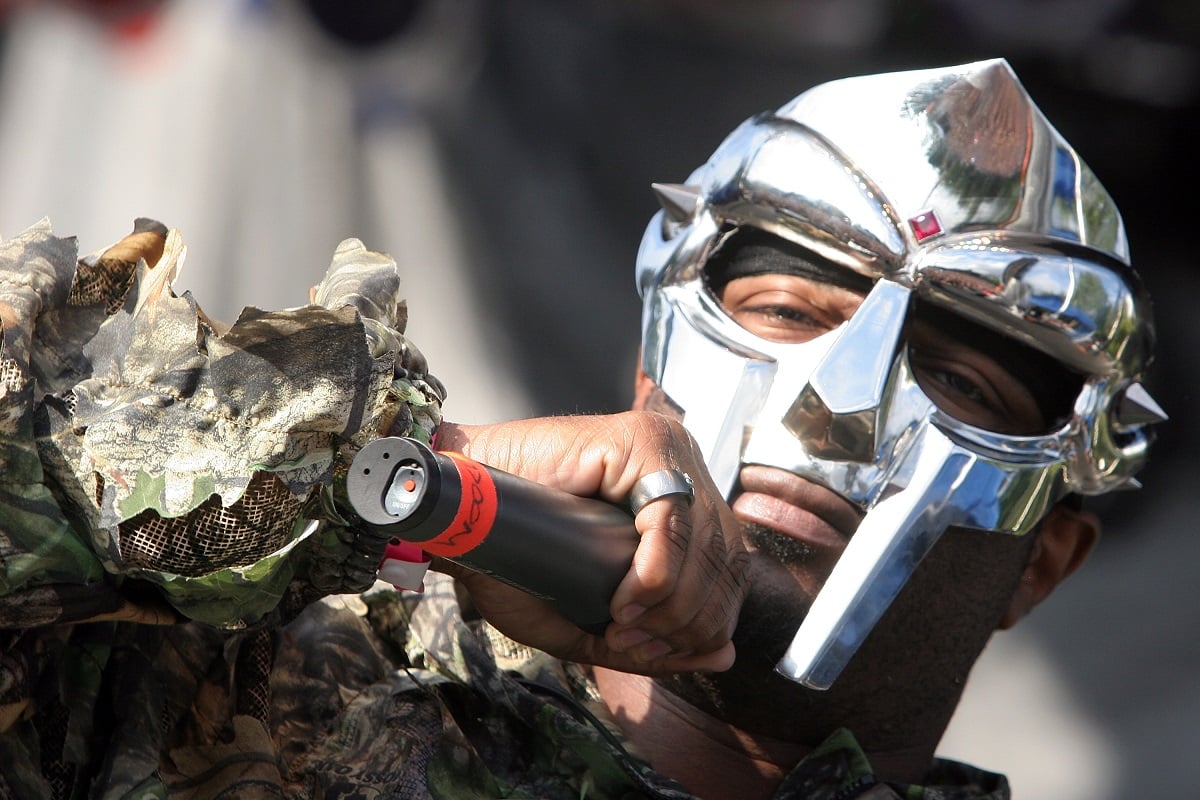 Much of MF Doom's life is shrouded in secrecy, hence his mask. At one point, even his birthday was up to contention. Although websites report that MF Doom was born on January 9, 1971, Reddit detectives unearthed that the rapper's real birthdate was July 13, 1971. His real name was Daniel Dumile, and he was born in London. He later moved to Long Island New York with his family.
Doom held many monikers in his historic rap career. One of his first monikers was Zev Love X, which he went by after forming the rap group KMD in 1988. In KMD, the group released records like The Gas Face, Peachfuzz, and Who Me?
After the death of his brother, Doom abandoned the rap industry in 1994. He didn't reemerge until 1997 when he took on a new persona. Donning a mask, Dumile turned into MF Doom, who was partly inspired by the Fantastic Four villain Dr. Doom. Doom released his first studio album, Operation: Doomsday, in 1999 to critical acclaim. But he punctured mainstream success with his 2004 album Madvillainy, which was reviewed by publications like The Rolling Stone, Washington Post, and The New York Times.
What was MF Doom's net worth at the time of his death?
Celebritynetworth reports that MF Doom had a net worth of $1 million at the time of his death. Despite being primarily an underground artist, his mainstream exposure and loyal fanbase pushed the rapper into becoming a bonafide millionaire. Although some artists boast about their passion for hip hop, MF Doom has said that money has always been his main motivation for music.
"I write rhymes and sh– just to get money," MF Doom told Spin in an interview. "It seems to be a profitable thing these days, and nobody else is really paying attention to it."
With an alleged net worth of $1 million, it seems that MF Doom was successful in achieving his goal.
MF Doom was a master at deception
Over the years, Doom has been revered for his inventiveness and creativity. One of the memorable things about MF Doom was his use of impostures. MF Doom was notorious for sending out impostors in MF Doom masks to helm live hip hop concerts while the real villain was far away. This was inspired by Marvel's Dr. Doom, who would frequently send out Doom impostors to battle his enemies.
According to Hotnews hip hop, rapper Talib Kweli once confronted Doom about his use of impostors.
"I asked him. I said, 'why sometimes you don't come to the show?' His answer to that question was, 'I don't leave no money on the table. But sometimes it ain't enough so I send the impostor,'" Kweli told Hannibal Burress on Burress' podcast. "I said listen, 'isn't that wrong?' But his answer made perfect sense. He said, 'I'm the f— supervillain. I'm not your friend. You don't have to like me. You're paying for the experience of dealing with a supervillain."
How did MF Doom die?
Much like his life, MF Doom's death is also shrouded in mystery. His death was announced on December 31, 2020. But according to Entertainment Weekly, his wife, Jasmine Dumile, announced that Doom actually died on October 31, 2020. Just like with his impostors, his death was an intentional swerve to fans, adding to his mystique.
"Thank you for all the things you have shown, taught and given to me, our children and our family," Jasmine wrote on Instagram. "Thank you for teaching me how to forgive beings and give another chance, not to be so quick to judge and write off."
However, Jasmine didn't reveal Doom's cause of death. To this day, the exact circumstances of Doom's death hasn't been disclosed. A Redditor once wrote that someone claiming to be Doom's cousin posted that the rapper died of an embolism, but the post was removed from Reddit.
Source: Read Full Article