Whenever conductor Brett Weymark reaches the conclusion of Handel's monumental Messiah and its electrifying Amen chorus, without fail he is moved to tears.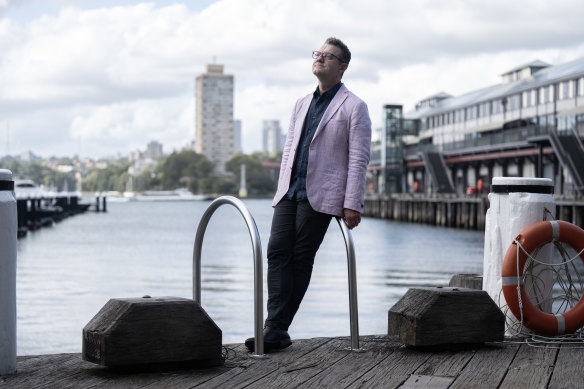 Choir conductor Brett Weymark at the Sydney Philhamonia Choirs, Walsh Bay.Credit:Louie Douvis
"It's always the same," says the artistic and music director of Sydney Philharmonia Choirs. "I walk backstage and the choir go, 'We wish you wouldn't do that – it's impossible for us to sing if you burst into tears'.
"But we have just done something miraculous together. It's extraordinary and it's always quite overwhelming."
It is testimony to the enduring power of Handel's best-loved oratorio that for this veteran of more than 50 performances the emotion comes up fresh each time.
As he reacquaints himself with the score in preparation for three performances this week at the Sydney Opera House, Weymark is still uncovering new detail and insights.
"It amazes me that after all these years I'm still finding connections in the music," he says. "I know this sounds pathetic, but there is this tiny little bit of second violin at the end of And He Shall Purify that I have never thought of as important before, but actually it's a little compression of the entire theme that happens at the beginning."
The hard yards put in by all conductors analysing scores prior to rehearsals can be onerous, but that's not the case with Messiah.
Weymark is always moved to tears by the Messiah.Credit:Louie Douvis
"Normally, there's a bit of kicking and screaming as you go, 'OK, I'm just going to chain myself to the piano until I've got this back in my head'," says Weymark.
"But there is something joyous about Messiah. You just smile the whole time."
Handel wrote Messiah in 1741, famously completing the work in just 24 days. It was premiered in Dublin the following year. The oratorio's popularity with the public gathered pace to the point where it is now a mainstay of the Western choral repertoire, receiving hundreds if not thousands of performances each year.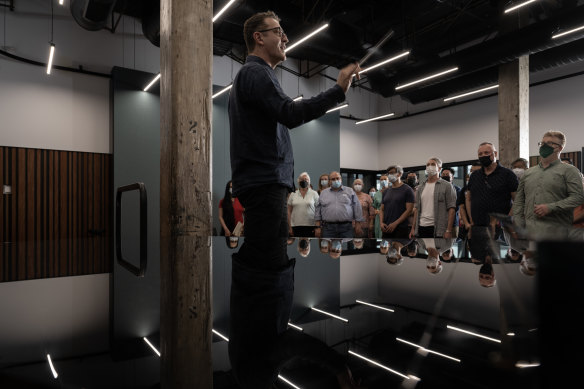 The performance of Messiah will also feature a chorus of 700 voices, which is open to all-comers.Credit:Louie Douvis
Handel scored Messiah for a relatively modest orchestra and choir, but the tradition of "big" Messiahs was soon established. This week's performances will feature a massive chorus of 700 voices, including a non-auditioned "Christmas Choir" open to all-comers.
Marshalling that huge collection of voices comes with its own challenges, especially during the monumental fugue sections.
"My score now resembles some sort of holy relic," says Weymark. "It's full of so many markings. They are basically hieroglyphics that keep me on the right track at any one moment.
"That's the joy of coming back to this piece – I know where most of the pitfalls are in advance. Bitter experience has shown me that if you don't [for instance] bring in the altos at that particular point in time they don't sing!"
Weymark has had plenty of time to consider why Messiah continues to pack out concert halls worldwide nearly 300 years after its first performance.
"Of all Handel's works it is one of the most philosophical," he says. "It's the one that is least specific in dealing with Old Testament stories. It is somewhere between being a Christmas story and a Passion story. And then there's this philosophical question at the end: 'What's the significance of this life?' It is the story of a man whose life is then discussed. You can look at it from that point of view even if you don't have faith.
"There is something unique about this piece, a breaking of the mould. I think it is the openness of the subject matter and the real sense of him responding in a very intuitive way to the text."
But beyond all the analysis and study there remains something indefinable that Weymark simply calls the "Messiah effect".
"Even just rehearsing it seems to be one of those pieces that creates an incredible sense of healing in the room," he says. "I can't quite put my finger on it. Somehow, coming back to Messiah feels like you've come home."
Messiah, December 8, 10 and 11 at Sydney Opera House.
Sydney Philharmonia 2023: choral music's greatest hits
Next year is Brett Weymark's 20th anniversary conducting Sydney Philharmonia Choirs. To celebrate that landmark he has programmed a selection of works featuring many of choral music's "greatest hits".
Alongside Verdi's Requiem and Bach's Christmas Oratorio there will be a performance of Mahler's mind-bogglingly vast Eighth Symphony, the so-called Symphony of a Thousand.
Weymark is aiming to recruit a literal chorus of 1000 voices from all around the nation, who will practice independently before coming together for a weekend of rehearsals and a performance at the Sydney Opera House in June.
The project, he cheerfully admits, is "crazy".
"We've only just opened up and I think we already have 250 singers signed up," he says. "There's an entire choir in Melbourne who are interested in coming up, and we've got a girl's school in Sydney which is probably going to buy most of the tickets to the children's choir."
The season will begin in April with another of Handel's oratorios, the operatic Samson.
"Samson was written directly after Messiah," says Weymark. "Taking the choir that has done Messiah for so many years and exposing them to this piece, which they haven't done for a long time, felt like a great opportunity."
Another crowd-pleaser, Carmina Burana, will be performed in September. A favourite of the creators of TV ads and featuring in many movie soundtracks, Weymark is excited to bring back Carl Orff's masterwork to the Opera House stage.
"We've done it a number of times but we haven't done the full orchestrated version for quite some time," he says. "It's a great time to bring it back. It's highly accessible music even though it's about medieval life."
The 2023 program comes with the tagline, "Voice. Energy. Joy." and is intended to draw an emphatic line under the disruption caused by the pandemic.
"It's one way of saying, 'We're here. We're back'," says Weymark.
A cultural guide to going out and loving your city. Sign up to our Culture Fix newsletter here.
Most Viewed in Culture
From our partners
Source: Read Full Article