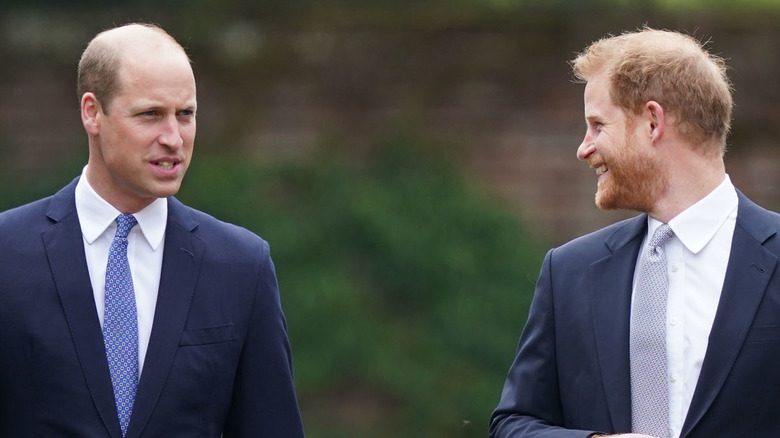 There's been plenty of news to report about the British royal family this year: pregnancies, births, official events, and of course the death of Prince Philip. But overshadowing it all has been the fractured relationship between once-loving brothers Prince William and Prince Harry. Depending on which reports you read, William is either upset over Harry's Oprah interview, disapproving of sister-in-law Meghan Markle, or a combination of both. Accounts also differ over whether the brothers started speaking to each other following their grandfather's funeral, or whether they parted ways without any fence-mending.
William and Harry came together again on July 1 to commemorate the unveiling of a statue representing their mother, Princess Diana. It was a memorial they commissioned to coincide with what would have been her 60th birthday. Once again, speculation and rumors flew: Would this be the start of the healing, or would they just smile for the cameras and freeze each other out after the ceremony was over?
At this writing, there are no firm answers yet to that question. However, one noted royal expert says that the princes made an important decision regarding the unveiling that suggests all is not lost. Despite their differences, they apparently came together when it came to selecting the words to honor their beloved mum.
The princes' joint statement may signal a new willingness to come together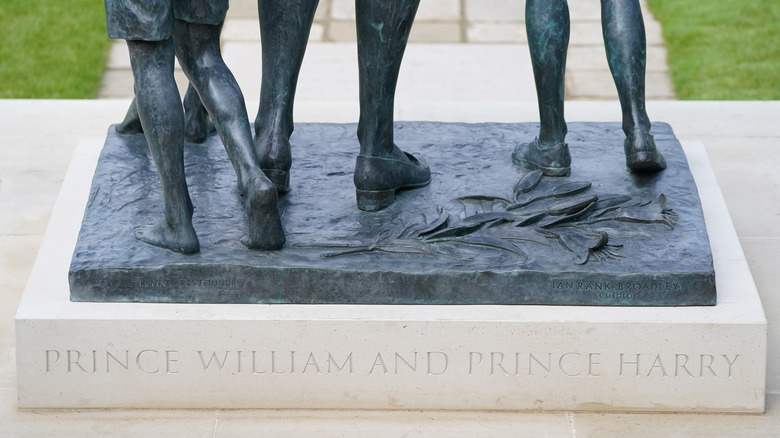 Back in May, The Sun spoke to insiders who claimed that William and Harry "insisted" on making separate speeches at the unveiling. This created concern over the unharmonious image this would present to the public.
Turns out the tabloid wasn't entirely accurate. At the July 1 ceremony, the princes delivered a joint statement after all. Per The Washington Post, it said: "Today, on what would have been our Mother's 60th birthday, we remember her love, strength and character — qualities that made her a force for good around the world, changing countless lives for the better. Every day, we wish she were still with us, and our hope is that this statue will be seen forever as a symbol of her life and her legacy."
Royal expert Robert Lacey looks at this choice as a hopeful sign of things to come. He recently told People that the brothers "demonstrated a constructive way of dealing with differences" by putting aside their for a more important priority "and doing that in a way that warmed everybody's heart." He added, "The idea of rival speeches could have been disastrous, but to bring out a considered joint statement was perfect and shows a way ahead."
Another promising sign is that the princes apparently weren't coerced into dropping the two-speech plan. Ken Wharfe, who once led the protection of Princess Diana, told the magazine, "It was their idea, and it was a joint effort."
Source: Read Full Article