Patrick Mahomes is tackled by Jason Pierre-Paul and Devin White
The headlines will cry of Tom Brady's seventh Super Bowl win to cap off a sensational debut campaign in Tampa Bay, but those that watched the scarcely believable events unfold on Sunday know that it was a slightly different story.
The Buccaneers defence were relentless as the franchise – and defensive coordinator Todd Bowles – showed that they had learnt from their mistakes in the regular season loss to the Chiefs to win 31-9 in Super Bowl LV.
In the Week 12 match, Patrick Mahomes threw for 462 yards and three touchdowns with speedy wideout Tyreek Hill collecting all three scores while going for 269 yards himself.
This time, it was different. This time, Mahomes finished with just 270 yards – most coming when the game was over – while Hill had just 73 yards receiving.
READ MORE: Eric Bieniemy, Todd Bowles and the injustice facing minority coaches in the NFLAdd article
Tampa Bay head coach Bruce Arians was quick to credit Bowles' game plan, which mixed coverages and relied on the Buccaneers' defensive line to burst pass the Chiefs' banged-up offensive line – which Jason Pierre-Paul, Shaq Barrett, Vita Vea and Ndamukong Suh did to great effect.
Arians said: "He had a great plan to keep them in front of us and give the guys up front time to hunt.
Independent Rugby Newsletter
Live Rugby union coverage direct to your inbox every week
Read our full mailing list consent terms here
"I think he got a little tired hearing how unstoppable they were."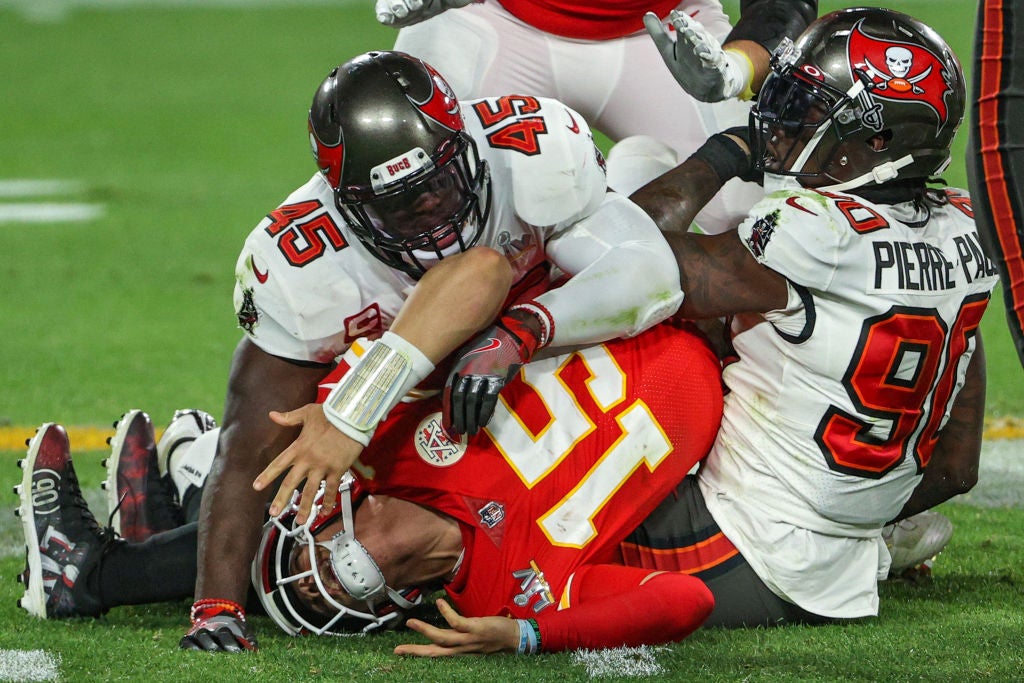 Patrick Mahomes is tackled by Jason Pierre-Paul and Devin White
The crushing victory on the biggest stage showed why Bowles is one of the best defensive minds in the league, as the Buccaneers were able to not just slow down but completely overwhelm one of the most explosive offenses in league history.
Bowles placed his defensive backs deeper which worked to great effect as the Chiefs only had three passes of more than 20 yards – two of which came from the run-after-catch ability of Hill – and the defensive coordinator influenced Mahomes to hold the ball for longer than he would have liked.
Bowles said: "We took away some of the underneath throws, and it takes time for guys to get deep. That allowed guys upfront to get after him.
"The biggest thing we were trying to do was take away [Mahomes'] first read, make him hold the ball long enough to get after him."
Remarkably, Tampa Bay blitzed just five times during the Super Bowl – fewer than 10 percent of drop backs. Bowles trusted his defensive line enough to keep two safeties deep to cover the big plays that the Chiefs traditionally thrive on.
Mahomes danced around to evade pressure from all sides on Sunday as the Buccaneers exploited the absence of Eric Fisher and Mitchell Schwartz, the Chiefs' two starting tackles. They were replaced by Mike Remmers and Andrew Wylie, and the stand-ins could not deal with Tampa Bay's star linemen.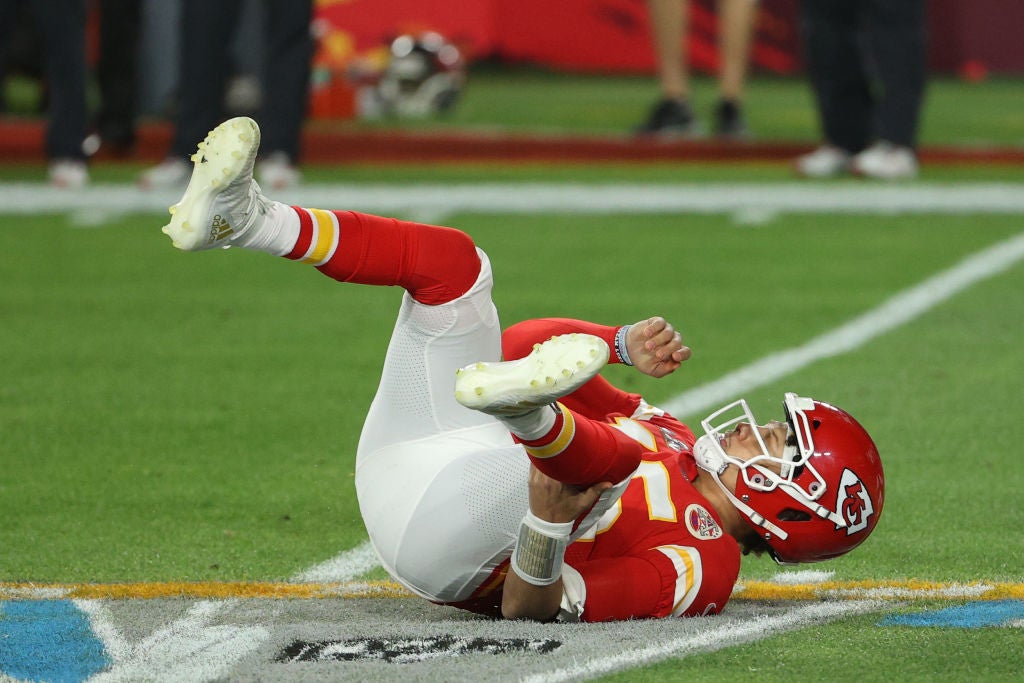 Patrick Mahomes lies on the field after pressure from the Bucs
Tampa Bay's incredible linebacker tandem of Devin White and Lavonte David were also exceptional, and either one of them could have been named Super Bowl MVP.
David is one of the Buccaneers' longest-tenured players, and he finally made the playoffs at the ninth time of asking. He showed his worth with two crucial pass break-ups, and admitted that Tampa Bay adjusted following their regular season defeat to the Chiefs – which was their last loss of the 2020 season.
"We knew we were doubted. We were able to take away things that they like to do and we were able to just go out there and have fun.
"The feeling is indescribable. You've got to put that at the end of my name every time now: Lavonte David, world champion."
White's interception – the Buccaneers' seventh during their triumphant playoff run – rounded off a near-perfect defensive performance. The sophomore star led the team in total tackles with 12 and registered two tackles for loss to go with the interception.
This complete defensive performance resulted in a day of firsts for the Chiefs offence and Mahomes: it was the first time he had been kept to single digits as a Chief, the first time he failed to score a touchdown since becoming the starter, and the first time the Chiefs had lost by double digits in Mahomes' 54 starts.
Simply put, the 2018 MVP had never been so relentlessly pursued from the first to last quarter during his professional career – at 52 percent, Mahomes was pressured more than any quarterback in Super Bowl history.
At the end of the night, the Chiefs went 3-for-13 on third down and the offence struggled to get anything going thanks to the ingenuity of Bowles.
With all the head coaching roles occupied, it appears as though he and the Bucs are set to 'run it back' for the 2021 season.
Source: Read Full Article