[This article contains spoilers from the first season of Shadow and Bone. Read it at your own risk, lovelies!]
The first season of Shadow and Bone dropped on Netflix literally a second ago, but I'm already desperate for some more of the Grishaverse. Well, technically there are eight episodes to sink into, but can you blame me? There are still many unanswered questions; Where are Alina (Jessie Mei Li) and Mal (Archie Renaux) sailing off to? Are the Crows (Freddy Carter, Kit Young, and Amita Suman) about to be offered another heist to complete? And OMG, that ending with General Kirigan (Ben Barnes)! He's definitely about to seek his revenge and knowing him, it'll probably be…deadly.
Now that season 2 is officially happening (everyone say "Thank you, Netflix!"), it's tim,e to brush up on what to expect. Let's get into it!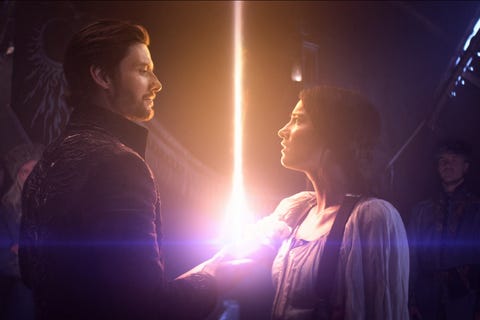 First order of business: What has Netflix said officially about season 2?

Fortunately for us the series WILL return! And we can thank the cast of Shadow and Bone for giving us a great reveal on all of Netflix's social media accounts:
https://www.instagram.com/p/CP0yG-WFoGm/?utm_source=ig_embed&utm_campaign=loading
A post shared by Shadow and Bone (@shadowandbone)
Source: Read Full Article