Spare a quick moment of silence for the many relationships that cracked under lockdown pressure. Now, spare a moment of screaming for those freshly broken-up couples who had no choice but to continue co-habitating under the same roof due to restrictions. All too familiar with this agony is Michael Douglas, who recently opened up about the struggles of sharing a living space with his ex-wife.
If the phrase "Michael Douglas' ex-wife" has you going, "Huh? I thought he and Catherine Zeta-Jones have been married forever!", then you need to brush up on some essential '80s celeb knowledge. The ex, in this case, refers to Diandra Luker, the daughter of an Australian diplomat whom Douglas wed in 1977. The two eventually divorced in 2000 as part of a $45 million settlement, per Harper's Bazaar.
With this kind of money flying around, why was the pair sharing a house? And what was Zeta-Jones' thoughts on Douglas bunking with her predecessor? Read on to find out!
This is why Michael Douglas shared a home with his ex-wife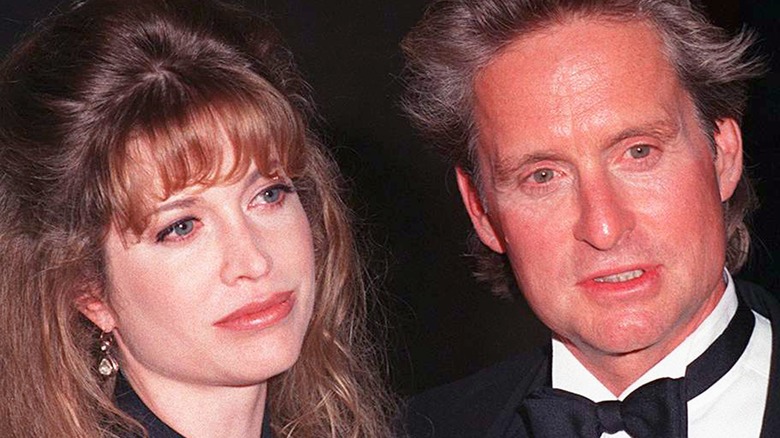 Michael Douglas and Diandra Luker were married for an astounding 22 years, and have a son, Cameron, together. Despite this long shared history, it seems like the two exes aren't exactly the "still friends" type. This was probably to be expected, considering their super expensive and contentious divorce.
Part of the settlement included the shared use of the former couple's 250-acre Majorcan villa. Set just outside the Spanish village of Valdemossa, the magnificent S'Estaca estate provides gorgeous views and luxurious amenities — but Douglas could only enjoy it for half of the year, as the remaining six months were for Luker's use only (via the Daily Mail). The lavish property even went on the market in 2014, but never received a concrete offer.
But don't feel too bad for Douglas and measly half a year of Spanish villa fun — the "Romancing The Stone" actor bought out his ex's share last year, securing its exclusive use for himself and Catherine Zeta-Jones. And this is how they feel about that.
What Michael Douglas and Catherine Zeta-Jones thought about sharing a home with his ex-wife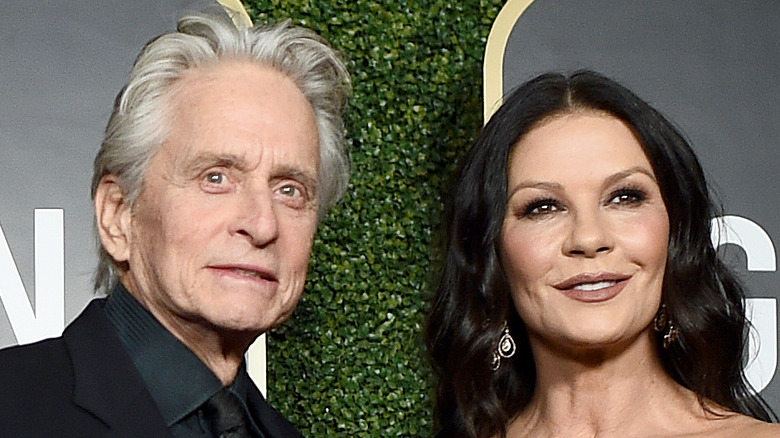 Considering they were never at the property at the same time, sharing a house with your ex doesn't sound too terrible. But Michael Douglas was candid about the struggles of sharing the Majorcan estate with ex Diandra Luker, telling local magazine Ultima Hora that the experience "wasn't pleasant for anyone" (via the Daily Mail).
Catherine Zeta-Jones, whom the "Wall Street" actor wed in 2000, was apparently not too keen on sharing the home with Luker — even though it doesn't sound like the families' stays ever overlapped. (Zeta-Jones and Douglas also have two children together, Dylan and Carys.) Douglas claims the "Chicago" star feels "much more comfortable" now that they have exclusive use of the property. Fair enough!
And, according to the same Ultima Hora interview, the estate does seem to play a big role in the couple's life. Douglas paints an idyllic picture of time spent reading, lunching, and siesta-ing by the glamorous Spanish seaside, while Zeta-Jones regularly posts cute Instagram snaps of her and her family enjoying their time there. Ah, exclusive island life… salud to the happy couple! 
Source: Read Full Article