New York: Australian Foreign Minister Penny Wong is preparing to meet with her Chinese counterpart on the sidelines of the United Nations General Assembly this week, as tensions between Beijing and the US continue to escalate over Taiwan.
Days after President Joe Biden once again said the US would defend Taiwan if China attacked – a move that would potentially draw Australia into an unwanted conflict – Wong revealed that arrangements were being finalised to meet with Chinese foreign minister Wang Li in coming days.
Wong said she had "made it clear that we are open to engagement".
Foreign Minister Penny Wong at the UN.Credit:DFAT
But the Australian foreign minister refused to be drawn on Biden's comments, where he told 60 Minutes on Sunday that the US would commit military forces in the event of an "unprecedented attack" by China. Pressed if that would involve US men and women – unlike in Ukraine, where the President has ruled out sending American troops – Biden answered: "yes".
Such comments deviate from the traditional strategy used in Washington: to remain ambiguous about the sensitive issue of defending Taiwan, which China regards as its territory.
They also place Australia in a diplomatic balancing act as it attempts to straddle its relationship between the two superpowers. Asked if Australia would support the US if it intervened militarily to defend Taiwan, Wong replied: "It isn't responsible for me to engage in hypotheticals and I don't intend to do so."
"Australia's position on Taiwan has not changed," she added. "We want to see peace and stability across the Taiwan Strait. I have said repeatedly we do not want to see any unilateral change to the status quo. Obviously, we value our people-to-people economic ties with Taiwan and they will continue, just as we will continue to respect our long-held bi-partisan position on a One China policy."
If the meeting between Wong and Wang goes ahead as planned, it would be the second to take place in less than three months, and a sign of the willingness between the two countries to maintain an open dialogue.
It would also come at a time that other meetings take place on the sidelines of the General Assembly this week including a "Partners in the Blue Pacific (PBP)" forum on Thursday.
Hosted by US Secretary of State Anthony Blinken, the group aims to better coordinate assistance in the region in the face of competition from China. It was formed in June and includes the US, Australia, Japan, New Zealand and the United Kingdom.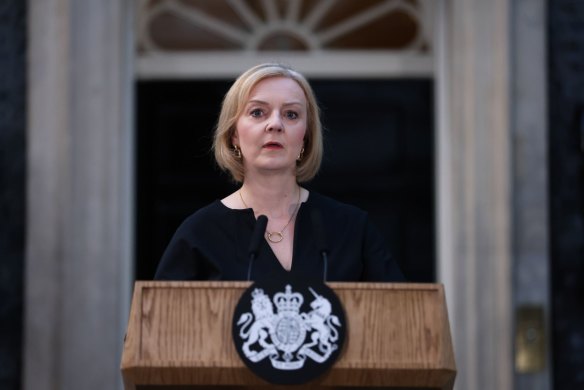 UK Prime Minister Liz Truss makes a statement following the death of Queen Elizabeth II.Credit:Bloomberg
Also today at the UN, new British Prime Minister Liz Truss condemned provocations over Taiwan during a meeting with her Japanese counterpart Fumio Kishida, according to a Downing Street spokesperson.
"The leaders resolved to work together to tackle the strategic threat posed by China," a statement said.
This week's UN General Assembly is taking place after two years of virtual and hybrid summits thanks to the global pandemic.
But while COVID-19 has eased, the gathering of leaders nonetheless comes as the world faces a crisis on multiple fronts, from Russia's war in Ukraine and economic uncertainty, to food insecurity and environmental degradation.
Earlier in the day, UN Secretary-General Antonio Guterres gave a dire assessment in his opening address where he said the world was "in peril and paralysed" and that nations were "gridlocked in colossal global dysfunction".
"The divergence between developed and developing countries, between North and South, between the privileged and the rest, is becoming more dangerous by the day," he said. "It is at the root of the geopolitical tensions and lack of trust that poison every area of global cooperation, from vaccines to sanctions to trade."
Speaking after a day of high-level meetings with counterparts from Ukraine, Indonesia, and Timor, Wong also acknowledged "the dreadful historic backdrop" to this year's General Assembly, noting that the "the war in Europe has cast a shadow" over the proceedings.
To that end, UN members had much more work to do, she said, particularly on issues such as food security, climate change.
Foreign Minister Penny Wong met with Chinese counterpart Wang Yi in Bali in July.Credit:Johannes Christo
Wong will deliver Australia's address to the UN General Assembly on Friday, after meeting with the foreign ministers of Quad nations, which include Australia, United States, India and Japan.
The Foreign Minister was joined in the US by Australia's special envoy for reconciliation, Pat Dodson, who will host a roundtable of Indigenous representatives from other nations about how to achieve a First Nations foreign policy.
The pair will also open public expressions of interest for a First Nations ambassador, delivering on a promise made by Labor at the last election.
Biden will also make a later-than-usual appearance at the gathering on Wednesday, delayed by his return from Queen Elizabeth's funeral in London. Russian president Vladimir Putin and Chinese president Xi Jinping are not attending, nor is Australian Prime Minister Anthony Albanese.
Asked about a potential meeting on the sidelines with Wang, the foreign minister said: "I made it clear that we are open to engagement. I understand those arrangements are being finalised. And if they are finalised, then I'm sure that we will have productive engagement, but what I would say to you is our position – whether we are in the meeting or outside of the meeting – remains consistent in relation to Australia's national interest."
Get a note directly from our foreign correspondents on what's making headlines around the world. Sign up for the weekly What in the World newsletter here.
Most Viewed in World
From our partners
Source: Read Full Article